Lockdown Lieder with Rhonda Browne - Saturday 24th October at 4.00pm
About this Event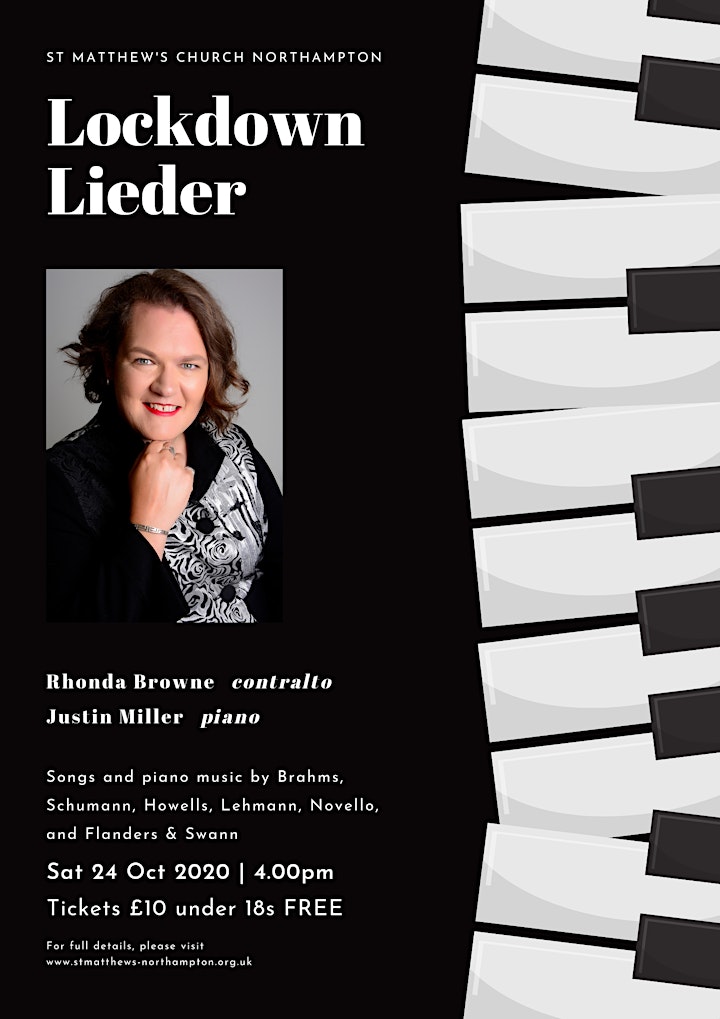 After a bit of a hiatus we are pleased announce that we hope to bring high-quality live music back to Northampton. St Matthew's is very fortunate to have not only the space for social distancing, but two world-class instruments to support singers and instrumentalists. Our first concert, Lockdown Lieder, will take place on Saturday 24th October at 4.00pm. There will be no interval – just an hour of sublime song and piano music for you to enjoy safely.
Our soloist will be the international contralto Rhonda Browne. This Kiwi learned to fly 15 years ago, when she headed off to explore her father's home in the UK. Her first foray on the stage was at age four, when she played a dog in a Noah's Ark story at her church. She moved on from those lowly beginnings and has been lucky enough to sing in amazing venues including the Royal Opera House, the London Coliseum and Longborough Festival Opera.
Rhonda's beautiful and varied programme includes German Lieder, Herbert Howells' stunning King David, and even a bit of Flanders & Swann. Rhonda will be accompanied by Justin Miller, who will play delicate piano solos by Brahms and Clara Schumann.
Johannes Brahms:Von Ewiger Liebe & Die Mainacht Robert Schumann: Waldesgesprach & Widmung Henry Purcell: Mad BessHerbert Howells: King DavidShe Moved Through the Fair - Traditonal IrishMaid on the Shore – Traditional EnglishLiza Lehmann: There are Fairies at the Bottom of Our Garden Jeremy Nicholas: The Usherette BluesIvor Novello: We'll Gather Lilacs in the SpringFlanders & Swann: A Word on My Ear
Johannes Brahms: Intermezzo Op 118 no 2Clara Schumann: Nocturne Op 6 no 2
Tickets are just £10, and under 18s are most welcome to attend free of charge. If you wish to sit with your household, please book all seats in one transaction and we will do our best to accommodate you. All tickets bought online are fully and immediately refundable in the case of cancellation by the Friends of St Matthew's Music (i.e. in the event that Covid-19 restrictions are increased and we are unable to go ahead).
COVID-19 PRECAUTIONS
Attendance at concerts is limited to 70, with appropriate distancing between household/support bubbles. A one-way system will be in place and hand sanitiser will be available. The audience will be asked to leave promptly after each concert, guided by our stewards to minimise clogging up of the aisles and exits.
Current advice is that masks must be worn by all audience members, unless for health reasons they are unable to.
We take our responsibility in preventing any possible transmission of Covid-19 seriously, and believe that by doing everything we can in this regard, we increase our chances of being able to go ahead with live music in the future. Please rest assured that, despite the necessary measures, you will receive a very warm welcome. We very much look forward to seeing you.