Lockdown - Mindfulness Doodle Learn to Draw for Beginners - (the Grown Ups
Sales Have Ended
Ticket sales have ended
Unfortunately, you haven't booked in time. Please try again or visit www.theportraitofspirit.com/mediumship-masterclasses
Event Information
Refund Policy
Refunds up to 30 days before event
Eventbrite's fee is nonrefundable.
Sales Have Ended
Ticket sales have ended
Unfortunately, you haven't booked in time. Please try again or visit www.theportraitofspirit.com/mediumship-masterclasses
The time to learn to DRAW and unfold your Creative Artist skills has arrived.
About this Event
LEARN HOW TO DRAW
Take Your First Drawing Steps with Anne-Marie (Artist)
Online via Zoom
Complete Beginner's - Novices
Spiritualist's most welcome!
No previous drawing skills required
Session is relaxed and friendly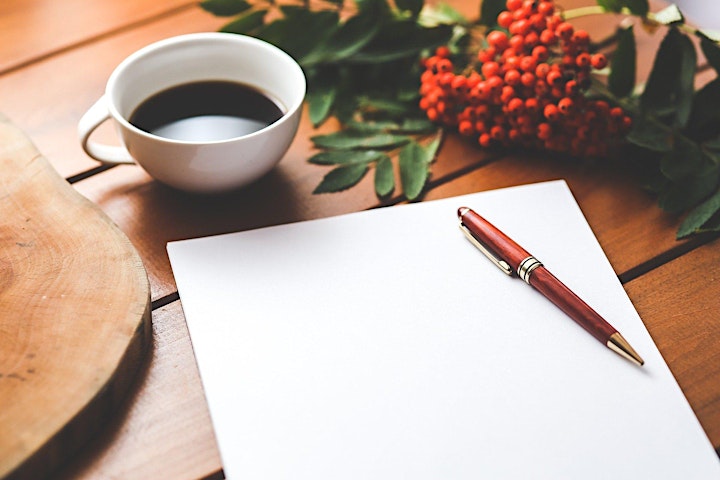 THE EXPERIENCE
TASTER DOODLE DRAWING WORKSHOP (for Grown Ups)
Learn how to draw for complete beginner's
Great ambience with the Spirit, Music and Friendly students
An easy to follow workshop that brings out your creativity
Are you a future Rembrandt, Van Gogh or a flare of Picasso?
Step-by-Step, watch live and follow the easy steps
A mindfulness way of relaxing from the madness of life right now
A 1 hour Zen Doodle Taster workshop to invite you to Art
As long as you can draw a rough circle, you will have the skill for this workshop!
Fed up of being in Lockdown?
​
You are invited to our online drawing workshop to begin your first steps in learning how to draw. Even with a little more skillset in drawing you are welcome to join and take part in this wonderful illuminated space of Spirit, Drawing, Music and Mindfulness energy.
You may have the skills to draw Matchstick man or woman ... you have the perfect skill level as the beauty of this workshop will open the doorway into your creativity.
*It's FUN
*It's a SKILL to DEVELOP
*It's INTERACTIVE
It's a FRIENDLY and WARM atmosphere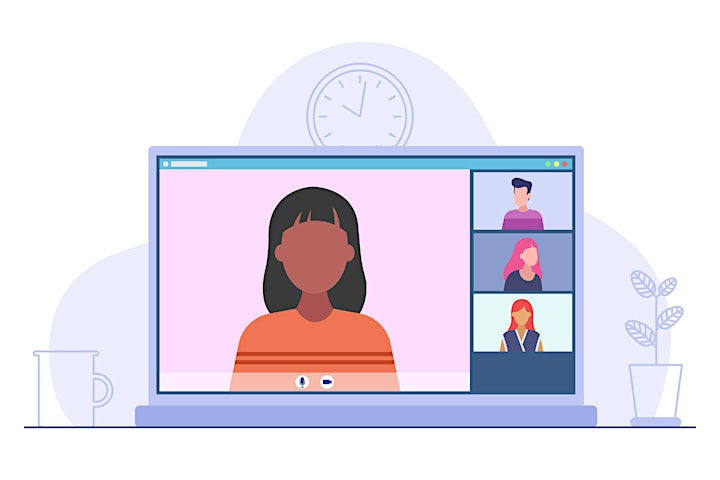 Online Art
ADVANCED ARTIST'S
This taster workshop is geared towards building confidence in beginners as a stepping stone. If more advanced at drawing you might find this workshop more basic than your needs if already a professional artist, or charge for your art, draw publicly (live) and/or confident in your drawing ability as a professional doodler, or spirit portrait artist.
This is not a Spirit Portrait tutorial workshop, but will prepare you to work with the flow of energy and creativity within using flow drawing techniques.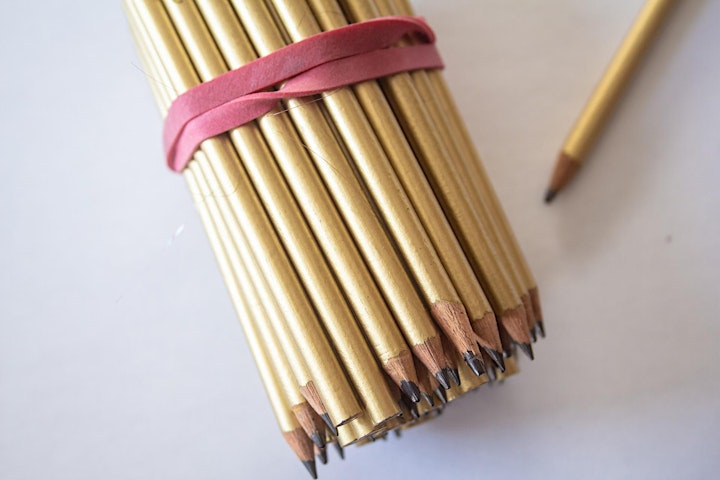 Drawn by Anne-Marie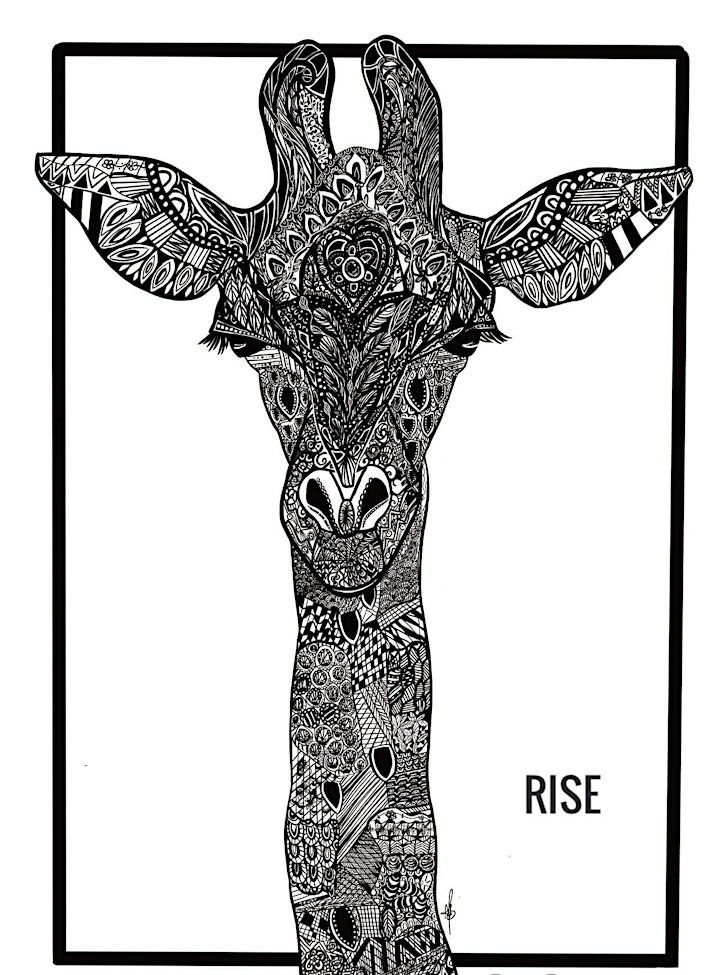 EVENT EXPERIENCE
Highly suitable for the complete (adult) beginner
Suitable for those with little or no previous drawing experience
Not suitable for advanced artists or professional doodler's
EVENT DETAILS
1 Gorgeous hour of fun!
Level 1 - Taster
Introduction + Demonstration 20 mins
Workshop 40 minutes
Bring notepad and pen and your warm smile :-)
EVENT START / END
Doors Open: at 5.30 pm:
Starts prompt at 6 pm - 7 pm (UK - GMT)
1 pm (EST)
10 am (PDT)
8 pm (CEST)
You are advised to check your own time zones against the GMT times. Please always arrive at least 15 minutes earlier to ensure not to miss the introduction.
REQUIREMENTS:
On the next page when you register
"Share this page with your social group, teaching group, circle group, best friend and help others to gain the same experience"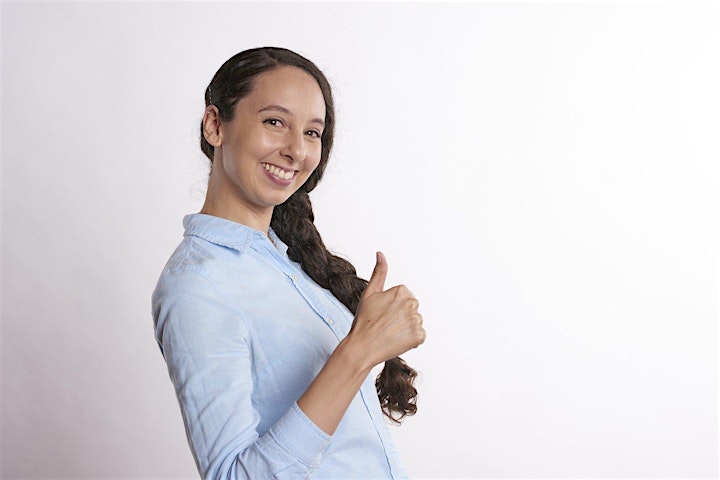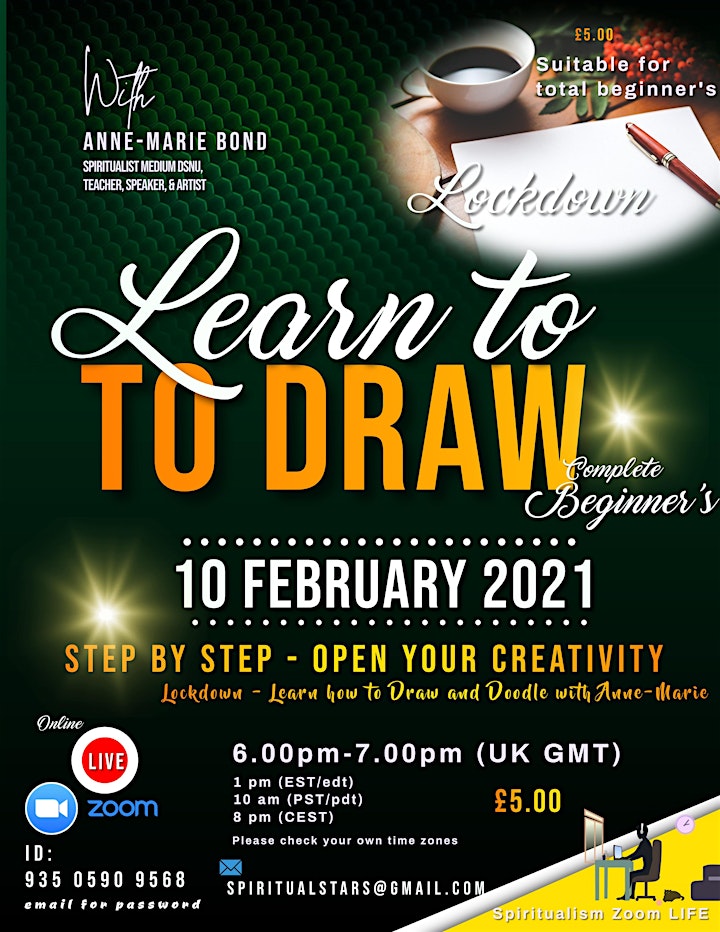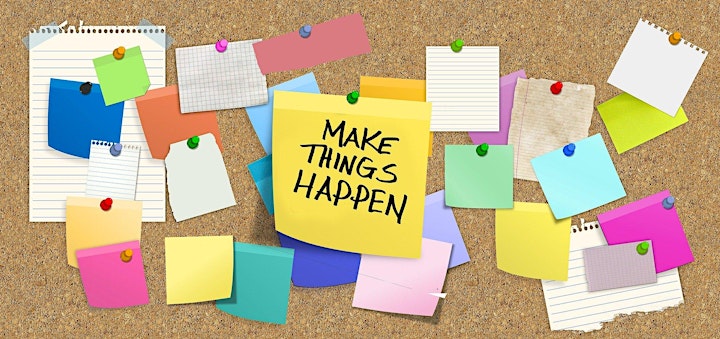 YOUR HOST
Anne-Marie is a Spiritualist who believes in a higher power, God. A self-taught Artist and a Design and Delivery Lead Specialist (Digital) for a large organisation. Anne-Marie holds a DSNU, Diploma of the Spiritualist's National Union in Mediumship Demonstration and Teaching. She also holds a TAP.Dip Training Accreditation Programme Diploma, Training and Delivery, Effective Presentations, Facilitation, Coaching and more.
Her love for teaching Art, Speaking and Mediumship knows no bounds as her fondness is to show those that believe they cannot draw... to teach you that you can!
She is well known for her unique style of teaching, putting student's at ease, being highly approachable and offers 'all her information' giving her students 150% value for money.
You will be in good hands just read the feedback student's leave about her after many workshops they have attended. Her students range from all over the globe. She has taught online for 5 years... way, way... before the ascension of people learning Zoom this year. x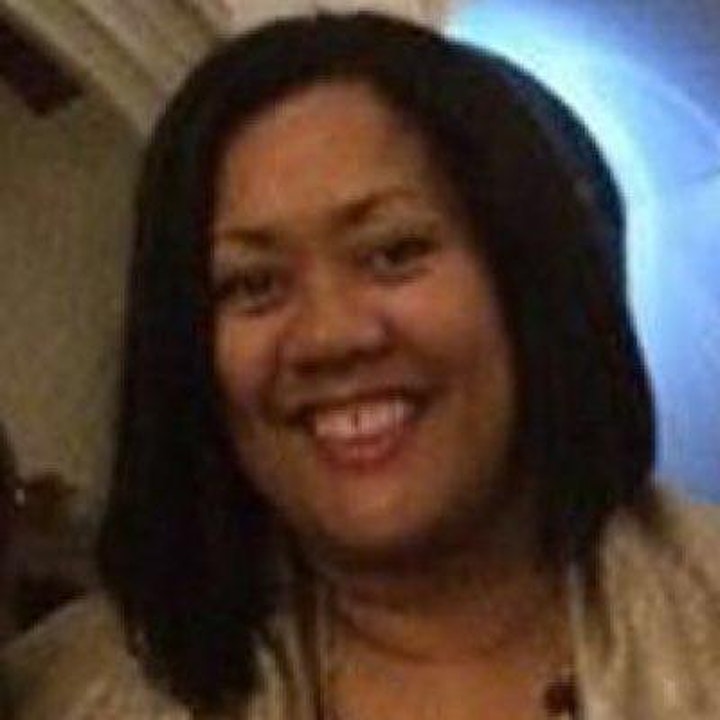 Date and Time
Location
Refund Policy
Refunds up to 30 days before event
Eventbrite's fee is nonrefundable.