Free Zoom online Lee style Tai Chi classes, open to everyone Suitable for beginners, intermediate and advanced students
About this event
Free classes every day of lockdown
We are offering free Zoom online classes during the lockdown. We know how many people may be struggling without any income so we have made the classes free of charge. If you do wish to help out you can make us a donation but it's not a requirement to participate in the classes. To join the program please fill in the form on our website and leave us some details about your level of training and availability. This will help us allocating our resources and working out the best schedule to fit your requirements. You can also view our course resources here. You will need a PC, laptop, tablet, or smartphone and an internet connection, and some space for your training.
Open to beginners
We have beginners' level classes for you morning, afternoon and evening every day during the lockdown. The classes are free, but if you wish you can make a donation, we recommend £8 per week or £28 if you book for 4 weeks and £48 if you book for eight weeks. You can train once a week or every day, each class will be for one hour.
We are a team of Tai Chi teachers based in Britain so our online classes are suitable for beginners, intermediate or advanced students.
What to expect in the class
Each class is one hour, there are three classes a day, one at 10:00 and another at 15:00 and one at 19:00 Universal time (UTC).
The class starts with warming up exercises, deep breathing or Tao Yin and Kai Men Qigong which opens the energy channels. This takes about twenty minutes, then we have twenty minutes of Tai Chi dance and the beginners class is concentrating on the first ten moves. T'ai Chi Dance or Tiaowu is a flowing and stimulating form that gets energy moving at the start of the class. Intermediate and advanced students can go into a breakout room which is like another mini class where you can work with another teacher or partner with a student appropriate to your level of advancement. Then we do the Tai Chi form which is a meditative form comprised of linked sequences, we will start with the first three sequences or twelve stances. Working with an advanced level teacher is of use whatever level you are at.
We finish every class with the five lotus blossoms breathing exercise which brings the Qi back to the centre where we store it until it is needed.
Our classes come with a full range of supporting materials, including books you can buy from our online book store and Youtube videos you can use to work outside the class. Every class is run by experienced and professionally trained teachers who all have their own classes.
Health benefits
Why do some people never get colds and flu but others are always sick, whenever there's something going around they get it?
The answer is Qi, this is the Chinese word for life-force or vitality, it is your internal energy store, some people run with a battery at 100%, some people run their store down and so they are always depleted and when a virus attacks they are weak and succumb to the symptoms. Qi energy has been studied in China for thousands of years.
Preventative medicine is mentioned in the Yellow Emperor's classic the Nei Ching written in 2600 BC where it says :
"There's no point sharpening your knife on the way into battle",
and
"When you're thirsty don't start digging a well".
The key to strong health and the ability to fight off diseases like the coronavirus is to take steps before you get infected. Tai Chi works on three levels, boosting the intake of Lung Qi by maximising deep breathing and increasing lung capacity, it also works on accessing the inherited energy of the body or Jing, a store of fuel you can tap into all throughout your life, and it also works on absorbing natural energies that are all around us and naturally flow through the body without us even realizing it. Our Tai Chi classes teach you how to relax physically and mentally so you don't burn away your precious store of fuel and build up a surplus that's always available when you need it.
All this sounds amazing but you will really be able to feel the effects for yourself by doing the exercises, some people can feel it right away, for some people whose life force has become depleted by bad diet, stress or ill health it could take longer. This is not some kooky therapy dreamed up by hippies in the sixties, it has a sound empirical basis in one of the world's most ancient and advanced cultures dating back thousands of years when Westerners were still living in mud huts, and it's based on the natural philosophy of Traditional Chinese Medicine or Taoism.
Start now
Do you want to get sick or do you want to be strong and healthy, turn your life around, start now and book a course with us today, it's free, what do you have to lose?
Look at this map to find the time of the classes locally to you.
We are in Britain which is in UTC, the classes are at 10:00, 15:00 and 19:00 UTC, add or subtract the number on the baseline of the map to convert these times to your local timezone. (Please note the 15:00 slot is reserved for weapons on Saturday and advanced students only on Sundays.)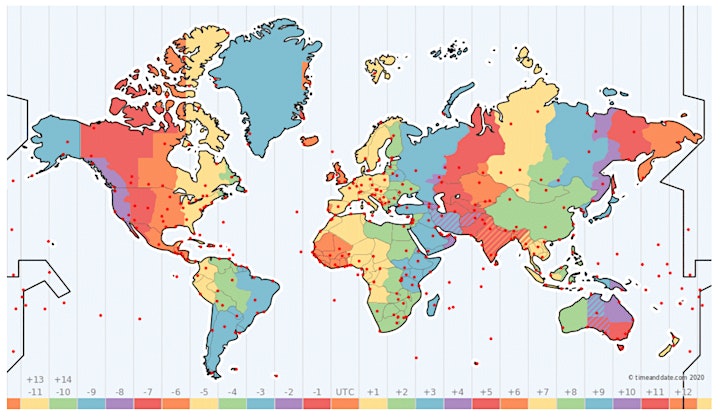 Weapons forms every Saturday at 15:00 UTC