Logistics and Engineering Information Open Day November 2013

Wednesday, 27 November 2013 from 12:00 to 16:00 (GMT)
Event Details
Thank you for booking onto our Open Day.
Swansea Metropolitan has become University of Wales Trinity Saint David (UWTSD), Swansea.
UWTSD is at the forefront of a radical new system for education in Wales and places the learner at the heart of our mission. We aim to inspire individuals and develop reflective graduates and practitioners who can make a difference in society, whether local, national or international. We are a relevant, modern university offering innovative education and new approaches to work-based learning and professional practice.
Our students receive a professional and employment-focused education which will be underpinned by quality internationally recognised research, enterprise and innovation.
Directions to the Mount Pleasant Campus – SA1 6ED
University of Wales Trinity Saint David, Swansea (Mount Pleasant) Campus
Moutn Pleasant
Swansea
SA1 6ED
Parking
Below is a map of the campus which shows local carparking in the area.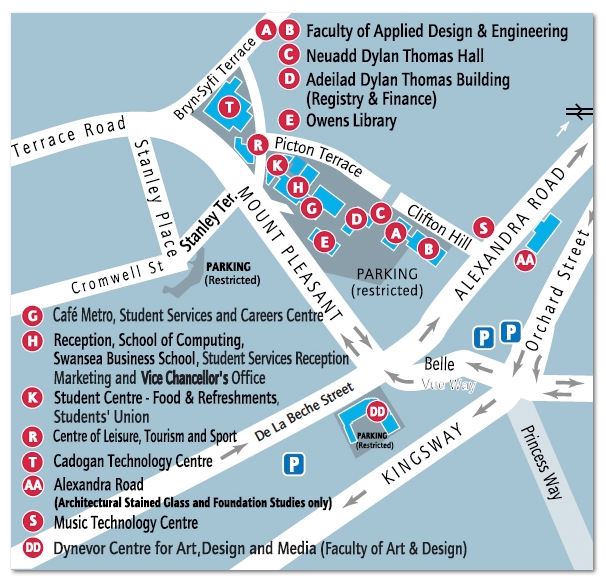 The Open Day starts at 12.00 pm, with a buffet lunch, and takes place in the Cadogan Conference Room (marked 'T' on the attached location guide), Mount Pleasant Campus, Swansea, SA1 6ED.
_________________________________________________________________________________
Course Information
Logistics including Motorsport Management 
The development and application of high quality logistics practices are now recognised to be essential for the success of most businesses and organisations, in both the public and private sectors. 

Our programmes have been developed with a common core and specialist management options. We aim to develop a students' understanding of current strategic planning and management in the movement of goods, people and information. 

Students will critically evaluate established and innovative concepts, and complex models in the areas of procurement, manufacturing storage, distribution and retailing. 

These factors are considered with reference to a comprehensive understanding of the legal, social, commercial and environmental factors that may impact on logistics and supply chain systems. 

We have worked with the Supply Chain Management Development Centre (SCMDC) in building an enviable reputation for the quality of both our training and consultancy services. 

The range of clients who have taken advantage of these programmes include the UK Ministry of Defence (the Royal Logistics Corps, the Royal Fleet Auxiliary and the Army School of Catering) and international companies such as Peacocks, Bon Marche, Interbrew, British Airways, Corus, Ford and Hanson. This training and consultancy with private and public sector bodies ensures that our programmes remain relevant to the needs of the industry.
Our motorsport management course, the first in the world, has extensive links throughout the motorsport industry, offering students a unique opportunity to work on live projects with some of motorsport's top names.
All motorsport courses at Swansea Met are industry approved and we are one of the first universities in the UK to become a Motorsport Academy UK recognised Educator (HE).We have a good relationship with Silverstone race circuit, Prodrive and the organisers of the Wales Rally GB, presenting work experience opportunities for students. Graduate destinations include Silverstone, Prodrive, Bridgestone Motorsport and Mercedes World at Brooklands.
The School of Logistics and Manufacturing Engineering is home to the 2006, 2007, 2008 and 2009 Welsh Transport Students of the Year.
Mechanical and Manufactoring Engineering
The School has a long established track record of delivering industrially relevant undergraduate and postgraduate courses.
Collaborations with organisations such as Ford Motor Company, Visteon, Calsonic Kansei, Belron and, more recently, Tata Technologies ensure that both teaching and research is informed by contemporary industrial problems and best practice. Our programmes are further enhanced by visiting lecturers from industry, who provide industrial perspectives. Graduates are thus well prepared to take up roles as engineers and managers in 21st Century industry.
In 2006, Swansea Metropolitan University and TWI Ltd, the operating arm of The Welding Institute, came together to create the NDT Validation Centre, a pioneering project which could revolutionise the performance of key manufacturing and construction industries. This collaboration fuses TWI's world-renowned experience in research and development in NDT, and Swansea Met's well-established track record of industrially-biased education and research.
The School has also been given an excellent rating by the Department of Transport and Industry (DfT) for its 'Knowledge Transfer Partnership' collaboration with a local small business.
The School is also well equipped with a range of resources including:
- Three CAE laboratories with software including UGC IDEAS for 3D modelling, Finite Element Analysis and CADCAM, Fluent for Computational Fluid Dynamics, Granta Engineering Selector for materials and process selection and Matlab for systems simulation.
- Manufacturing centre, including traditional machine tools, Haas turning and 4-axis machine centres, Renishaw Cyclone scanner and co-ordinate measuring machines.
- Rapid prototyping, including 3D Systems sterolithography and MCP vacuum casting facilities.
- Materials laboratory with a range of testing equipment.
The engineering portfolio includes:
Automotive Engineering 
The University has, for many years, offered programmes designed to develop and enhance the engineering skills of those wishing to enter the automotive industry. The Swansea Metropolitan University School of Automotive Engineering now offers a wide range of programmes but all are based on the fundamental philosophy of supporting sophisticated and high level analytical work with practical, hands on engineering activity. With numerous laboratory and workshop areas available to support students in their work we believe that we are able to offer a unique experience to those studying here.
The programmes offered are:
Students have access to an extensive range of resources that include:-
Engine laboratory with a range of engine dynamometers and test engines

Two race preparation workshops with fabrication, data acquisition and set up facilities

Motorcycle workshop with dedicated test and service equipment

Automotive workshop with sophisticated diagnostic equipment for engine and vehicle systems and engine and chassis system test rigs

Materials laboratory with a range of modern test equipment

Manufacturing centre with traditional machine tools, Haas CNC turning and machining centres, steriolithographic and 3-D scanning equipment

Two CAE laboratories with software including suspension analysis, Pi Research and 2-D data acquisition, SDRC Ideas for 3-D modelling and Finite Element Analysis, Fluent for Computational Fluid Dynamics, Matlab for systems simulation and Ricardo WAVE and GT Power for engine simulation and analysis

Working closely with the staff at nearby Pembrey Circuit we are able to test our competition cars and motorcycles on track. The permanent Swansea Service Park for Wales Rally GB in Felindre is on the edge of Swansea and the opportunities this presents for student involvement in the Rally continue to grow.
When & Where

Mount Pleasant Campus, University of Wales Trinity Saint David Swansea.
Mount Pleasant
SA1 6EQ Swansea
United Kingdom


Wednesday, 27 November 2013 from 12:00 to 16:00 (GMT)
Add to my calendar