Description
Telangana NRI Forum (TeNF) is ecstatic to present the Biggest Ever Telangana Bathukamma (Floral Festival) Celebrations ever seen outside of India.
It is with great pleasure that we announce our 6th Bathukamma celebrations at Indian Gymkhana Club Grounds OSTERLEY - West London on the 23rd of September from 3pm onwards.
It is an event you wouldn't want to miss as it will be the first of its kind in open gymkhana grounds with Telangana village style ambiance with traditional Bathukamma for women, Iconic Telangana Kolatam for Men along with several activities for Kids like Bouncy Castle, Kids Rides and the Grandiose Vibrancy of nature.
Highlights of the Event:
1. Traditional Bathukamma & Pooja in open grounds in village ambience
2. Full house DJ Bathukamma for women & Kollatam for men
3. Mouth-watering Telangana Dinner
4. Food stalls and jewellery shops
5. Kids rides, bouncy castle
Date : Saturday, 23rd September 2017, Time : Starts at 1500hrs to 2100hrs followed by dinner
Venue : Indian Gymkhana Ground
Thornbury Avenue, Osterley TW7 4NQ
Contact : 07942939291 East London – 07405443301
Looking forward to see you all at the venue…
Jai Bharat, Jai Telangana!!
Please forward to your friends & other family members
Note: Please find the attached poster for more details.
---------------------------------------------------------------------------
!!!!!!ఆహ్వాన పత్రిక - సద్దుల బతుకమ్మ - దసరా సంబరాలు!!!!!!
మొట్టమొదటి సారిగా విదేశాల్లోమునుపెన్నడూ లేని విదంగా తెలంగాణ గ్రామీణ బతుకమ్మ జాతర వాతావరణం తలపించే విధంగ చారిత్రక లండన్ లో మీ మన తెలంగాణ ఎన్ఆ. ర్ ఎయె ఫోరమ్ (TeNF) ఆధ్వర్యం లో "లండన్ బతుకమ్మ" నిర్వహిస్తున్నామని తెలియచేస్తున్నాము.
సుమారు 2000 మంది కి అన్నిసదుపాయాలు కల్పించి ఐరోపా గడ్డ మీద పెద్దఎత్తున మీ అందరి సహకారం తో సెప్టెంబర్ 23 వ తేదీ INDIAN GYNKHANA CLUB ,OSTERLEY (NEAR HOUNSLOW ) లో నిర్వహిస్తున్నాము .
మన ఆడపడుచులకు బతుకమ్మ ,మగవారికి కట్టే కోలాటం ,చిన్నారులకు రంగురాట్నం , Bouncy Castle ,కిడ్స్ రైడ్స్ మొదలగు ఆటాపాటలు మరియు తెలంగాణ విందు భోజనం(DINNER) తో మీ ముందుకు ఒక తెలంగాణ గ్రామీణ జాతర వాతావరణం తీసుకువచ్చే ప్రయత్నం చేస్తున్నాము.
మీ కుటుంబ మరియు మిత్రుల సమేతంగా హాజరై, బతుకమ్మ అట పాట ల తో మమేకమై సద్దులు ప్రసాదం స్వీకరించి మా ప్రయత్నాన్ని ఆశీర్వదించగలరని ఇదే మా ఆహ్వాన ప్రార్థన.
మన తెలంగాణ బతుకమ్మ కు ఏమాత్రం తీసిపోకుండా రంగు రంగు పూవులు బతుకమ్మ ల తో మన ఆడపడుచులు బతుకమ్మ బతుకమ్మ ఉయ్యాలో అన్ని పాటలు పడుతుంటే ఎలా ఉంటుందో ఈ వీడియో ఒకసారి విక్షించండి VIDEO LINK
Date : శనివారం 23 సెప్టెంబర్ 2017 మధ్యాహ్నం 3గం రాత్రి 9 గం వరకు
Venue :ఇండియన్ జింఖానా గ్రౌండ్స్ ,Thornbury Avenue, Osterley TW7 4NQ
----------------------------------------------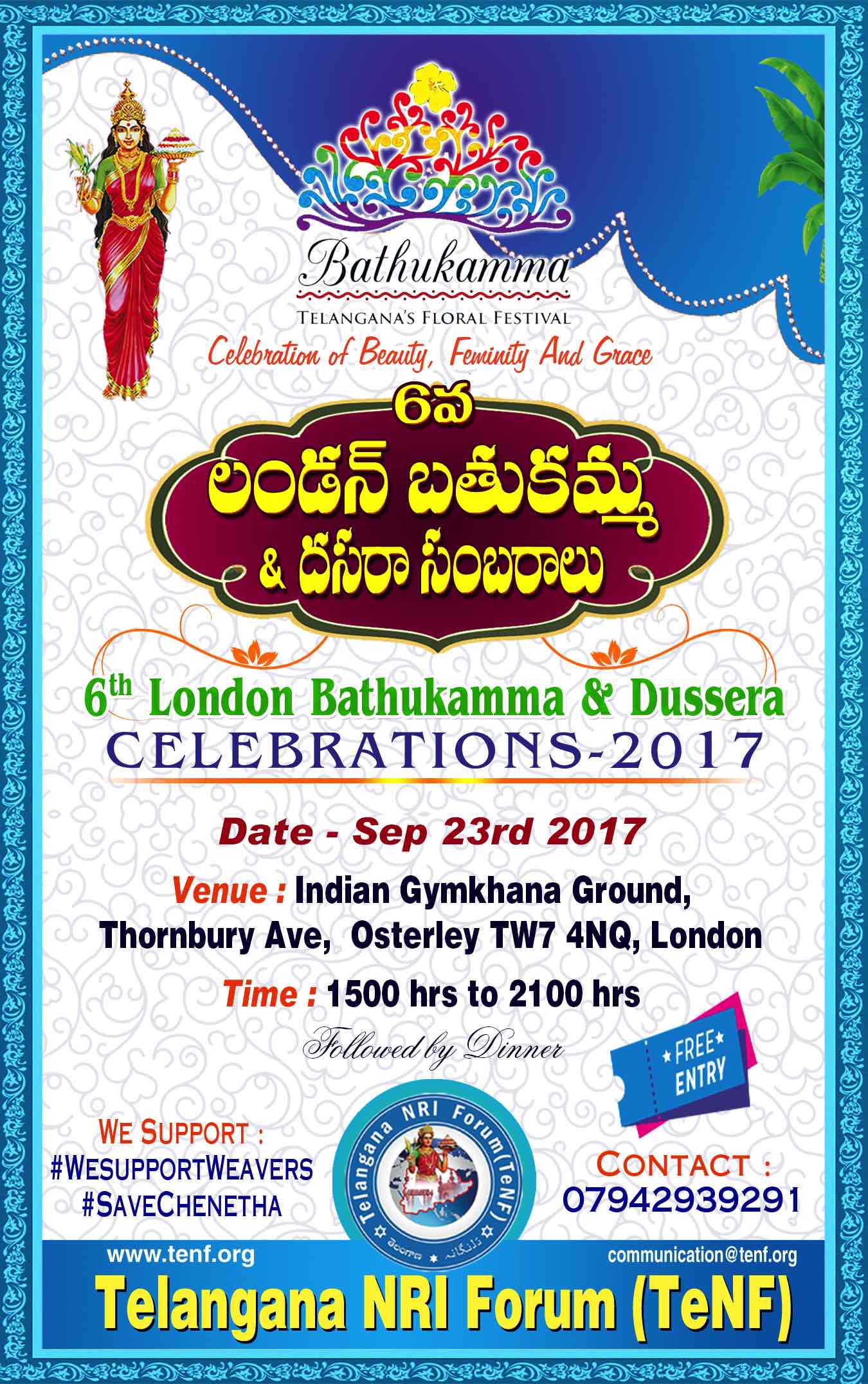 ---

Bathukamma is an embodiment of the spirit of Telangana. The festival has become an important part of the cultural renaissance movement of Telangana and has now been accorded the State Festival status in the newly formed state.
Bathukamma is literally a celebration of life. It is a unique tribute to nature, which starts with colorful flowers and culminates in a waterbody.
Divine fervor, floral beauty and songs encompass the ritual spirit of Bathukamma in all the nine days of its celebrations.
Bathukamma is primarily a women's festival. It begins on the day of Bhadrapada / Mahalaya Amavasya and concludes on Ashwayuja Ashtami, based on the lunar calendar.
Telangana, the youngest state in the Indian Republic, is poised to celebrate its first Bathukamma Panduga magnificently. Come let's celebrate life...