Description
WorkshopEast will be hosting workshops with artist and master-steam-bender Charlie Whinney as part of London Craft Week at Sugarhouse Studios, a workspace run by Assemble and WorkshopEast in Bermondsey.
For just £25 you can spend 90 minutes learning about the unique art of steam-bending wood in all manner of amazing shapes and leave at the end with a lampshade, vase or pot you have made yourself! (note. Charlie's cheapest lampshade 'Curlyshade' goes for £500!)
Get a new skill and make a treasure to keep collaborating with a master at his craft.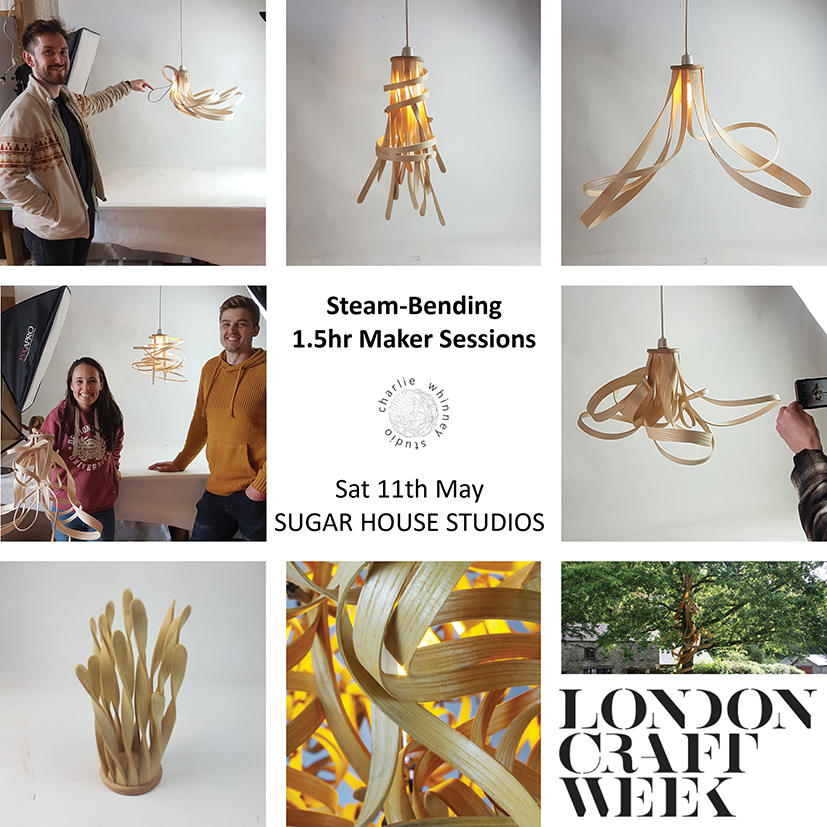 The session will include 30 minute talk and demo giving you basics of steam-bending and 1 hour making session to make your own unique lampshade, vase or sculpture to take home.

In the 30 minute session we will cover....

Science of Steam-Bending

Free-bending

Using jigs

3 types of compression strap

In the 1 hour practical part everyone gets a specially designed circular plate that can form either a lampshade or base for a pot or sculpture. Participants have an hour to experiment creating their own shapes to slot into the plates to make their work... and hey presto - an instant creation! The works can see immediate service or participants can sand and refine the designs at home.


Charlie Whinney Studio has been at the cutting edge of steam-bending for past 15 years. We love complicated untried technical challenges with wood and explore how these relate to the wider world. Every new project we do has at least one new element we have not done before - this is true from the first product designs for sixixis with Tom Raffield to our art installations all over the world and latest 'community furniture and product work' for marginal groups. The studio is essentially a fine art practice operating within the sphere of applied 'useful' design. Current clients include Harvey Nichols, Selfridges, Eden Project, Forestry Commission and hotel clients and selected galleries in Asia, Europe and USA. To find out more why not visit our artisan studio at the Chelsea Flower Show, or you can buy Charlie's new book 'Wood & Steam' published by Kyle Books.