About this Event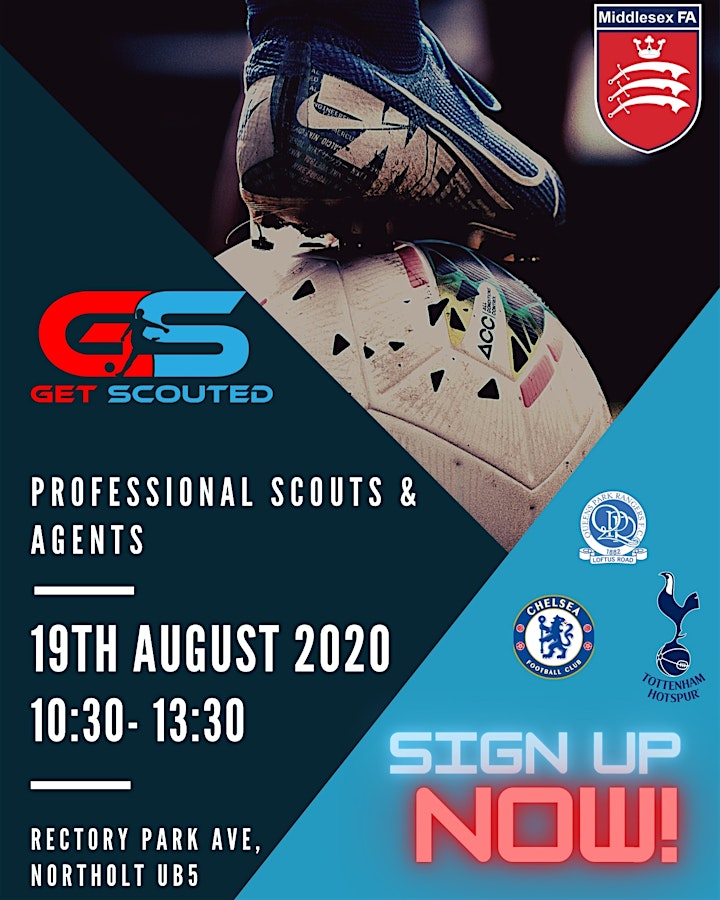 None
Age: 15 - 24
Location: London
Venue: RECTORY PARK, LONDON UB5 6AU
Date: 19/08/2020
Registration: 10:00
Start: 10:30
Finish: 13:30
What to expect:
You will be greeted at the site by our friendly GetScouted staff, where you will then complete your registration.
You will be informed of the structure of how the day ahead will be run.
You will train with a UEFA A/B qualified coach, various academy drills, Then a match to showcase your talent to scouts and managers who will be watching. Please be aware that the match will be recorded
After the trial, scouts who have expressed an interest will have a 1-1s chat with you, all players will be given feedback on your performance via email.
GetScouted is closely following the government and FA guidelines on developments regarding the Coronavirus, also known as COVID-19. We are tasking it upon ourselves to ensure that we are pro-active in our approach which is comprised of prioritizing the health and safety of the attending trialists, staff and visitors.
This is also in line with the Government guidance which was issued on 1 June 2020, which sees the easing of lockdown restrictions on gatherings, public spaces and outdoor activities as well as the phased return of outdoor sport and recreation,
With circumstances subject to changes in government and FA guidelines, we aren't able to guarantee any selected trial dates. However, all attending players would have the option of selecting the next available slot through the means of a credit note, which will be valid for a 12-month period; Providing a priority service to those who have already booked a date within the chosen time-period.
Below you will find a list of some of the safety amendments we are taking during our trial sessions:
2 Metre Distance between parents/guardian, visitors and spectators
Players must arrive changed and ready to play
No unnecessary physical contact i.e. hand-shakes and hugs
All bibs will have been cleaned to the highest standard before every session and will NOT be used in between games without being thoroughly washed.
Bibs will not be shared between players and all players will be provided with a bib they will use and be expected to hand-back at the end of the session
All changing rooms, club rooms and showers will be closed
There will be a drop-off and pick-up system in place that will reduce the footfall which will include one-way systems guided by signposts of where visitors can view the sessions.
Hand-Sanitiser will be provided on-site