Location
Hendon Park
17 Queens Rd
London
NW4 2TL
United Kingdom
A WELCOME EVENT for newly-arrived people from Hong Kong and a chance to meet local Londoners! Children are particularly welcome.
About this event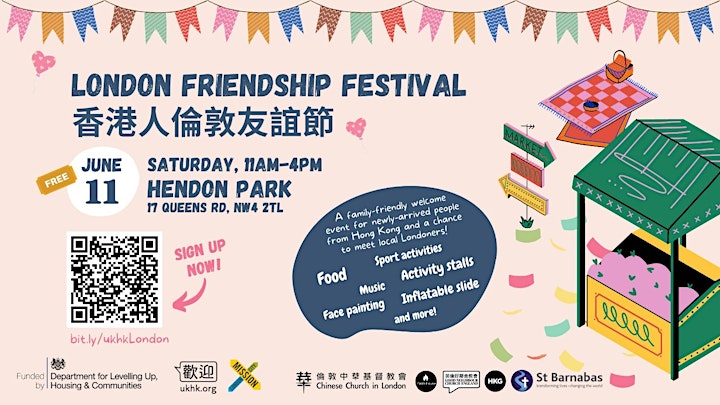 這個初夏,UKHK將在英國各地舉辦一系列友誼節和招待活動,讓大家——新到埗港人、教會、社區組織、還有住在附近的鄰居們——可以一起在陽光下玩遊戲!記下日期、登記索取免費門票,一家大細一起來結交新朋友吧!
這個在 Hendon Park舉行的活動由地方教會, 當地組織和UKHK舉辦。活動將包括:
歡迎新抵英移民的儀式
品嚐英國及香港的特色美食
為當地學童提供趣味廣東話小學堂、摺紙龍舟、兒童面部彩繪活動
音樂表演
與當地社區團體互動的其他活動
此外,我們還為由香港來的小朋友準備了一份特別的禮物:一本專為孩子設計的《歡迎來到英國》小書。請為您的孩子登記「兒童票」(Children ticket),我們就會在友誼節當日為您的孩子送上一本《歡迎來到英國》囉!
-----------------------
This Spring, UKHK is organising a series of Friendship Festivals and receptions across the UK, so we can all have fun together in the sun – people from Hong Kong, local churches and communities, and everyone in the neighbourhood! Mark the date, register for the free tickets today, and come have a blast and make new friends!
This event at Hendon Park is being organised by local churches, organisations and UKHK. The Friendship Festival will include:
An official welcome for new arrivals to the UK
Try British and HK iconic food
Activities for school children, eg. traditional Chinese writing, paper dragon boat folding and face painting
Musical performances
Other activities to engage with local community groups
In addition, we have written a "Welcome to the UK" book especially for children from Hong Kong. Register for the "Children" ticket to get your child a free copy at the Festival!