Dance, music, food and much, much, more- a night to celebrate those who paved the way for us!
About this event
St Martins Community invite you to come together to celebrate the contributions and achievements of our Windrush Generation. A commemorative evening filled with song, dance, poetry and more. This is definitely a night not to be missed.
THIS EVENT IS NOT TO BE MISSED!!
VOLUNTARY CONTRIBUTION
Here at St Martins Community Centre, it is our aim to hold community events like this throughout the year. However as we do not receive any government funding this can only be done with your help. Therefore, although this is a free event we do ask for a voluntary contribution of £8 or whatever you can afford to help support this.
Thank you in advance,
The SMCC team!
Not free that evening?
Then attend one of our other Black History Month events this month:
Black History Studies presents 'Africa before the Slave Trade'- Thursday 17th October - https://www.eventbrite.co.uk/e/black-history-studies-presents-africa-before-the-slave-trade-tickets-68438237611
Women Rise! - An Evening with Activist and Artist Zita Holbourne- Friday 25th October - https://www.eventbrite.co.uk/e/women-rise-an-evening-with-activist-and-artist-zita-holbourne-tickets-73411286133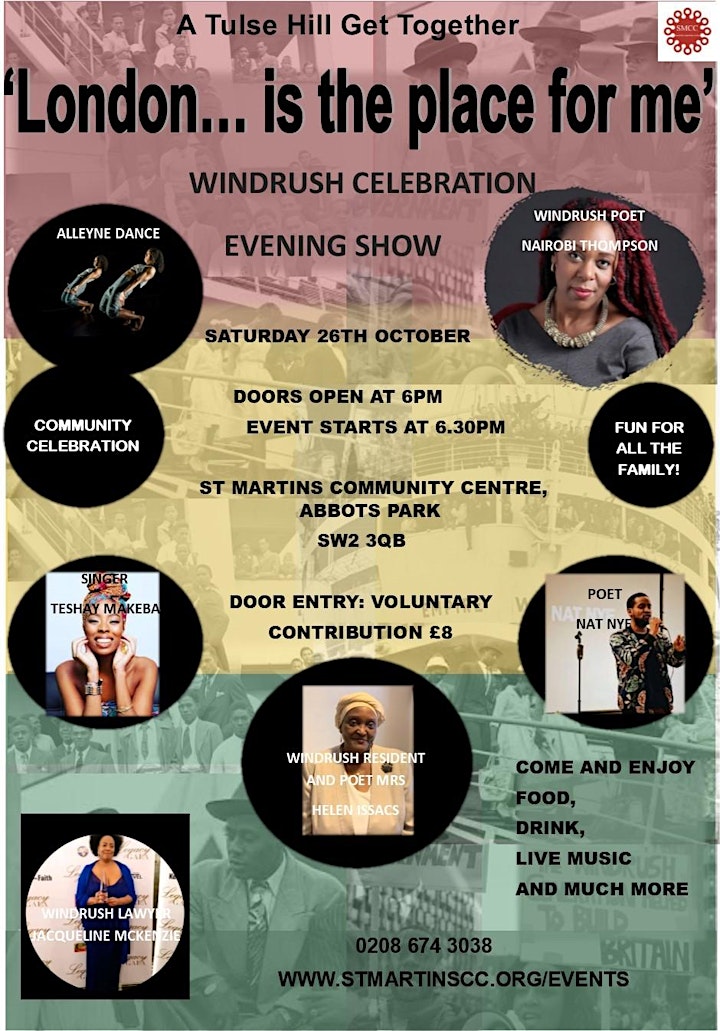 Organiser of 'London… is the place for me'- A tribute to our Windrush Residents