London is YOU! Police Officer Recruitment Meet and Learn Session
Description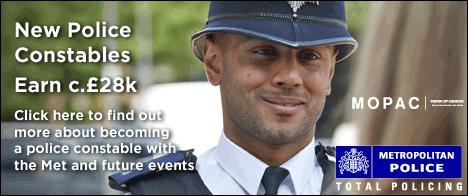 You are invited to attend a police officer recruitment event on behalf of the Mayor's Office for Policing & Crime (MOPAC) and the Metropolitan Police Service (MPS) on Monday 16th December at the Grand Palace Banqueting Suite, 242 High Rd, Wood Green, London N22 8JX between 6:00pm – 8:30pm followed by networking and refreshments.
London is one of the most diverse cities in the world, and as a capital city, presents an extremely complex policing challenge. An essential component of the Mayor's vision for the MPS is that their officers and staff should reflect the city it serves.
The MPS is currently undertaking a comprehensive recruitment programme, aimed at recruiting 5000 new officers by 2015. This presents a real opportunity to achieve the Mayor's vision that London is policed by Londoners – and a chance to increase the proportion of Black & Minority Ethnic (BME) officers within the Met.
In order to support this recruitment drive MOPAC has invited Ray Lewis, the Mayor's Senior Advisor on Mentoring, to form a small taskforce to work with the MPS and support the recruitment drive through a number of events aimed at increasing interest amongst BME Londoners to become police officers.
I do hope that you will be able to join us on the day. These events are important as they will enable you to find out about becoming a police officer and will provide an opportunity to hear and question existing police officers about a career in the MPS.
For further information visit: http://www.metpolicecareers.co.uk/newconstable/