TERN's LONDON MADE online fair celebrates the launch of new businesses led by Londoners with refugee status.
About this event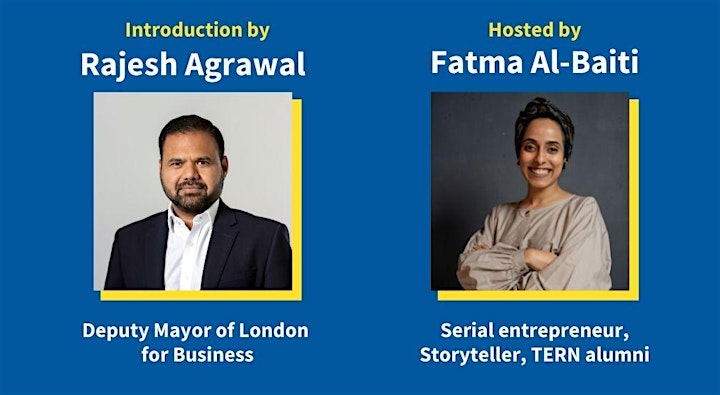 At this online showcase, presented by TERN in partnership with London Business Hub and Atomico, Londoners with refugee background will present & officially launch their new businesses and non-profits.
------
The audience: fellow entrepreneurs, startup afficionados, diversity champions and the general public from London and beyond.
------
✨🎤The line-up: Excitingly, the event features, amongst others:
✨ An inspiring opening address by Rajesh Agrawal (see profile here), Deputy Mayor of London for Business.
✨ The event is hosted by Fatma Al-Baiti, a TERN Alumni Champion, storyteller and serial entrepreneur. Fatma is the founder of the Yemeni pop-up brunch series 'Meet me at Fatma's'.
✨ LONDON MADE features Presentations by over a dozen refugee founders, including:
🎤Founder Laila Majeed's Sada Skincare, an all-natural cosmetics company and community offering tips, support and 100% organic products to women who live with sensitive skin conditions.
🎤Founder Raymond Amadhila's Kapanna South African Grill, who's unparalleled ribs and veggie sausages are already available to enjoy at his fiery barbecue shack in Mercato Metropolitano.
🎤Founder Mariam Tahir, who is reimagining solutions to one of the UK's more pressing issues, childcare for underrepresented mum- & dad-preneurs and professionals, through her social enterprise Coffee with Kids.
...and many, many more!
------
Choose your theme track (during the Eventbrite checkout process), from:
👗Fashion
🍲Food
💻Digital learning
☮️ Nonprofit & Social Enterprise
🧴Beauty & Care.
During the event, you'll meet refugee founders in your chosen track. They present to you, you get to ask questions and connect - during and beyond the event.
------
📣 You can make a difference by inviting more people. The more people attend, the more we will make this an unforgettable experience for all involved, especially the new founders. We would massively appreciate it if you could share the link to this Eventbrite with your team, your network and your friends!