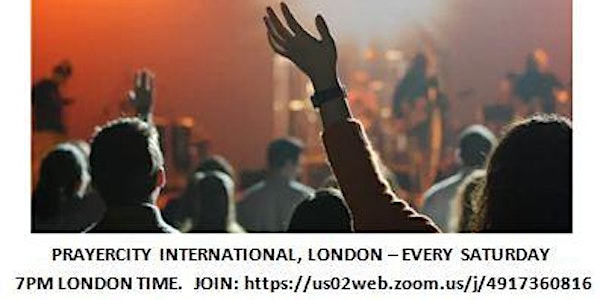 London Online Prayer Meeting every Saturday 8pm - 9pm (London time)
Are you seeking an online prayer team to support and fellowship with you? Join us online every Saturday @ Prayer City International by 8pm
About this event
Are you seeking an online prayer team to support and fellowship with you?
Join us every Saturday, 8pm to 9pm @ Prayer City International for a time of prayer & worship in God's presence. He is the God of Impossibility. Come, let's join our faith together. Come also with your prayer request.
Time 8pm - 9pm London, 8 pm -9pm Nigeria, 3pm-4pm Dallas USA
8pm-9pm Dublin, 4pm-5pm Washington USA
Isaiah 44:3 NIV For I will pour water on the thirsty land, and streams on the dry ground; I will pour out my Spirit on your offspring, and my blessing on your descendants.
Join our Zoom Meeting every Saturday, 8pm London time
https://us02web.zoom.us/j/4917360816
Meeting ID: 491 736 0816
One tap mobile: Meeting ID: 491 736 0816
Find your local number: https://us02web.zoom.us/u/kzdoii4QC
Join us, doors are opening, chains are falling and Jesus Christ is glorified. See you on Saturday.