Description
Please join us for an informative talk on probably the least consistent age specific entrance exams currently implemented by senior day schools. Many schools have introduced entirely new admission processes at 11+. Others have made considerable changes to existing tests. Therefore, the need for parents to understand these new demands is imperative.
The London Consortium, a group of the leading London girls' schools, have changed the testing format for their next 11+ intakes. In doing so, they hope to ensure that they offer places to the most appropriate applicants for their respective schools. The new format places greater emphasis on aptitude over rote learning and gives more weight to the interview process.
Meanwhile, both co-educational and all-boy senior schools continue with school specific tests or common entrance at 11+. The upshot is a complex admissions path for families, who are considering a range of schools for their children.
To understand these new developments, we will be joined by Lucy Elphinstone, Headmistress of Francis Holland, one of The London Consortium. Lucy was an advocate for change to the 11+ and understands the benefits for prospective pupils. Adding to these insights and refreshing our knowledge of the other 11+ tests, Jill Walker, Headmistress of St. Nicholas Prep, will explain what prep school do to make sure that children are equipped to perform well. They will also discuss how to manage the pressure that students no doubt feel.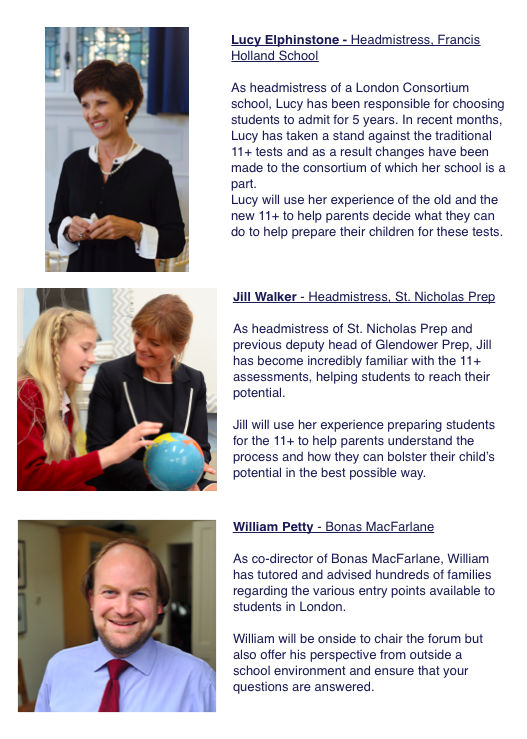 The talk will be followed by a Q&A with the speakers, offering parents the chance to have their specific questions answered. Hot drinks and pastries will be provided.