Description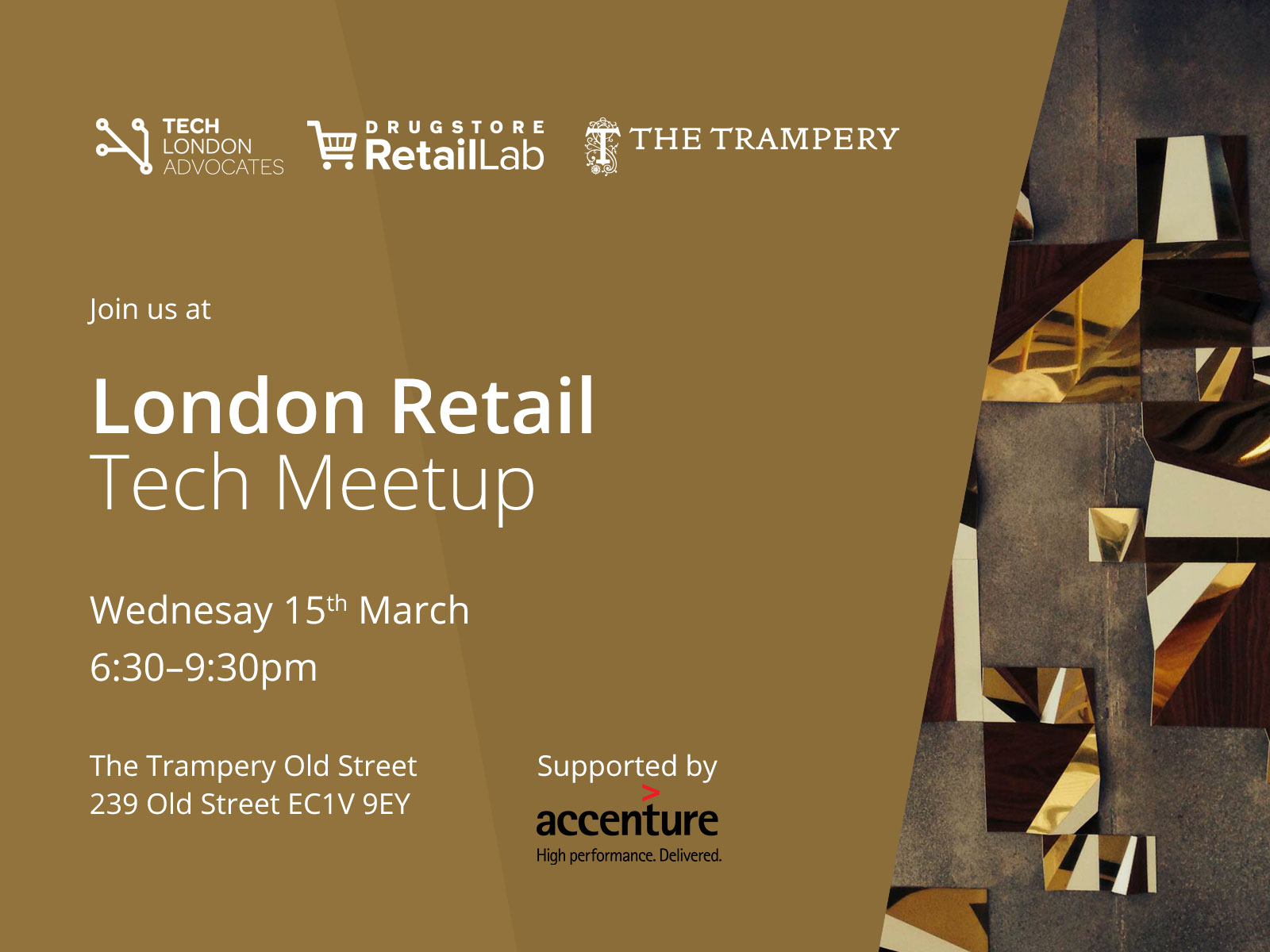 Tech London Advocates Retail Tech Group and The Trampery Old Street invite you to London's biggest meetup created for all those interested in the ever-evolving intersection of retail and technology.
This month we explore
Retail's New Reality.
Join us for a
n evening of
mixed reality experiences
, exploring how Artificial Intelligence and Mixed Reality technologies are transforming the customer experience both online and offline.
Here, we'll explore the rise of interconnected experiences and introduce you to the start-ups and retailers who are leading the way in this exciting field.
Hosted at The Trampery Old Street the event is free and open to anyone looking to connect with London's community of retail startups, retailers, investors and innovators.
The meetup is designed to introduce exciting retail innovations, encourage new connections, inspire collaboration and bring new opportunities in London's Retail Tech community to light.
What to expect on the night
This month we're exploring Retail's New Reality.
Our talks will explore the rise of intelligent automation, using VR to create opportunities to get rid of intrusive advertising, the role of Visual search and image recognition for retailers, how Holograms can fit into the retail environment and the emergence of a new commerce that reasons and learns from shoppers.
The talks will last around one hour, after which there will be an opportunity to connect with the speakers and each other over delicious cocktails and drinks.
Meet the speakers presenting
Simon Peter Johnston, Open Innovation AI lead – Simon will be providing an overview of AI and Retail. Specifically, he will be exploring the new levels of customer engagement, industry cross-pollination and the rise of intelligent automation.
Samuel Huber, Founder & CEO – Exploring the future of advertising and marketing, and how new technologies, like VR, are giving us the opportunity to get rid of intrusive advertising and improve the experience for everyone.
Alastair Harvey, Chief Solutions Officer – How shopping and interaction with retailers are enhanced by the use of Visual Search and Image Recognition.
Matt Williams, International client and market development Lead – An introduction to Cognitive Commerce. Revolutionising the way people shop……through commerce that reasons and learns!
During the event, we're also excited to introduce Intaglow, a physical display that is bringing holograms into the retail environment, and the events background music will be played from Devialet's amazing Phantom speakers.
About the organisers
The London Retail Tech Meetup is a joint initiative from Tech London Advocates and The Trampery's Drugstore Retail Lab, kindly sponsored by Accenture.
The TLA Retail Tech Group brings together online and offline focused startups, experts and practitioners in this exciting area of digital innovation. Our mission is to promote London as a centre of Retail Tech innovation, supporting startups in this sector and facilitating dialogue between members. We're part of Tech London Advocates, an unrivalled collection of tech leaders, experts and investors
The Trampery Old Street is The Trampery's exciting flagship space in London. What was once a long abandoned building is now a luxury innovation and creativity hub in the heart of London's technology cluster. In addition to a 50-desk shared workspace that houses an energetic community of emerging entrepreneurs and small businesses, the building features a private members lounge, and offers outstanding event and meeting spaces for every occasion, from meetings for four to functions for 250.