Description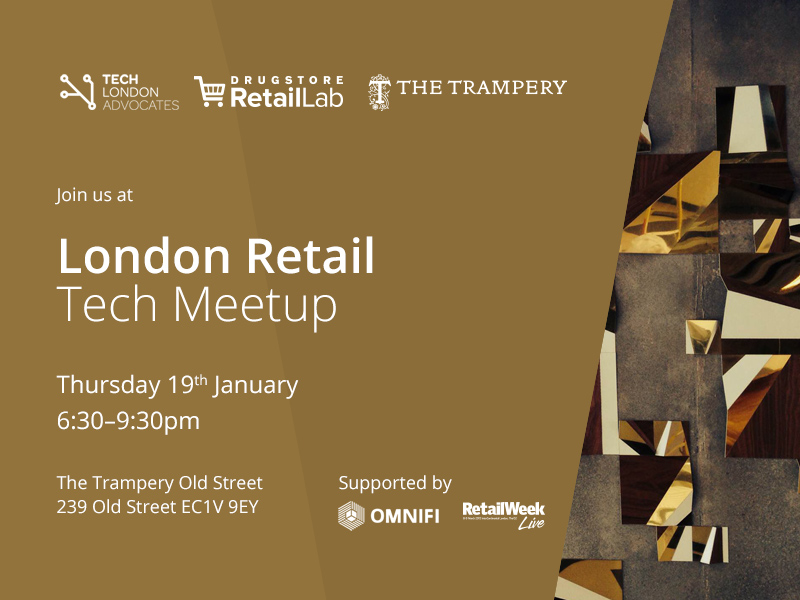 Tech London Advocates Retail Tech Group and Drugstore Retail Lab invite you to a new meetup created for all those interested in the ever-evolving intersection of retail and technology.
Hosted at The Trampery Old Street the event is free and open to anyone looking to connect with London's community of retail startups, retailers, investors and innovators.
The meetup is designed to introduce exciting retail innovations, encourage new connections, inspire collaboration and bring new opportunities in London's Retail Tech community to light.
What to expect on the night
Complimentary wine, beer and cocktails throughout, courtesy of our sponsors Retail Week Live Launch Pad and Omnifi.

An informal opportunity to connect with London's Retail Tech community and meet some of the sectors leading advocates.

Introductions to three particularly fascinating retail innovations, with further opportunities to see and try some of our favourite emerging products and services in Retail Tech.

Chance to explore and enjoy The Trampery Old Street's private members' lounge, The Drawing Room.
About the organisers
The London Retail Tech Meetup is a joint initiative from Tech London Advocates and The Trampery's Drugstore Retail Lab, kindly sponsored by Retail Week Live Launch Pad and Omnifi.
The TLA Retail Tech Group brings together online and offline focussed startups, experts and practitioners in this exciting area of digital innovation. Our mission is to promote London as a centre of Retail Tech innovation, supporting start-ups in this sector and facilitating dialogue between members. We're part of Tech London Advocates, an unrivalled collection of tech leaders, experts and investors
Drugstore Retail Lab is a dedicated workspace and community of startups driving innovation in retail technology. Created by The Trampery, the lab is host to a bespoke programme of events & workshops which connect retail startups with leading figures from across the sector.
Omnifi are independent in-store innovators. They use clever technology to solve retail challenges, realise new opportunities and create better shopping experiences. They achieve this through innovative strategy, design, technical build and ongoing service improvement across mobile, in-store screens, IoT and WiFi.
Retail Week Live is the largest gathering of retail leaders in the UK. Launch Pad, one of the five stages at Retail Week Live, is dedicated to bringing together the brightest minds in retail and the start-up community to generate new and innovative ideas, which will shape the retail experience of the future.
From keynote speeches to panel discussions, pitching sessions and networking activities this is the destination for retailers wanting to keep up with the fast pace of change and start-ups wanting to impress influential decision-makers in retail.
So if you're a start-up with the next big innovation in retail tech, Launch Pad is your chance to show it off.
For more information visit live.retail-week.com or download the Launch Pad brochure here.