About this Event
Join us for the BIGGEST online Screenwriting Event EVER! From your own home and get access for a whole year.
'So much on offer, so much to do… and I can have all of it… '
Connect with 1,000 screenwriters, producers, directors and other industry professionals for a whole month of seminars, talks and events… All live AND On Demand to watch later. It will be our best festival yet!
Main Dates: May 8th to June 7th (online) followed by additional events weekly for one year.
Schedule HERE (being updated now)
Speakers HERE (being updated now)
Once you sign up you will get access to the 'On Demand' section of LondonSWF 365 after the launch on May 8th. To watch events LIVE you will be sent additional links in due course.
What Exactly Am I Getting with LondonSWF365?
Screenwriters of blockbusters like 'Toy Story 4' and 'The Dark Knight', Oscar and Pulitzer winners, the world's top screenwriting educators like Robert McKee and Scott Myers, writers of classic movies like 'Poltergeist', and writers who have broken in over the last few years, on shows like 'Eastenders' or 'Holby'. There are literally too many to mention… You can see them HERE.
We will be running one month of intensive workshops, classes and seminars from May 8th to June 7th (HERE), around seventy or so. They will be live, so we can have a chat room, as well as on demand later. With many of our guest speakers we will encourage interaction too, with break out rooms for further conversation later. And you can expect some of the BIGGEST names to join us. After that we will be sharing two sessions a week online, presented LIVE so we can keep the community connected.
You can expect
Craft insight to help you with plot, characters, description, dialogue and structure in you script.
Industry insight, to help connect more powerfully with industry and be READY for the pivot that is coming.
Learn from the best, so you can emulate or learn from their successes and failures.
Get inspired to a whole new level, something that is essential right now.
Connect with many many new screenwriter friends during sessions, perhaps one of the most important reasons to participate.
What Will It Look Like?
You can experience the online festival from a phone, tablet, computer, even the TV in your living room. There is LOTS of community chat too – connection is so important in these times.
You will be given a login to watch the video feeds live, and to interact via chat. Some sessions will be more interactive than others and we are using a variety of technologies to deliver it. Think Zoom but amped up. If you don't want to interact, that's fine too, you can just watch. Everything will be available later also.
We will also be running a month long screenwriting initiative with training, so if you want to write a screenplay during the month, you can be part of that process.
Really there is SOOOOO much on offer and you can have ALL of it for one year. It's OUR way to support our community in this time of uncertainty.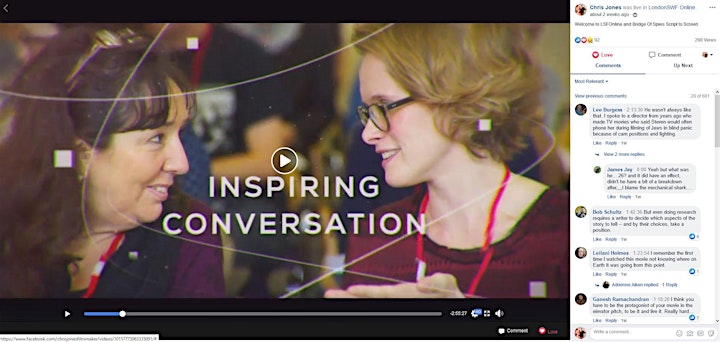 What delegates say…
We have already run our first event online and here is what delegates said…
'There was the added feature of being able to interact with other attendees in the chat box. That was a new experience and I think it really worked – it created a different kind of togetherness. Checking in with old friends and making new ones.' Vera Mark, Screenwriter
'Very good event. Proves that a collaborative online event of this type can be held at scale, no problem. Like how it pulled together over 100 people from around the world, who we can now network with. Listening to the panel, I took away lots of tips' Mark Bushkes, Screenwriter
'I'm pleasantly surprised at how connected I felt with the film community online. Thank you to Chris and the LSF team' Dana Pierre, Screenwriter
'This online work is a blessing in disguise as I can focus more on learning' Cassi Camilleri, Screenwriter
'It was a really lovely way to reconnect with the LSF experience and it was of course very insightful too.' Rob Valentine, Screenwriter
'It was really good. As its my first year at the LSF it was great to see what a script to screen looked like and really enjoyed the insights from the film.' Matt Crofts, Screenwriter
'Awesome. Very inspiring. Already made some new friends, even if only virtually yet.' Torfinnur Jákupsson, Screenwriter