Sales Have Ended
Ticket sales have ended
Thank you for purchasing your ticket for this event, we look forward to seeing you.
Sales Have Ended
Ticket sales have ended
Thank you for purchasing your ticket for this event, we look forward to seeing you.
Description
The Landscape Institute SuDS Seminars are in Partnership with CIRIA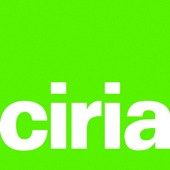 Learning outcomes
This seminar will provide a detailed introduction to the issues around planning and designing with SuDS. It will review how and why the legislation has developed, and explain the currently proposed system (as far as is known), its benefits and weaknesses. The principles of SuDS design will be explained, along with their component parts, and delegates will be shown how to approach integrated site design. This will be demonstrated further by group work to plan a simple SuDS scheme for a site.
The technical aspects related to calculating a site's rainfall storage volume will be (simply) explained, along with understanding the constraints that can arise from difficult site conditions, and the maintenance requirements for SuDS.
The design of attractive and effective SuDS, whilst ultimately quite simple, also has to fulfil a wide range of technical requirements; this course will enable delegates to understand what is involved, who they need to talk to, how to work with engineers effectively, and to start building a knowledge and understanding of this approach to integrated sustainable water design.
Programme
9.30 – 10. 00 Registration with tea and coffee
10.00 – 11.15 Introduction to the day
Session 1: Legislative and Planning background
Session 2: Principles of design
11.15 – 11.30 Tea and coffee
11.30 – 13.00 Session 3: Good design, SuDS components and design integration
13.00 – 13.45 Lunch
13.45 – 15.00 Session 4: Good design, SuDS components and design integration – exercise
15.00 – 15.15 Tea and coffee
15.15 – 16.30 Session 5: Calculations and modelling
Session 6: Dealing with difficult sites
Session 7: Maintenance and Health & Safety requirements
16.30 Close
Refreshments and lunch are included
Background
Flooding has been high on the government agenda ever since the floods of 2007, after which the Government commissioned the Pitt Review to consider the problems that arose. Since then, the Flood and Water Management Act 2010 provided a structure for the effective delivery of more sustainable drainage, but despite implementation of most of the Pitt Review's recommendations, the full implementation has been continually delayed by the lack of final guidance around design standards and site adoption.
In late 2014, DCLG initiated a new consultation to change the basis for implementing SuDS from a statutory basis, to an advisory role through the planning system, and the government has committed to implementing this from 6 April 2015 despite severe reservations being expressed by the vast majority of respondents to the consultation. However, much of the detail around how this will work in practice is still unclear.
The Seminar leaders
Steve Wilson MSc BEng CEng MICE CEnv CSci CWEM MCIWEM FGS
Technical Director, EPG Ltd
Steve is a Chartered Engineer and Environmentalist with a long experience of geotechnical and environmental engineering. Steve's early career was spent modelling sewer systems and designing flood alleviation measures for surface water sewers. More recently Steve has applied his knowledge of geotechnics, drainage and his understanding of pollutant transport and fate mechanisms in the ground to the design and construction of sustainable drainage systems (SuDS). He is co-author of several design guides relating to a wide range of SUDS and has helped prepare much of the UK guidance on concrete block permeable pavements. Steve was one of the authors of the CIRIA SuDS Manual, 2015.
Sue Illman, Grad Dip (Cons)AA, PPLI, Hon FSE, HonFellow (UoG)
Sue is currently Managing Director of Illman Young, and initiated their interest in the sustainable use of water in 2005. Since then, the practice has developed a specialism in integrated SuDS design and Water Sensitive Urban Design (WSUD). Illman Young are supporters of Susdrain and Sue has been part of its project steering committee as well as the WSUD (Water Sensitive Urban Design) steering group. She is currently contributing to the new SuDS Manual for CIRIA. She has also contributed to Developer Guidelines - Integrated Sustainable Design Solutions for Modular Neighbourhoods, published by NHDC. She is a regular lecturer on the integrated design of SuDS and has run a wide range of training courses on the subject. She has recently sat as a member of the All Party Parliamentary Group for Excellence in the Built Environment's Inquiry into Flooding and Resilience, and has been heavily involved in writing the finished report. Sue Illman has also been appointed as CIC Champion for Flood Mitigation and Resilience.
FAQs
I would like to attend but my employer requires an invoice - how do I book?
You will need to e-mail or post a purchase order form (please note, a purchase order number is not sufficient, we require the actual form) to lauren.tubb@landscapeinstitute.org with 'SuDS Seminar booking' in the subject line. Your place will be reserved and you will then be sent an invoice, as requested. Please note, no places will be reserved till the PO form has been received. If you are posting your form, please send it to Lauren Tubb, Landscape Institute, 107 Grays Inn Road, London, WC1X 8TZ.
Is my registration/ticket transferrable?
Name changes are permitted until 4 working days before the event - 23 Febuary 2017.
What is the refund policy?
Registrations are non refundable.
The name on the registration/ticket doesn't match the attendee. Is that okay?
So long as you can show the printed ticket confirmation for the named person, then this will be fine.
Cancellation Policy:
Name changes permitted. Written notice should be sent to Lauren Tubb by post or email: Landscape Institute 107 Grays Inn Road, London, WC1X 8TZ Email:LaurenT@landscapeinstitute.org Data Protection: Landscape Institute may from time to time send information to those who registered for the conference about other events and related products or services.
Landscape Institute, 107 Grays Inn Road, London, WC1X 8TZ www.landscapeinstitute.org Tel: 020 7685 2640