London TAD [Test Automation in DevOps] Community presents You should be Testing in Production [LIVE Panel]
About this event
Welcome to the next event in 2020 from the London TAD [Test Automation in DevOps] Community. We've taken a break since our great events in H1 2020 given the significant rise in Online sessions and to allow you all to get into the new ways of working.
But not to finish 2020, without some final activity with the London TAD group, we are honoured to run this event with two of our friends in the Global community, visiting us from Los Angeles, CA, USA. We are joined by Talia Nassi and Shelby Spees to discuss a fascinating topic on 19th November 2020 as an interactive LIVE panel format with Andrew Turner, your Co-Organiser of London TAD.
Our speakers and LIVE panel
Talia is an international keynote speaker who delivers content on all things testing and quality. She is a developer advocate at Split.io where she works closely with engineering teams globally to ship software more efficiently. She is passionate about feature flagging, canary launches, CI/CD, testing in production, and A/B testing. She has spoken at countless conferences internationally, ranging from audiences of 100 to 4000!
Shelby is a Developer Advocate at Honeycomb.io, where she helps developers have better relationships with their services in production and deliver more business value. Before joining Honeycomb, Shelby wrote software and ran production services in domains ranging from adtech to satellite orbits. She's dedicated to improving access and equity in tech as well as helping people feel good about their work. Shelby lives in Los Angeles, CA, where she enjoys doing karaoke with her pitbull, Nova.
And the topic is a very interesting one that has been vigorously debated and discussed over the last few years - Testing in Production.
Testing in production (TIP) is a software development practice in which new code changes are tested on live user traffic rather than in a staging environment. It is one of the testing practices found in continuous delivery. Production software is the version of software that is released live to real users.
So we thought why not start with the statement - You Should be Testing in Production.
Look forward to you all joining us on Thursday 19th November 2020 at 10am Pacific, 1pm Eastern and 6pm London time for what we know will be a great event.
Please sign up for your tickets today and we will share the access details to the event on the day of the LIVE panel.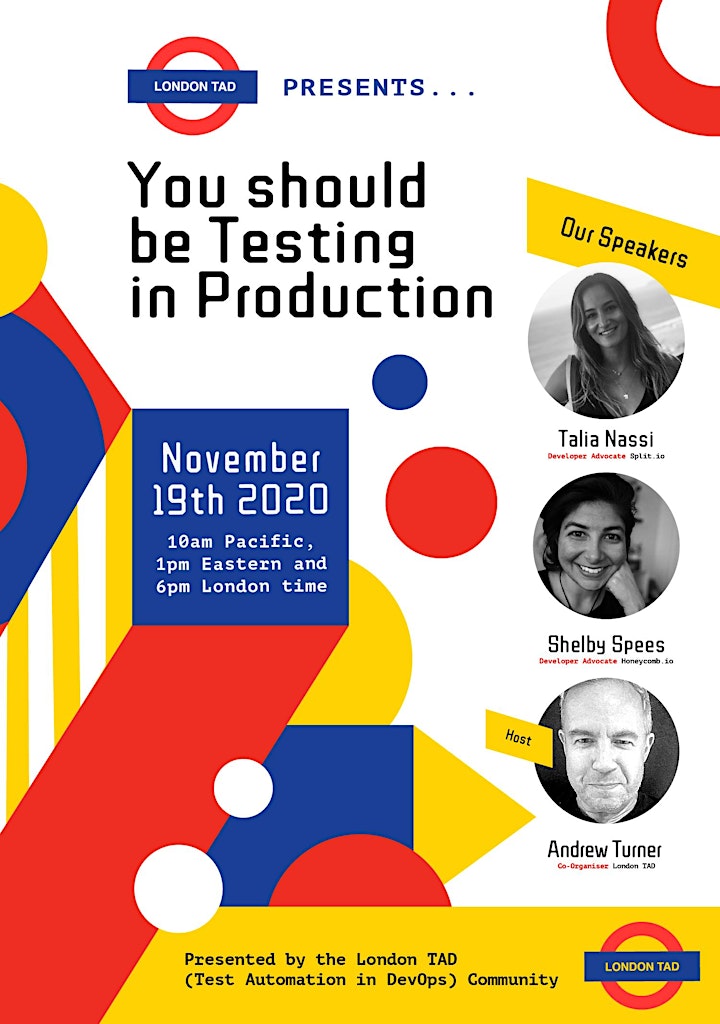 Organiser of London TAD Presents ... You should be Testing in Production [LIVE PANEL]