Event Information
Location
London Terrariums
106a New Cross Road
New Cross
London
SE14 5BA
United Kingdom
Refund policy
Refunds up to 30 days before event
Description
UPDATE: This event will now be held at London Terrariums studio in New Cross, not at The Green as originally advertised.
Join London Terrariums for a festive evening making your own Tinyjohn Terrarium!
You will learn how a terrarium works; how these self-contained ecosystems survive so well on their own and how to look after them.
We will start with a short introduction explaining the history and science that goes into building a terrarium, from the different plants you can use to why activated charcoal has become an essential for us.
Then it is up to you guys to get your hands in there and build your own!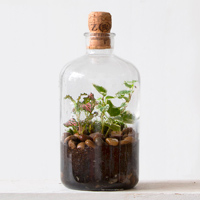 We will supply you with a Tinyjohn Jar which you will fill with various Fittonia and Ivy and an arrangement of pebbles and moss.
Ask us any questions you have and by the end of the session you will have your own exciting miniature garden to take away and watch develop over the next months and years.
All contents, Jar and tools are supplied, we will send you home with a bag to pop your terrarium in and also a care guide with our details on if you have any further questions.
This is the third of our five 'Local Expert' workshop series hosted by Make Do Crafts, and include delicious homebaked refreshments...
Other workshops in the series include making origami Christmas decorations, Calligraphy, a fresh door wreath and sew a Christmas stocking. Head to www.make-do-crafts.co.uk for more details.
Date and time
Location
London Terrariums
106a New Cross Road
New Cross
London
SE14 5BA
United Kingdom
Refund policy
Refunds up to 30 days before event