Description
Our property networking event is becoming legendary!
Our meetings bring together both investors and the professionals servicing the property industry generating high-quality discussion and information exchange. This event is suitable for those new to property investing and also those who have existing property portfolios. Our monthly guest speakers are always experienced and have much knowledge to share. Networking is also very much a feature of our events. We are not a huge group, but the quality is definitely there!
These meetings are held 4th Tuesday of each month and are jointly hosted with Najinder Mahal.
The Speaker at the next event on the 26th February will be Jay Dhillon who is an entrepreneur, investor based in the UK. His businesses range from property investment, online recruitment agency Recruitmentboss.com and the Business Mentor Academy where I help Start, Scale and Sell businesses. Such an inspiration and everyone attending this event are most definitely in for a treat.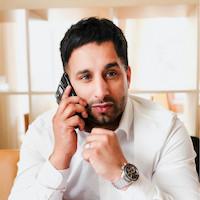 We hope you can join us - this is proving to be a very popular event and booking is essential as there are limited places available.
Where can I park
There is free local parking after 6.00 pm at the Waverley car park in Long Eaton which is 1-minute walk from the venue.
How do I contact the event organiser
Email hello@longeatonhub.co.uk or telephone 0115 871 9948