Improv Online: Advanced / Long Form Drop-in Class with Liverpool Comedy Improv
About this event
Long form improv drop-in class with Liverpool Comedy Improv (online)
Every Tuesday, 7-9pm (BST)
"That's like oxygen for me - was really looking forward to it and it did not disappoint...Just feeling very satisfied and grateful for what your classes are bringing me. Very impressed with your ability to mix an upbeat carefree host role with a serious, searching teacher."
Suitable for more experienced improvisers to continue to hone their skills (at least 6+months of regular improv practice, or those who perform or have studied long form improvisation, or equivalent experience, such as actors)
The long-form drop-in class concentrates on playing deeper scene work, and long form improvisation sets. Keep up your reps and practice within an international group of people at a similar level of experience.
The weekly online classes explore skills such as:
Narrative and non-narrative long form formats, (such as an Armando, Montage, Pretty Flower, Living Room, La Ronde, Weird Ass, Oak Tree, The Restaurant, The Commando and many more!)
Developing believable and deeper characterisation and relationships
Editing on Zoom - different ways and styles
Identifying themes
Heightening patterns and games
Please note:
If you are very new to improv, then ALL LEVELS Improv Drop-in class (Every Monday, 7-9pm) is the best place to start. OR check out the BEGINNERS 6 week terms. If you have at least 6 months improv experience, you might like to hone your short-form skills at INTERMEDIATE level 6 week terms.
If you have been confidently playing at Intermediate level for a while, then long form drop-in is the next logical step.
There are no refunds. Transfers only at the discretion of LCI.
LCI's Code of Conduct is here : http://www.liverpoolcomedyimprov.co.uk/lci-code-of-conduct/
There are limited free bursary places for those who are financially challenged or people from under-represented groups. Please enquire to LCI.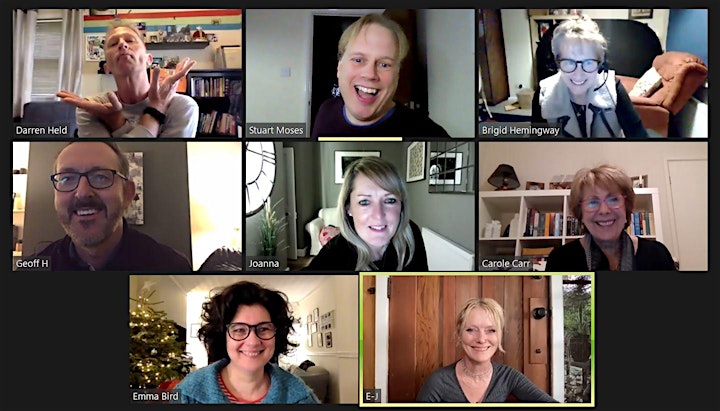 Date and time
Location
Refund policy
Organiser of Long Form Improv Drop-in Class (Online)
IMPROVISED COMEDY CLASSES with LIVERPOOL COMEDY IMPROV
"Improv enriches my life and makes me feel like I am growing, not just as a performer, but also as a person. I feel inspired, happy and full of ideas."
Liverpool Comedy Improv teaches improvised comedy classes and courses. Both short and long form improvisation at every level. Based in Liverpool, UK. Currently all our classes are delivered online, with a global reach.
LCI improv classes and courses cater for every level of experience.
All levels weekly drop in (suitable for beginners + upwards)
Long Form weekly drop-in (intermediate/advanced level)
Intermediate level - 6 week courses
Beginners level - 6 week courses
Advanced Coaching (max 8 people) - 6 week courses
Improv for Kids (aged 7-12yrs)
Musical improv - 6 week courses
Improv in the Park
Long Form improv (Level 1 & 2) - 6 week courses.
Specialist coaching / directing for your improv team.
Personalised coaching for individuals (eg in small groups of 2-4)
Improv workshops for business organisations - develop team building, creativity and innovation
Improv workshops for wellbeing - boost self-confidence and wellbeing
Specialist Guest Teachers
http://www.liverpoolcomedyimprov.co.uk
http://www.facebook.com/liverpoolcomedyimprov
http://instagram.com/livcomedyimprov
http://www.twitter.com/livcomedyimprov
YouTube Channel: https://bit.ly/3grT9e2
All email enquiries to hello@emmabird.info