About this Event
Join us for inspiring 60 minutes of panel discussion with distinguished artists Matthew Krishanu and Sam Samiee and a rising star Farnaz Gholami. It is a first evening of the event series organised by a cohort of postgraduate students at Kingston University
The tone of the event is set by the understanding of longitude not as a number or a boring geographical given, but as a position to be questioned, curved out and reinvented.
IDENTITY AND HYBRIDITY IN CONTEMPORARY ART PRACTICE is an evening of talks by our guests
Farnaz Gholami
www.farnaz.net
who will be talking about her works influenced by the experience of dislocation and about the role of post-colonial studies in her artistic practice.
Matthew Krishanu
www.matthewkrishanu.com/
he will discuss the key elements of his work. He will look at how his personal experience of growing up between Bangladesh, India and England feeds into his painting practice.
Sam Samiee
www.samsamiee.com
An Iranian artist and essayist Sam Samiee will introduce us to his research on the history of Persian Adab, literature. He'll address the idea of the unfinished Copernican revolution through the lens of his own artistic practice and research in psychoanalysis and philosophy.
Sam's work can at the moment be seen in Nine Iranian Artists in London: The Spark is You. Parasol unit. London
Free to attend but reservation is essential
Discover more:
Farnaz Gholami
www.farnaz.net
lived, studied and worked in Iran, USA and South Africa and the UK. The personal experience of dislocation and question of place-identity are the focus of her art practice. The relationship between space, place, non-place, memory and identity is what creates her paintings and artworks.
Farnaz has studied Fine Art at Brandeis University USA, Worked as a printmaker in Cape Town, South Africa, before continuing her graduate studies on painting at Chelsea College of Arts and postgraduate studies at Slade School of Fine Art.
Matthew Krishanu
www.matthewkrishanu.com/
is a painter based in London. His recent paintings explore constructed narratives drawing on themes of memory, childhood, religion and empire. He received an MA in Fine Art from Central Saint Martins College in 2009.
Solo exhibitions include: The Sun Never Sets, Midlands Arts Centre, Birmingham (2019) and Huddersfield Art Gallery (2018); House of Crows, Matt's Gallery, London (2019); A Murder of Crows, Ikon Gallery, Birmingham (2019). Recent group exhibitions include Childhood Now, Compton Verney (2019); The John Moores Painting Prize 2018, Walker Art Gallery, Liverpool; Contemporary Masters from Britain, Jiangsu Art Museum (and tour), China (2017-2018). Matthew is a visiting lecturer at Goldsmiths and Chelsea College of Art. He has works in collections including the Arts Council Collection, Priseman Seabrook Collection, and Jiangsu Art Museum, China.
Sam Samiee
www.samsamiee.com/
Sam Samiee is an Iranian painter and essayist based in Amsterdam and Tehran. He has finished a two-year residency program at the Rijksakademie van Beeldende Kunsten in 2015. In his work, Samiee focuses on the practice of painting and research in philosophy, Persian literature, the history of painting and psychoanalysis. Characteristic of his work is the break from the tradition of flat painting and a return to the original question of how artists can represent the three-dimensional world in the space of painting as a metaphor, for a set of ideas. Therefore, most of his works are immersive painterly installations. A comparative readership of the history of Persian literature and western visual art read against the developments of psychoanalysis articulates the fields of Samiee's interest and art practice. Subjects such as war, history of theology, psycho-geographies of landscapes and epistemic shifts have occupied the artistic explorations of Samiee through his embodiment of traditional and contemporary modes of art production and presentation.
Sam studied at the Art university of Teheran, Iran and ArtEZ Academy for Art and Design, Enschede, The Netherlands and is a lecturer at this institution.
Solo Exhibitions include: 2017. Universal Pink. Electric Room. Dastan:Outside Projects. Tehran. Iran; 2016. Bedroom Posters. Witteveen Visual Art Center. Amsterdam. The Netherlands; 2016. Bedroom Posters. Witteveen Galerie. Amsterdam
Recent group shows include: 2019. Nine Iranian Artists in London: The Spark is You. Parasol unit. London, UK
2019. Feast of Fools: Bruegel Rediscovered. Gaasbeek Castle. Lennik, Belgium
2018. 10th Berlin Biennale for Contemporary Art. Berlin, Germany
2018. An unfinished Copernican revolution. Gemeentemuseum. Den Haag
2017. Update 5.0. V-Gallery. Dastan:Outside Projects. Tehran. Iran
2017. Art Brussels. Presented by (re)D. Gallery. Antwerp. Belgium
2017. The Painted Bird. Group Exhibition Curated by Gijs Frieling. Marres. Maastricht. The Netherlands
2017. Still Light. Duo Exhibition with Narcisse Tordoir. Curated by Narcisse Tordoir. (re)D. Gallery. Antwerp. Belgium
For more information please contact us: maartandspace@gmail.com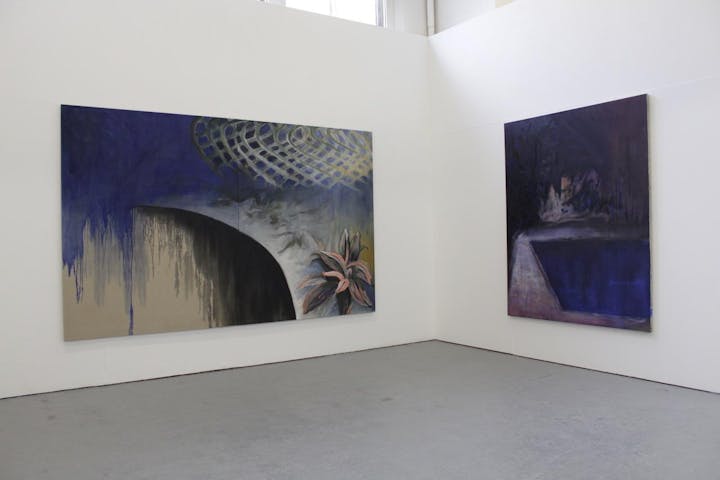 Farnaz Gholami. Installation view.
Copyright: Farnaz Gholami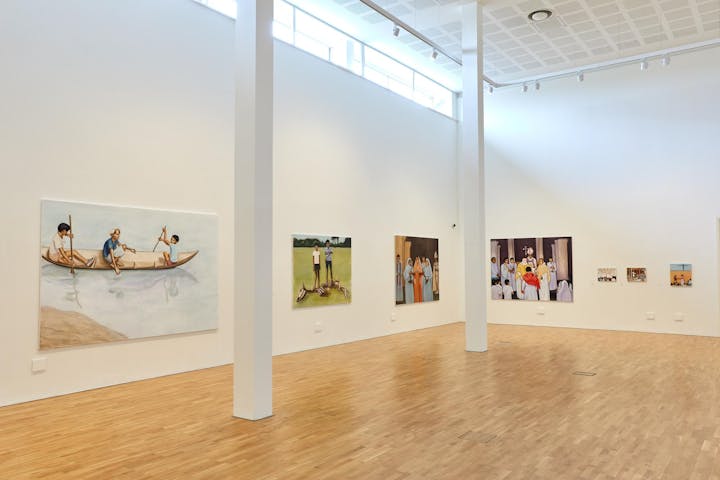 Matthew Krishanu. The sun never sets.
Photo: David Rowan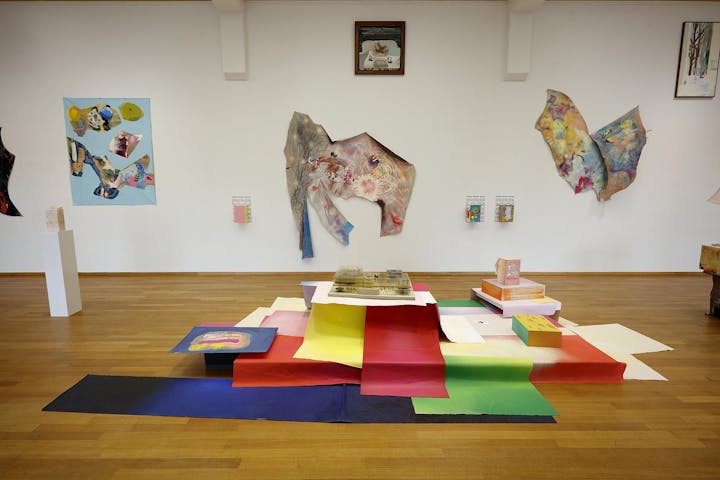 Sam Samiee. Installation view. 10th Berlin Biennale