Let our health & fitness experts coach you on mindset, exercise, nutrition wellbeing plus so much more, so you can live a better life.
About this event
Whether you are wanting to lose weight, function better or be more confident in your skin, we believe the Look Good Feel Good programme can help you achieve your goals.
One year on from lockdown and it's only natural that you might have formed some bad habits; more snacking, a higher consumption of sugary foods, less exercise and more netflix!
When you join the Look Good Feel Good programme you get a team of health and fitness experts to coach and support you on your journey to a fitter, healthier life, PLUS unlimited yoga and fitness classes at theLodge.space studio or online.
Our 8 week transformational programme is not a crash diet plan. We don't believe in counting calories to lose weight as you will only put it back on when you stop dieting. It's an inspirational, holistic programme that addresses every factor that affects your weight and how you feel. There is never a one size fits all and our team of experts will work with you to find a dietary and wellness plan that works for you as an individual.
Our evidence based approach combines different styles of exercise with the right food groups to help you stay focused, energised and reach your optimal bio-individual weight.
This programme will teach you how to integrate intermittent fasting into your life so that it feels effortless and gives you its amazing benefits. This fasting and feasting approach is designed to fit in with your biology and allows you to enjoy treats whilst still losing weight.
So what are you waiting for? Become the best version of yourself by joining the Look Good Feel Good Transformational programme and let our wonderful team of experts help you look good and feel good inside and out.
You can start any time from 10 May to 23 May and it runs for 8 weeks.
Be quick: Early bird tickets end 9 May at £240.
Standard tickets are £400
Find out more or book at https://www.ucciwellness.com/programmes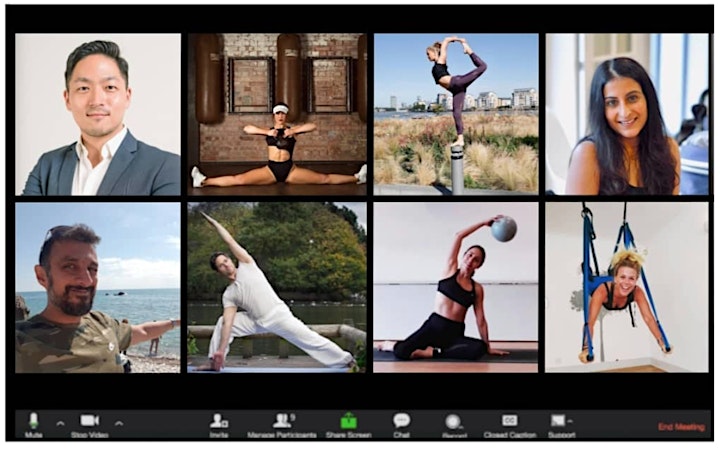 What you get:
The majority of the coaching sessions will be online or recorded so you can watch them in your own time. Exercise and yoga classes will be live on zoom with the option to do in person studio classes at theLodge.space. You will also get 20 min HIIT videos for those especially focusing on weight loss. We also have a private online community so we can support each other to reach our goals. Depending on the easing of lockdown rules, we will try to organise some face to face time at the beautiful theLodge.space cafe.
The 8 weeks will consist of:
1 x Goal setting week. In this week, you will look at your goals and create a wellness plan that works for you.
2 x Mindset coaching sessions. Our Mindset Coach will support you in getting the best mindset and overcome your inner critic, essential for long term success and happiness.
5 x Nutritional and Health Coaching Classes. Our Integrative Nutrition & Health Coach, Alpa Karia, will take a science based approach and will address all the factors that affect your weight, covering when to eat and the art of intermittent fasting, what to eat and the balanced plate, how to eat and mindful eating and why we eat and emotional eating. She will also cover gut health and food sensitivities and also support you with your sleep and stress.
2 x Cooking classes and many more videos. Our Food Educator, Kuli Singh will show you the way to easily create meals that are delicious and have the quality and diversity of ingredients that leave you nourished, satisfied, and maintaining your optimal weight.
Look Good, Feel Good Recipe Book. The essential guide on how to master your nutrition with over 25 recipes that will tell you what to eat, when to eat and how to eat, to reach your desired goals.
20 Minute Power videos. A series of HIIT sessions to help you burn fat and feel amazing.
Health & fitness coaches to keep you accountable with your wellness plan. On a weekly basis, the team will advice you on your wellness plan and make sure that it has an holistic approach that works for you, and includes the types of exercises you should be doing and also the rest you should be having.
Access to Ucci Wellness Facebook Community. A hub of support, positivity, stories and education. This is where we chat about everything and anything to help keep us accountable each day so that we reach our goals.
1 x 45min coaching call. Choose to talk to each of our experts about everything and anything!
Live facebook Q&As with our experts and guest speakers.
48 hour correspondence and support. Any questions or check-ins will be managed by Ucci Wellness and we promise to get back to you within 48 hours.
Bonus offer:
Unlimited exercise classes in the studio or online at theLodge.space. Choose from 35 classes per week to include yoga to make you feel good inside and out and Pilates to strengthen your core and build muscle!
ANY QUESTIONS? Please feel free to contact our team using the contact us at ucciwellness@gmail.com
CANCELATION POLICY
2 months before programme starts, receive 100% refund
1 month before programme starts, receive 50% refund
2 weeks before programme starts, no refund
Organiser of Look Good Feel Good 8 wk transformational programme
Being creative and living a healthy and active life promotes your mental and physical wellbeing.
At ucci we offer a variety of tailored workshops aimed at the curious individual or organisation. Set in cool venues or at your place of work, we will use a blend of creative practice, playful exploration, exercises and mindfulness techniques to deliver positive benefits.
Our instructors are highly trained in each specialism and will work closely with you to ensure the content and structure compliments each participant and helps transform them into their best possible self.