Look How Far We've Come Community Talk & Racism DVD Launch/Is Jesus White?

Thursday, May 14, 2015 from 6:00 PM to 9:00 PM (BST)
Event Details
June 14 Update:
We've got free, fortnightly Monday, 6.30-8.30pm BBMM2015 & British History 50:70 sessions at Harrow Mencap: June 15, 29, July 13, 27, Aug 10, 24, Sep 7, 21. We've also got a IDPAD/International Day Of African Resistance Against Enslavement event on Saturday Aug. 22, 5-8pm @ Clapham Methodist Church Hall and we'll be at the same venue on Oct. 24 for a Look... event.
For @ Harrow Mencap events, check www.BBM.eventbrite.com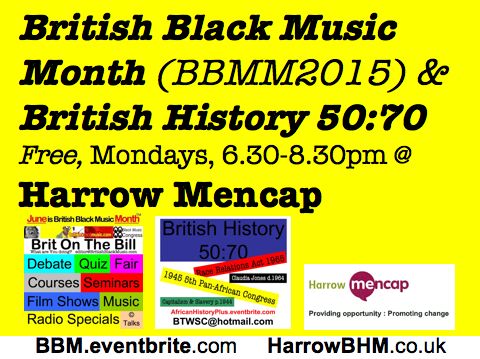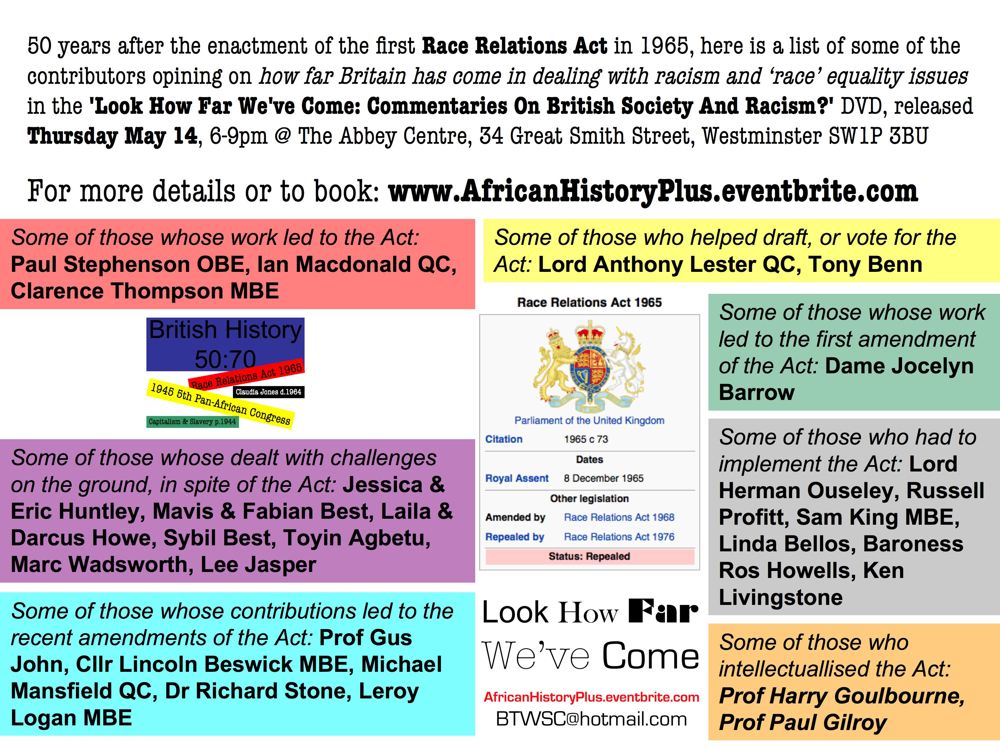 May 12 2015 Update:
One year on from the Look How Far We've Come: Getting Racism Back On The Agenda? Conference, BTWSC and African Histories Revisited (AHR) return to the Abbey Centre in Westminster, for a special three-in-one event consisting of:
a) 'Is Jesus White?' presentation highlighting religion & identity
b) 'Look How Far We've Come Community Talk' screening & post-screening discussion highlighting racism, and other political & societal issues
c) and the release of the 'Look How Far We've Come: Commentaries On British Society And Racism?' DVD highlighting history & racism
The event, which will feature special guests drawn from the diverse Look... project contributors*, also marks the commemoration of the 50th anniversary of the 1965 Race Relations Act. There will also be limited stalls available.

'Is Jesus White?' is a short post-Easter audio-visual presentation on Christian iconography by history consultant Kwaku, which puts Jesus and Christianity into a historical context that links to the present. It covers religion, art, identity and impact of the usual portrayal of "whiteness" against the seldom portrayal of the "other" or "blackness" within Christian iconography.

The presentation, which is based on academic and historical text, and underscored with audio-visual resources, highlights:
The process of change in the physical embodiment of Jesus from Semitic to European features, which opens up questions such as:
Was this simply a cultural process?
Is the physical representation of Jesus important?
What's the impact of a "white" Jesus on the psyche of Europeans and Africans?
The "Black Madonna & Child", the "Black Magus" in The Adoration, and "Black Saints" such as St Maurice/Mauritius, opens up questions such as:
Why is this "black history" and iconography within the Christian narrative not well known?

This Look... Community Talk event will consist of the first screening of the final edit of part 1 of the 'Look How Far We've Come: Commentaries On British Society And Racism?' DVD, followed by a facilitated discussion on racism, and other political and societal issues. Special guests will include some of the contributors to the Look... DVD and Race/Racism Primer. This launch commemorates the 50th anniversary of the 1965 Race Relations Act, which Look... contributors such as Paul Stephenson, Tony Benn, Lord Anthony Lester, Dame Jocelyn Barrow and Clarence Thompson, helped bring it about.
Following the official launch of the 'Look How Far We've Come: Commentaries On British Society And Racism?' DVD, copies will be available for purchase priced £10, or £8 for collection if pre-purchased via this booking page. It consists of the contributors* giving their take on how far Britain has come in dealing with racism and racial equality issues.
Out now is 'Look How Far We've Come: The Race/Racism Primer: A Resource for Conferences, Seminars, Workshops and Community Discussions on Racism and Racial Equality', a 96 page full colour book published by African Histories Revisited (AHR). Priced £8, it's available though Bookmarks, New Beacon, Housmans, News From Nowhere or post-free via BTWSC/AHR.

*DVD: Addai Sebo, Ansel Wong, Baroness Ros Howells, Bernard Wiltshire, Brother Omowale, Clarence Thompson, Clement McLarty, Cllr Lincoln Beswick, Cllr Lurline Champagnie, Cllr Nana Asante, Dame Jocelyn Barrow, Darcus & Leila Howe, David Lammy MP, David Udo, Dawn Butler, Diane Abbott MP, Donald Hinds, Dr Morgan Dalphinis, Dr Richard Stone, Eric & Jessica Huntley Eulette Roberts, Fabian & Mavis Best, Guy Bailey, Henry Bonsu, Ian Macdonald QC, Keith Vaz MP, Ken Livingstone, Kingsley Abrams, Lee Jasper, Leroy Logan MBE, Linda Bellos, Lionel Morrison, Lord Anthony Lester, Lord Bill Morris, Lord Herman Ouseley, Lord John Taylor, Marc Wadsworth, Martha Osamor, Michael Mansfield QC, Narendra Makanji, Norman Mullings, Paul Reid, Paul Stephenson OBE, Phil Sealey, Prof Gus John, Prof Harry Goulbourne, Prof Paul Gilroy, Rev Hewlette 'Hewie' Andrew, Russell Profitt, Sam King MBE, Suresh Kamath, Sybil Phoenix MBE, Tony Benn, Toyin Agbetu, Waveney Bushell, Wilf Sullivan, Yvonne Brewster, Zita Holbourne ... Primer: Ade Sawyerr, Alexandra MacRae, Dr Joe Aldred, Dr Rob Berkeley, Jim Thakordin, Roger McKenzie, Russell Profitt, Simon Woolley, Sqd Ldr Winston Forde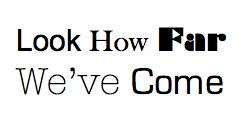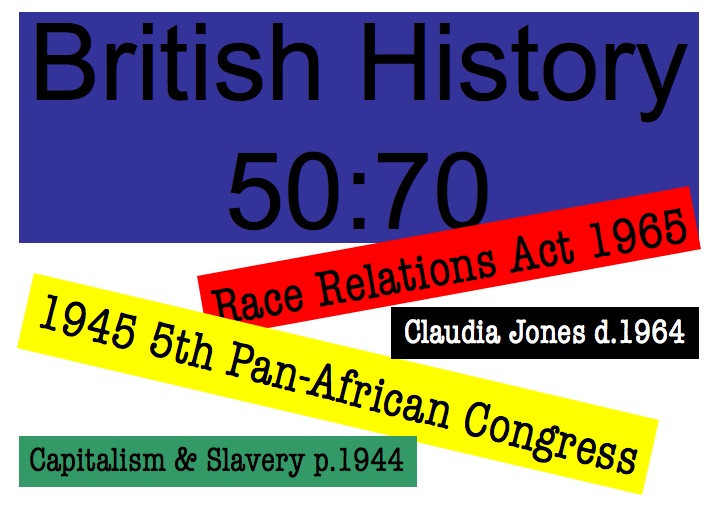 For LOOK... PROJECT BACKGROUND... click here

To purchase a copy of the 'Look How Far We've Come: The Race/Racism Primer' (2014) priced £8 post-free until Nov. 30 2014, click: http://bit.ly/TX2eRN.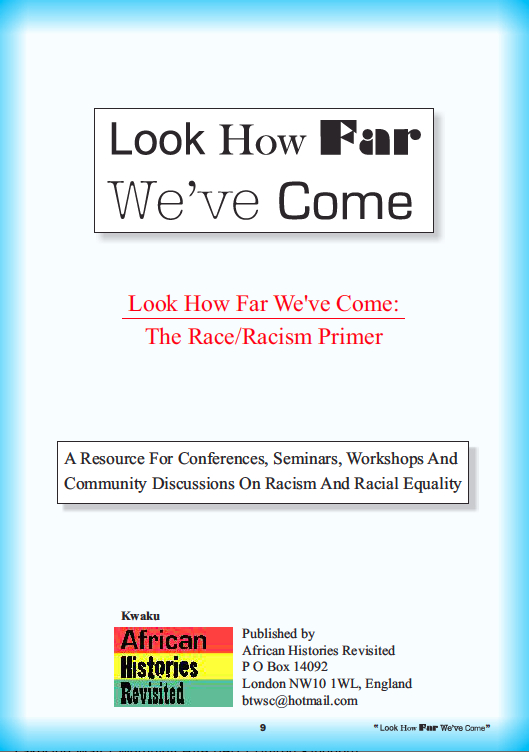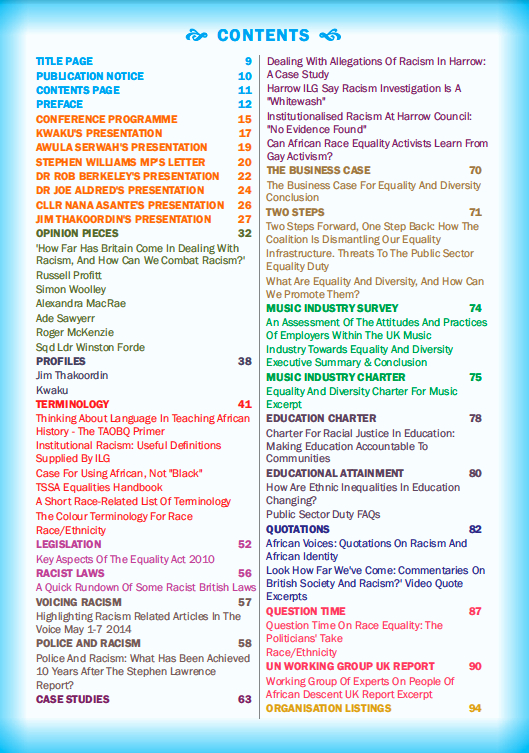 When & Where

Abbey Centre
34 Great Smith Street
Westminster
SW1P 3BU London
United Kingdom


Thursday, May 14, 2015 from 6:00 PM to 9:00 PM (BST)
Add to my calendar
Organizer
BTWSC Events/African Histories Revisited
BTWSC is a pan-London voluntary organisation that uses the creative arts to develop potential, raise aspirations, and promote social inclusion. It works with youths, adults and inter-generational audiences. Its core areas of delivery cover music industry, event planning, and African history education and programmes. For more details: btwsc@hotmail.com.
Please note that because of non-attendance, we over-book all free events, so entry and sitting is on a first come, first served basis.
Please note that we photograph and/or film/video our events. Your attendance is taken as implied consent. NO Filming/Video recording events by attendees without prior permission from organisers.
Look How Far We've Come Community Talk & Racism DVD Launch/Is Jesus White?