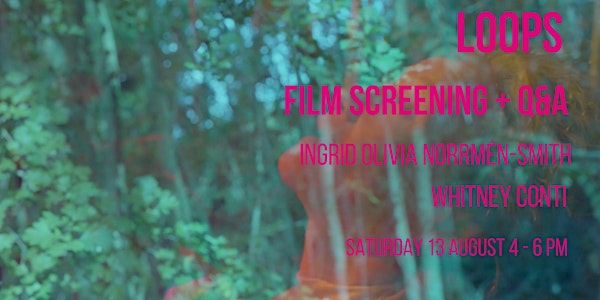 Loops |Film Screening + Q&A | Ingrid Olivia Norrmén-Smith and Whitney Conti
Location
Bermondsey Project Space
185 Bermondsey Street
#183
London
SE1 3UW
United Kingdom
a collection of short films exploring moving image and sound in evocation of sensory immersion
About this event
Come along to Bermondsey Project Space for a screening of works by film-makers Ingrid Olivia Norrmén-Smith and Whitney Conti followed by a talk and Q&A session with the creative teams.
These artists use moving image and sound to call attention to the biological phenomenon of somatic amplification of sensation. For their event at Bermondsey Project Space they will present two projected pieces , each with their own unique capacity to evoke and express the experience of heightened bodily fixation, emotional arousal and self-identification through loops.
The film screening will be accompanied by live performance elements and followed by a discussion with both filmmakers.
Ingrid Olivia Norrmén-Smith is a researcher, writer, and emerging filmmaker whose work engages with health, wellbeing, technology, and the psyche. Over the last decade, she has navigated multiple spheres and different lenses: the neurobiological, the phenomenological, the artistic. She is drawn to stories that explore recollection, human-technological relations, existential questions of expectation and that highlight the miraculous and banal idiosyncracies of human life. She is exploring these themes by way of intimate portraiture, nonlinear narrative, states of enchantment, and meditations on memory and time. Her multimedia work has been shown in Montréal, Los Angeles, and New York. She holds a B.S. in Neuroscience from Bates College and an M.Sc. in Psychiatry from McGill University. She is a Watson Fellow, a Pulitzer Center Fellow, and an alumnus of the Salt Institute. She was born in New York City, currently operating between Montréal and London. At present, Norrmén-Smith works in independent film production for award-winning, Montréal-based boutique production company, Catbird Productions.ingridolivia.comA CASE OF BOMBARDMENTNorrmén-Smith will discuss a recent interdisciplinary psychiatric research project that brought her to examine dominant biomedical narratives and cultural constructions of the perinatal period across our contemporary digital media ecosystem. Within a few clicks, an overwhelming barrage of chaotic societal demands, prescriptions, and expectations of women from the realms of science, medicine and popular culture: i.e. evidence-based diets of X-grams of daily organic salmon roe during the third trimester, practices to enhance infant cognitive development, maternal depression and potential epigenetic affronts to a child's brain, performative pregnancy journeys with branded content woven seamlessly into intimate snapshots of family life. Spaces that can be experienced as torrential environments where fierce competition, optimization, and unrelenting self-surveillance to impress the gaze of the other are normative practice. Reflections on this research will be paired with the screening of a piece of Norrmén-Smith's moving-image work.
WHITNEY CONTI
WhitneyConti.Tv (b. 1986) is an artist, creative director and media anthropologist working on new pictorialism and media culture for the age of The Birth of the Device. They're the founder and conductor of the expanded live projection collective, Feminxst Projection Party (FPP) and are currently working in San Sebastian on a catalog of the history of analog media invention from Colour Organs to Disco called Machine Porn From the Dark Ages. Their creative studio, SpectacleArts.xyz has worked with artists on V&A Lates, Tate Exchanges, visual albums, radical image making campaigns, experimental films, and new studio models for the creative production industry. They can also be found authoring projects under the names Pear Sontag, Venice Florida, Fruits Carmelo, Giuseppe Valentine and Lavi Mcluhan and have no intention of picking one.
M.croverse 35mm 9"
Microverse is an experimental color ooze on 35mm that follows Butoh performer Nguyen Tri Ma as she goes on a journey to speak the languages of 5 different microverses through Forest, Water, Willow, Field and Orchard. Inspired by the RÄTHEL & WOLF collection built to wrap and bend into the micro landscapes of the body, Microverse is a 35mm exploration using movement, original score and color plate techniques to find purity of color and light in the interpretation and translation of the micro landscape. How does a dry snap and echo of the forest differ from the soft pillow mush of the meadow ? The decay and ripeness of the orchard and the infinite gulp of the water world ? Alien harmonics spouting in Willow world or the childish openness of the field world ? Gooey, voluminous, meditative, dead ? Microverse is an exercise in sensory immersion and somatic translation.
Butoh Performer Nguyen Tri Ma
Dir. Whitney Conti
DOP Morgan K.Spencer
Collection Film RÄTHEL & WOLF
Original Score & Sound Design Edd Gibson & Alex Mackenzie
Sound Design Team Lea Lea Ratcliffe
Shoot Production Megan T. Wakelin
Field Recording & Senses Maria Glionna