Lore of the Wild is an audio storywalk for Lesnes Abbey Woods in the London Borough of Bexley.
About this event
"Lore of the Wild" is an audio storywalk for Lesnes Abbey Woods co-created by Bernadette Russell and Sophie Austin; commissioned through a partnership between Metal and London Borough of Bexley for Estuary 2021.
We invite you to listen to stories, songs and sounds from the many wild inhabitants of Lesnes, as you walk through this ancient woodland listening to the tracks on your smart phone or via a gallery style handset, guided by a beautiful map.
Join creators Bernadette Russell and Sophie Austin as they take you on an artist led walk as part of the Estuary 2021 festival. Each walk will include a live music experience deep in the heart of the woodland.
Guided Walks will take place on:
· Sunday May 23rd 2021 – 8am with musician George Hoyle
· Sunday May 30th 2021 – 3pm with musician Jo Quail
· Sunday June 6th 2021 – 7pm with musician Nick Hart
Each walk will last approximately two and a half hours. Please be warned, there are steep inclines, muddy steps, and some tricky terrain. This walking route is not accessible for wheelchair users and is for 12+
Spaces are strictly limited to 20 people per walk and booking is essential. Once you have booked, you'll receive an email from us with clear instructions so you can be fully prepared for your adventure in the woods!
Once you arrive at Lesnes, make your way to the Chestnut Cafe Kiosk- the lovely café near the Abbey ruins- you'll see us with a sign saying Lesnes Lore!
You'll need to bring with you a fully charged smartphone and a pair of headphones, alternatively let us know if you'd like to use a gallery style handset.
We can't wait to meet you!
Wild love from Bernadette and Sophie xx
Listen on Spotify: https://open.spotify.com/show/1dSA2cFTs3YCeK5RifOs4x?si=ORVs0AZVTp-pABt089dZAQ
Listen on Soundcloud: https://soundcloud.com/loreofthewild/sets/lore-of-the-wild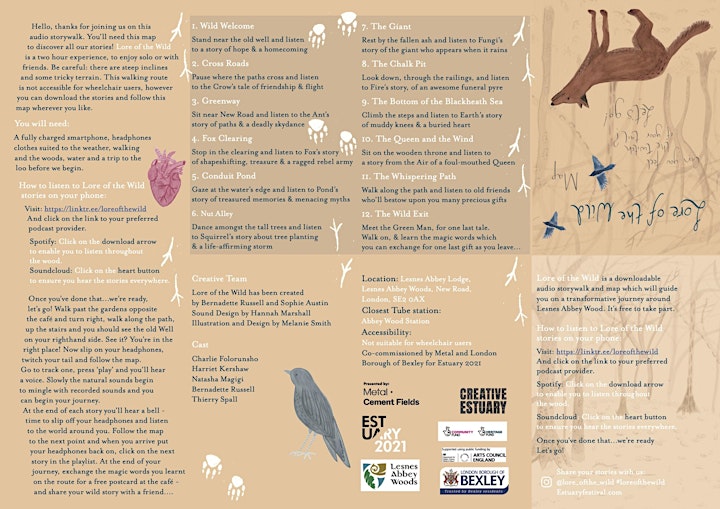 Organiser of Lore of the Wild- Guided Walk
Estuary 2021 is the second edition of the large-scale arts festival that celebrates the lives, landscapes and histories of the spectacular Thames Estuary.
A mix of large scale and intimate visual art, literature, music and film, the festival celebrates culture, creativity, recovery and renewal. Alongside an online discussion and events programme, the physical programme will explore and respond to powerful themes resonant to the Estuary, from the climate, to rebellion and imperial legacy. Re-framed in light of Covid-19, the festival invites visitors to take an epic walk along the stunning coastline of South Essex and North Kent encountering contemporary artworks and performance within the estuary landscape, historic sites and coastal towns.
Estuary 2021 is led by a partnership between estuary-based arts organisations, Metal (South Essex) and Cement Fields (North Kent).
@EstuaryFestival