Event Information
Location
Devonport Guildhall
Ker Street
Plymouth
PL1 4EL
United Kingdom
Description

---
This event on 2nd May will generate new knowledge and learning about how funders (investors, grant makers, commissioners, philanthropists) can work together, and with potential providers, to create a collaborative-by-design system of finance.
We are excited to have Dawn Plimmer leading the event with us. Dawn is Head of Practice at Collaborate CIC where she leads Collaborate's place-based systems change work in Cambridgeshire and Essex, and its work on funding and commissioning. She is co-author of the report Exploring the New World: practical insights for funding, commissioning and managing in complexity.
Previously she worked at the Big Lottery Fund where she worked to develop and test new grant-making approaches and help establish a new UK-wide knowledge and learning function. Before this, Dawn was a Senior Consultant at NPC (New Philanthropy Capital), a charity think tank and consultancy where she supported charity, funder and corporate clients with strategy, research and learning in areas including early intervention and youth employability.
We will have representation from Go Lab who have also just published another useful report "Rallying Together" https://golab.bsg.ox.ac.uk/our-projects/about-future-state/

The Social Change Agency will also be attending and supporting us to 'Lose Control' at this event!
For further information about the day please see the agenda below: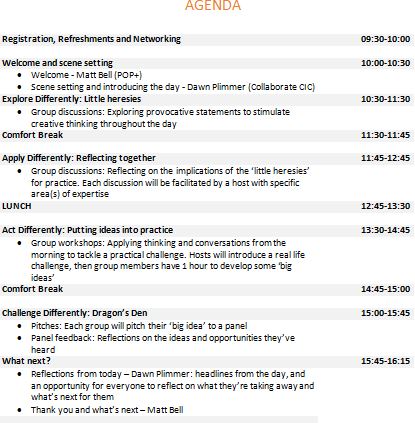 We would also like to invite you to an evening social on the 1st May at Ocean Studios (18.30 - 21.30) where we will 'chew the fat' together and connect, paving the way for deeper more meaningful conversations throughout the event on the following day.

We are thankful for the engagement and collaboration with our team of trusted advisors from Collaborate CIC, The Social Change Agency (Losing Control), Esmee Fairbairn, Barrow Cadbury, SIMPL project team, The National Lottery Community Fund, GO Lab, Oxford Primary Care Health Sciences, NHSE, RIO, PSEN and Plymouth City Council. Without their thoughtful input we would not be developing these conversations.
As we develop further detail to the event we will keep this page updated, but please book on now to be part of the conversation!
---
IMPORTANT PLEASE READ:
1) This is a FREE event. For this event to have maximum impact, we would like to fully use the limited spaces we have available. Hence we ask you to when you have signed up, in the face of an unforeseen circumstance, that you let us know by Monday 29th April if you can't make it after all. At that point we can ask someone from our waiting list to take your seat.
If participants cancel later than Monday 29th April 9am, or don't manage to show up on the day, we will be invoicing you for £30. This money will go to a service provider that makes a pledge for this money for a particular small investment at our next event. If you need to cancel or get in touch with us for some reason, email info@plymouthoctopus.org
2) Also, by signing up for this event, you agree to:
* Photos being taken during the event with you in it, that might be used for SIMPL's promotional and evaluation purposes;
* Being potentially contacted by our independent evaluator Clarity CIC to provide details on the impact of this SIMPL event;
* Your contact details (name & email address) being shared amongst the delegates of this event;
* Being kept informed about future SIMPL activities.
If you want to opt out of any of these points, email info@plymouthoctopus.org
3) If you have any dietary requirements, please email info@plymouthoctopus.org
---
If you would like to become a member of POP+ (Plymouth VCSE)

please
Date and time
Location
Devonport Guildhall
Ker Street
Plymouth
PL1 4EL
United Kingdom