"Lost in the stars ... that are aligned": a piano and song celebration of s...
Description
"LOST IN THE STARS ... THAT ARE ALIGNED": a musical celebration of stars ... sparkling, bursting, living, colliding, wished-upon, (re-)aligned, remembered
Join Sylvia Chan and Olga Stezhko on a voyage of piano and song music of Bach, Franck, Rachmaninoff, Debussy, Gounod, Weill, Yoshimatsu, Scriabin and Hahn, and none other than Oxford astrophysicist Dame Professor Jocelyn Bell Burnell reading a few selected poems about stars in between the songs!
"Extraordinary presence" ... "Enthralling artistry"
The Classical Group comes back to Cambridge to present its first programme in the "Reach for the stars" concert series, to take place in the magnificent setting of the Chapel at Trinity College, Cambridge, on 16 December (which happens to be Beethoven's birthday) at 8pm. Entitled "Lost in the stars …. that are aligned", it will be an evening of piano music and songs in celebration of the sciences and arts of stars, including the first-ever detection of gravitational waves in 2015, the 100th anniversary of the expedition to measure and observe the solar eclipses in 1919 that provided one of the early support for Einstein's theory, as well as the 50th anniversary of man landing on the Moon.
This is an exciting opportunity to hear 2 prizewinning musicians, Olga Stezhko, who is appearing in Cambridge for the first time, and Sylvia Chan, who is returning to Trinity, in a concert in 3 parts, namely "Heavenly harmonies" followed by "Lost in the stars", and eventually "Stars aligned", and works to include:
Part 1: "Heavenly harmonies" (piano)
Bach, Adagio (after Marcello's oboe concerto), BWV 974
Franck

(arr. Bauer)

, Prélude, Fugue and Variation, Op.18
Scriabin, Préludes Op.74
Scriabin, Vers la flamme
Part 2: "Lost in the stars" (piano and songs)
Debussy, Nuit d'étoiles
Gounod, Le soir
Weill, Youkali
Weill, Lost in the stars
Hahn, L'heure exquise
Part 3: "Stars aligned" (piano)
Debussy, Clair de lune (from Suite Bergamasque)
Yoshimatsu, To a disappeared Pleiade
Rachmaninoff, Prélude Op.23, no 4
Debussy, Et la lune descend sur le temple qui fut (from Images Book II)
Scriabin, Piano sonata 10
Come celebrate the arts and sciences of stars and songs-with-words as well as songs-without-words about stars!
[You can download the concert full flyer here].
We cannot think of a more perfect (and hypnotic) piece for this beautiful setting of the Trinity Chapel than Bach's Adagio, which will start the concert, while Franck's baroque-romantic piece will fill the resonant setting of Trinity's Chapel with a melancholic radiance and in turn be followed by Scriabin's 5 Preludes (Op.74) that seem to weave poetry about the cosmic bodies "out there" in their different stages of development, leading us to finish Part 1 with the pulsating Vers la flamme. Our feelings about stars get more personal in Part 2 with some poetic songs-with-words; stars not only inspire us to project hopes onto them, they spur memories of past loves (Debussy, Nuit d'étoiles), their rays stream from afar to touch our eyes (Gounod, Le soir), they speak to us about finding our way amongst the stars (Weill, Lost in the stars), but sometimes inspires us to impossible follies (Weill, Youkali), and finally the iridescent stars of the evening bring us a calm that is a "perfect hour" to dream (Hahn, L'heure exquise ... on Verlaine's poetry) (bringing us perfectly to the intermission). In Part 3, the programme will reprise with none other than Debussy's iconic Clair de lune (that is inspired by Verlaine's poem of the same name and starts with "Votre âme est un paysage choisi"), with the poet reflecting on various things in the still moonlight, continuing with the classic and modern lyricism of Rachmaninoff's Prelude in D and Yoshimatsu's To a disappeared pleiade, respectively, before it touches us with another Debussy piece, this time from Book II of Images that seems to be about an experience that leaves imprints in our souls (knowingly and reflectively), finally dances away in Scriabin's sonata 10, the "kisses of the sun" sonata that is mysterious and exciting in equal measure.
===========================================
A limited number of tickets will be sold (subject to availability) at the door 30 minutes before the concert.
* * By kind permission of the Master and Fellows of Trinity College, Cambridge University. * *
£18 (£10) tickets are for seats in Section A (front to mid-chapel rows).
£14 (£6) tickets are for seats in Section B (mid- to back-chapel rows).
A detailed programme booklet and one drink is included in the ticket price.
A special collection of poems about stars will also be launched at the concert.
============================================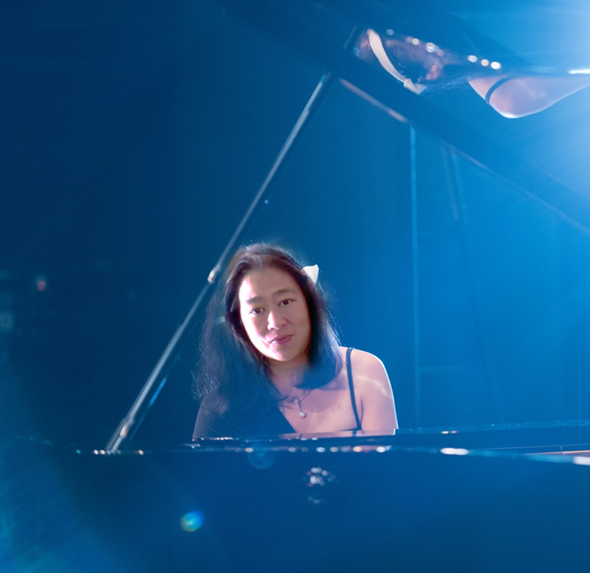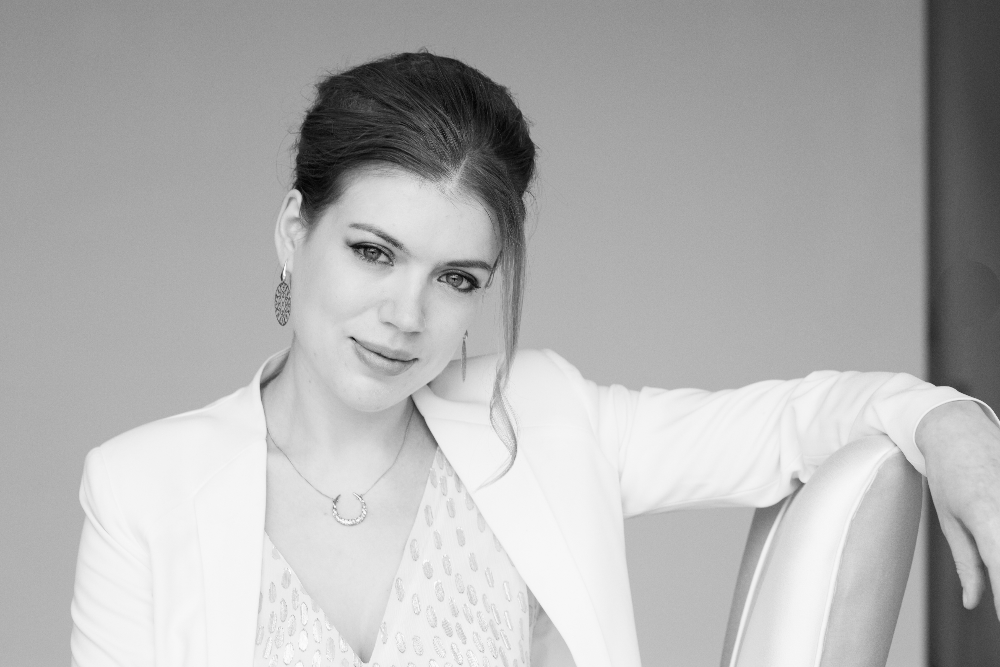 This is also a rare opportunity to hear the collaboration of two brilliant musicians, both with strong interest in astrophysics, in Cambridge - not to be missed.
Olga Stezhko is a London-based award-winning recitalist and recording artist, and a leading interpreter of early and mid-20th century piano repertoire. Acclaimed by Classical Source as "a supremely delicate master of her instrument" who possesses "an extraordinary presence" for her performance in a Wigmore Hall recital, Olga has played at premier venues including Barbican Hall, Salle Cortot and Carnegie Hall, both as a soloist and in recital, with recent appearances at Palermo Classica Festival, Leeds International Concert Season, amongst others. Having made her debut at the Minsk National Opera House at the age of 8, Olga went on to study with Ian Fountain at the RAM winning Myra Hess Scholarship and the Philharmonia Orchestra/Martin Musical Scholarship Fund Award, amongst others. Her debut album "Eta Carinae", with music by Scriabin and Busoni, and relating their music to physics and philosophy, was hailed by Gramophone Magazine as "an outstanding debut" and "not a record for the faint-hearted but rather for those who enjoy dark and menacing regions of the mind". Her second album "Et la lune descend" was released in 2018 to mark the centenary of Debussy's death.
Anyone who has heard Sylvia Chan on the piano knows her performances are not to-be-missed. Sylvia gained her PhD from Trinity College Cambridge while also studying with Christopher Elton at the Royal Academy of Music in London. Having started both the piano and voice training at the age of 7, her teachers also included Eleanor Wong in Hong Kong and Hamish Milne in London, and she performed as a solo pianist and in a duo with cellist Miriam Kirby (The Hague String Trio), including in St John's Smith Square, London, West Road Concert Hall, Cambridge, and recorded as a soloist (Bach, Brahms and Liszt). Sylvia is one of the most fascinating pianists performing today, having decided to return to practising and performing after a break of more than 15 years, a pianist known for her highly accomplished playing, musical flair and keen understanding of the music, and having also studied Natural Sciences at Trinity, now honing this craft with a mind that often enables fresh perspectives and connecting dots in unexpected or adventurous ways.
Organiser of "Lost in the stars ... that are aligned": a piano and song celebration of stars
The Classical Group is a registered non-profit launched in 2016 that aims to create original concert programs that enable people to engage with music, be inspired by the music as well as the poetry and the stories, and to be spurred to discover and rediscover works of exceptional musical qualities. 
"Reach for the stars" is the group's project for 2019 and 2020: it is a series of concerts that explores and celebrates the arts and sciences of stars - big and small ones, bright and dark ones, sparkling, bursting, living, lost and remembered.  This follows the group's much-lauded first concert series, "Hear the song in the music", which explored the inspiration songs (lieder, melodies, arias, mixed-voice choral works, and others) have provided to composers of piano music.  
The group has a mixed-voice, small-group ensemble which has performed the works of composers ranging from Mozart, Fauré, Brahms and Saint-Saëns to Ešenvalds, Lauridsen and Elder, giving first performances on 2 occasions, and in a number of venues internationally, collaborating also with a number of world-class musicians and solo performers. 
The musicians have various backgrounds, but a few have played and sung for and continue to be connected with the Oxford and Cambridge colleges.  
For more, see www.theclassicalgroup.com and www.songinthemusic.com.