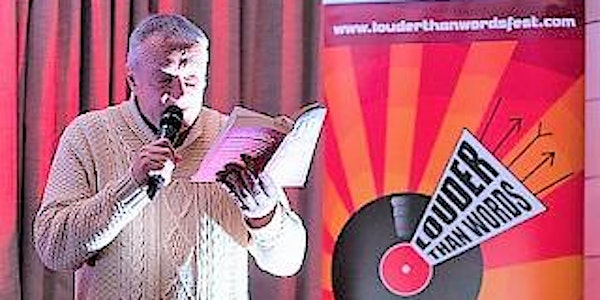 Louder In The Regions: CHRIS SALEWICZ in Conversation: PONTEFRACT
Location
The Tap & Barrel
13 Front Street
Pontefract
WF8 1AN
United Kingdom
Description
Join us for an evening in conversation with CHRIS SALEWICZ, critically acclaimed rock writer and lifelong friend of JOE STRUMMER.
Using his epic best seller REDEMPTION SONG: The Definitive Biography of Joe Strummer, Chris will speak candidly of his lifelong friend, providing our audience with 'A penetrating portrait of the man who immortalised drab 1970s London.' Metro London
C'mon… Gazump the Google and join us for genuine insights, anecdotes, stories and readings from those who were actually there!
'Chris Salewicz writes as the NME journalist who started covering The Clash as soon as they were playing incendiary gigs in the 1977 punk rock London, as the fan who witnessed their inspired glory years, and as the friend and confidant of Strummer … [he] transcends the usual breezy rock bio superficiality, skilfully introducing the seductive parade of characters, mentors, fellow travellers and alter egos that Strummer relied on to help him become an icon of cool.' Evening Standard
'The remarkable double life of one of punk's icons … Salewicz – or "Sandwich" as Strummer called him – knew and loved his subject well, and that shows on every page.'' The Sunday Times
'Salewicz knew Strummer more than I would have thought it possible for a journalist to know him. Salewicz's epic biography delves deep into the places where Strummer's demons lurked.' Observer Music Monthly
'Salewicz is a great writer, bringing both elegant prose, rigour and research to the genuinely epic story of Strummer who suddenly emerged in London's Notting Hill in the mid-70's, ready and willing to take on the role as spokesman for a generation … A book that is a sheer joy to read, even when it's as sad as it gets.' Q
Chris Salewicz has documented popular culture for more than three decades, in print and on radio and television. He was senor features writer for NME from 1975 to 1981. Subsequently Salewicz has written regularly for numerous publications, including The Sunday Times, the Independent, the Daily Telegraph, Q, MOJO and Conde Nast Traveller, as well as a myriad of newspapers and magazines across the globe.
As an author, his book catalogue includes the acclaimed Rude Boy: Once Upon A Time in Jamaica; Redemption Song: The Definitive Biography of Joe Strummer – an exhaustive, epic biography of the Clash frontman; Bob Marley: The Untold Story (both best-sellers) and Dead Gods: The 27 Club, an analysis of the deaths of seven 27 year old musical maestros including Amy Winehouse, Kurt Cobain and Jimi Hendrix.
Chris has had a longstanding relationship with the island of Jamaica. Whilst living there in the mid-1990s he wrote the screenplay for Third World Cup, the most successful film ever in the Caribbean. In autumn 2014 he presented a BBC Radio 4 series about the making of the film The Harder They Come and its social consequences.