Event Information
Location
Asia House
63 New Cavendish Street
London
W1G 7LP
United Kingdom
Description
Louis Kahn's Tiger City: Short Screening and Director Talk
#AsiaHouseArts
FREE FOR STUDENTS!
Join Sundaram Tagore, Director of Louis Kahn's Tiger City for a talk and short screening of his feature-length documentary about the world-renowned architect Louis I. Kahn and his parliamentary project in Dhaka, Bangladesh.
Directed by Sundaram Tagore, he spent seven year traveling in Kahn's footsteps to discover how this American architect built a daringly modern and monumental capitol complex in a war-torn country. This very personal 14-country odyssey delves into Bangladesh's quest for democracy, how Kahn brilliantly wove together European and South-Asian forms, and the power of great architecture to embody the highest ideals.
The film features Academy Award-winning actress Debra Winger and architects Steven Holl and Pritzker Prize-winner B. V. Doshi.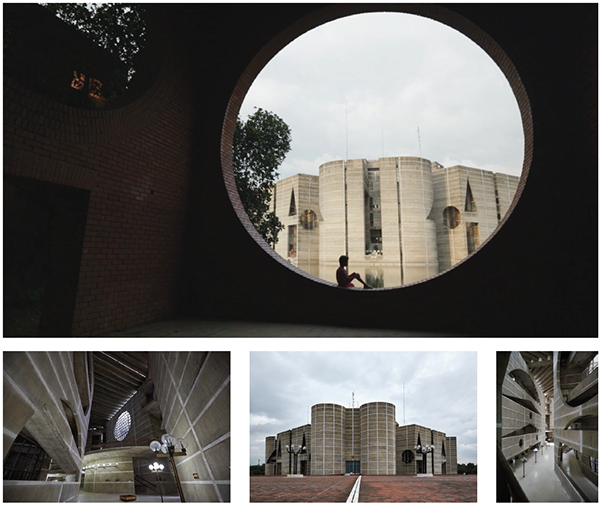 About Louis Kahn
Louis Isadore Kahn (March 5 [O.S. February 20] 1901 – March 17, 1974) was an American architect, based in Philadelphia. After working in various capacities for several firms in Philadelphia, he founded his own atelier in 1935. While continuing his private practice, he served as a design critic and professor of architecture at Yale School of Architecture from 1947 to 1957. From 1957 until his death, he was a professor of architecture at the School of Design at the University of Pennsylvania.
Kahn created a style that was monumental and monolithic; his heavy buildings for the most part do not hide their weight, their materials, or the way they are assembled. Famous for his meticulously-built works, his provocative proposals that remained unbuilt, and his teaching, Kahn was one of the most influential architects of the twentieth century. He was awarded the AIA Gold Medal and the RIBA Gold Medal. At the time of his death he was considered by some as "America's foremost living architect."
About Sundaram Tagore
Sundaram Tagore is a Calcutta-born art historian, gallerist, and an award-winning filmmaker. A descendant of the influential poet and Nobel Prize-winner Rabindranath Tagore, he promotes East-West dialogue through his contributions to numerous exhibitions as well as his four art galleries and their multicultural and multidisciplinary events.
Tagore's debut film, The Poetics of Color: Natvar Bhavsar, An Artist's Journey, premiered at the MIAAC Film Festival in New York City in 2010 and garnered several festival awards, including The Accolade, The Indie Fest, and the esteemed Singaporean National Critics Choice Readers Award for Best New Art Film Epic Documentary of the Year and Best New Director (2012). The film has been shown at venues around the world, including the Hong Kong Art Centre, the Asian Art Museum of San Francisco, the Los Angeles County Museum, the Newport Beach Film Festival and the India International Centre. Tagore's second film, Tiger City, is a feature-length documentary on the world-renowned architect Louis I. Kahn.

This event is part of the Asia House 2019 Winter Arts and Learning Programme, a completely unique initiative in the UK in presenting a pan-Asian artistic and cultural programme with a scope of more than 40 countries in the region. Through our programme of events on arts, culture and education we act as a catalyst for the discovery of the diverse arts and cultures of Asia and the Asian diaspora, and serve as a bridge of understanding between the UK and Asia.
Sign up to our mailing list for all the latest on this year's events, and visit our Eventbrite profile to book more tickets!
Date and time
Location
Asia House
63 New Cavendish Street
London
W1G 7LP
United Kingdom
Refund policy