Sales Have Ended
Ticket sales have ended
Thank for joining us.. We'll make it awesome!
Sales Have Ended
Ticket sales have ended
Thank for joining us.. We'll make it awesome!
Learn Handpan techniques from one of the youngest talents in the Community, Louis L. Enjoy an amazing concert evening 3 performers!
About this event
About Louis L.
I am a 26 year old Hamburg-based artist. By leaving my birthplace after finishing high-school I started broadening my vision and kept on moving ever since. Inspired by various musicians, artists, cultures, lifestyles and my family I am focused on creation and enriching the world.
My passion for creating music erupted early in life and got deepened by discovering the handpan. This young instrument led to a turning point and opened up new doors such as the production of various accessories like bags, backpacks for everyday use and clothes. All of these are handcrafted by me in Germany.The handpan also helped immensely with understanding music better and furthermore, dig deeper into the world of electronic music which I explore in my project 'Four Birds'. The name is a collective term for family, music, animals and nature. Things I value the most in life.Having a family which functions as classical multi-instrumentalists, teachers and grounding sources of comfort I am well-used to absorbing sound and finding comfort in tranquility which I transmit via the music I write.
​Apart from working, which I really enjoy, I also love cooking, squashing, hiking, snowboarding & not shaving.
More on: www.llart.org/
The workshop
The workshop is open to all levels of playing. First timers are very welcome, you will start at 9:30 with the basics of the handpan and then the others will join in a bit later. If you have no instrument, you can rent one from the academy for 25 euro for the day, and you will have the opportunity to test all demo instruments during the day.
For the beginning and experienced players Louis has brewed a very nice program:
9:30-11:00 Beginner
Overview of the instrument
Basic vocabulary
Positioning on your lap / stand
Practicing rhythms in a group setting
Understanding bars to support improvisation
Integrating and improvising a small melody
11:00-16:00 Beginner + Advanced
11:00 - 13:00
Music theory (triads, note values, triplets) explained using Philip Glass' Metamorphosis
hand isolation, independence
Playing more than one pan at a time
14:00-16:00
Reading Handpan Notation
Learn a composition by Louis L.
Timetable
Saturday Workshop first time players: 09:30 - 16:00
We are starting a bit earlier for the people that have never played a handpan before. This will be a basic introduction to the instrument and playing techniques. After a short break at 10:30 we are picking up with the rest of the group.
Saturday Workshop experienced players 11:00 - 16:00
We will alternate the program with 2 x 2 hr workshops sessions and individual practice or jams. The monastery offers plenty of space for individual practice, 2 very nice gardens and about 200 rooms..

The concert
Saturday 31/07 - 19:00
This concert offers an exciting and diverse line-up.
Louis Latas (solo handpan & electronics)
Mark Lupescu (Kora)
Archer and Tripp (Multi-Instrumentalists)
COST: 25€
(It will be limited in numbers to provide a safe environment for all.)
The Venue
This time we are hosting the event in a very unique location. An abandoned monastery in the center of Antwerp, Where Jeroen and Bo will be hosting the event and providing wonderful food.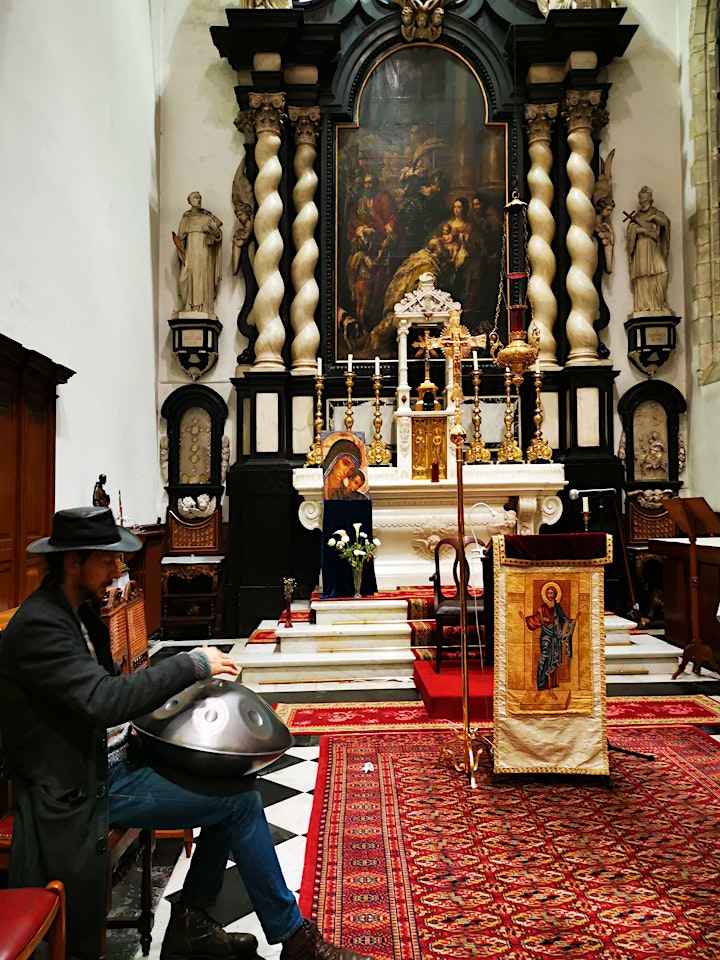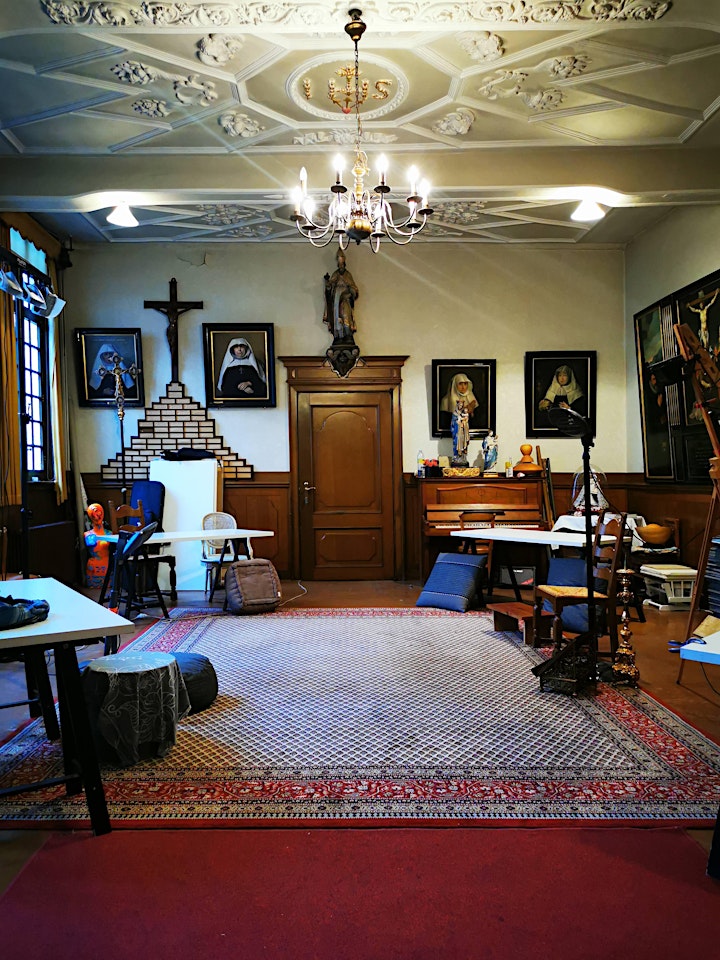 Food
Jeroen & Bo will be providing an amazing Bio - Lunch at 13 € and Dinner 18 € all cooked with fresh ingredients.
And there is more!
Sunday to wednesday
Archer and Tripp will be hosting a 3 day Playful Intensive Handpan workshop back to back with this event.
You can register separatly for this event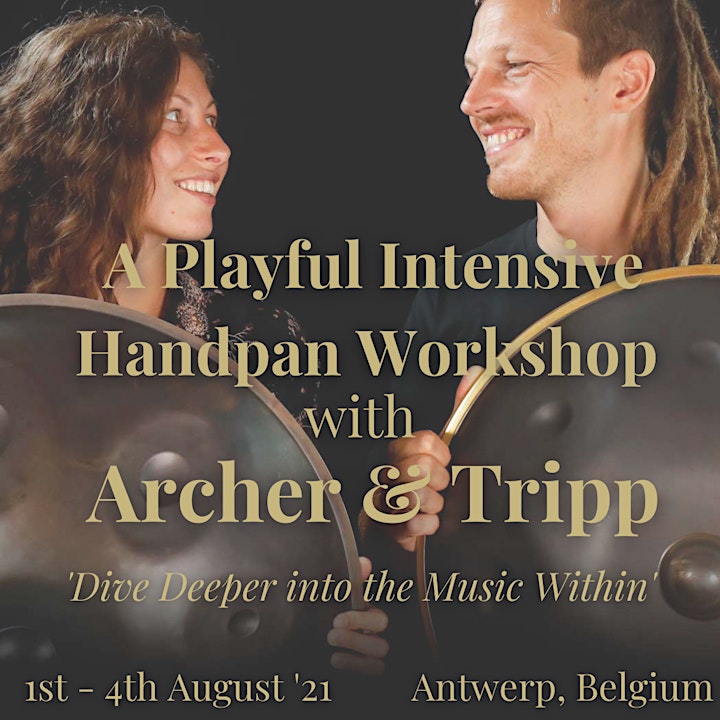 Staying overnight?
If you want to stay overnight, that is possible, you can camp or stay at the monastery. Please bring your sleeping gear and mattress and you can be a nun for one night...
Covid-19 measures
Please bring your mask, we will provide gel and a covid safe setup, in order to guarantee this we will be limiting the number to 12 for the workshop and 35 for the concert. We ask everyone to respect covid regulations, keep your distance and stay safe.
Organizer of Louis L. Workshop & Concert: Louis L. - Archer
The handpan is more than just an instrument: it's a way of life, a provider of happiness, healing and meditation, and an opportunity to be part of a community full of amazing people. 
Whether you are already an accomplished player, an experienced teacher, an enthusiast or an absolute beginner, the Handpan Academy, based at stunning facilities near to Brussels, is calling upon you to spread this wonderful steel magic to a wider audience.
We offer 'First Touch' try-before-you-buy workshops, group sessions and masterclasses hosted by the best musicians in the field. These are held in our classroom, at festivals and at private venues throughout Europe.