Description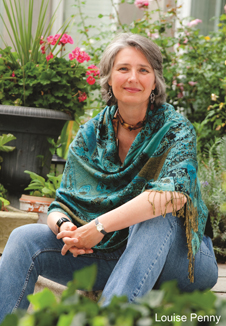 Louise Penny is a Canadian author of mystery novels set in the Canadian province of Quebec centred on the work of Chief Inspector Armand Gamache of the Sûreté du Québec. Penny's first career was as a radio broadcaster for the Canadian Broadcasting Corporation. After she turned to writing, she won numerous awards for her work, including the Agatha Award for best mystery novel of the year for four consecutive years (2007–2010) and the Anthony Award for two novels. Her novels have been published in 23 languages.

When the Light gets in:
Christmas is approaching, and in Québec it's a time of dazzling snowfalls, bright lights, and gatherings with friends in front of blazing hearths. But shadows are falling on the usually festive season for Chief Inspector Armand Gamache. Most of his best agents have left the Homicide Department, his old friend and lieutenant Jean-Guy Beauvoir hasn't spoken to him in months, and hostile forces are lining up against him. When Gamache receives a message from Myrna Landers that a longtime friend has failed to arrive for Christmas in the village of Three Pines, he welcomes the chance to get away from the city. Mystified by Myrna's reluctance to reveal her friend's name, Gamache soon discovers the missing woman was once one of the most famous people not just in North America, but in the world, and now goes unrecognized by virtually everyone except the mad, brilliant poet Ruth Zardo.
Organiser of Louise Penny How the Light Gets In
Heffers has been selling books in Cambridge since 1876 and is part of the fabric of the historic city centre. We pride ourselves on being a proper bookshop, packed with a vast range of titles from all kinds of subjects to explore, and with knowledgeable and friendly booksellers who are ready to offer advice and recommendations. Our literary event schedule is a busy one, with at least one event taking place most weeks throughout the year, and we are also the bookseller of choice for the Cambridge Literary Festival. Heffers also stocks an impressive range of non-book items including a fantastic selection of board games and we even run a regular games night called Board Games in the Bookshop.
For more information or to sign up for our newsletter please email heffers@heffers.co.uk.