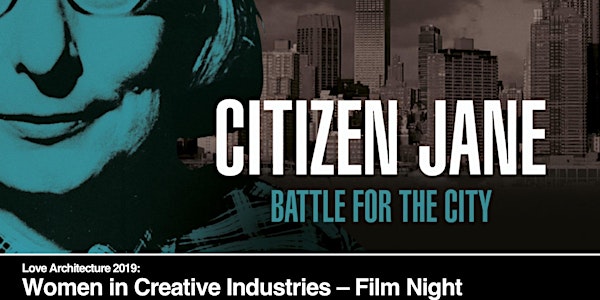 LOVE ARCHITECTURE - Women in Creative Industries
About this event
Although she was quick to remind people "I'm not an architect, you know?", Jane Jacobs had perhaps a greater influence over built environment thinking and practise over the last half century than any other single individual.
A journalist specialising in urban planning, she became the foremost expert and critic of the vast urban renewal programmes in the United States in the post-WWII period, especially those of her nemesis Robert Moses in New York. She was also a political activist working on the front-lines of disrupting these schemes.
In her classic text The Death and Life of Great American Cities (1961) she attacked the previously untouchable saints of architectural Modernism while outlining the 'Four Generators of Diversity', and these helped shape subsequent initiatives from advocacy planning and neighbourhood cooperatives to the 'New Urbanism'. The diversity of her legacy - of finding innovative ways to empower communities to take control of their built environments - can be traced in the recipients of the Jane Jacobs Prize and Jane Jacobs Medal.
This event, sponsored by the RIBA 'Women in Architecture' initiative, will involve a screening of the celebrated documentary Citizen Jane: Battle for the City (2016, dir. Matt Tyrnauer, running time 92 mins).
The screening will be preceded by a short introductory talk on Jacobs' life, work and legacy by architecture historian Dr. Simon Richards of Loughborough University Architecture, who was fortunate to interview Jacobs as part of his research.
Organiser of LOVE ARCHITECTURE - Women in Creative Industries
The Leicester and Leicestershire Society of Architects was founded in 1872 as a branch of the Royal Institute of British Architects, which was established in London in 1834. Both RIBA and LRSA share the objective of promoting architecture and raising the profile of architects.

We inform the general public through guided tours, events and exhibitions, liaise with other professional bodies and work with the RIBA East Midlands office to coordinate regional activities.