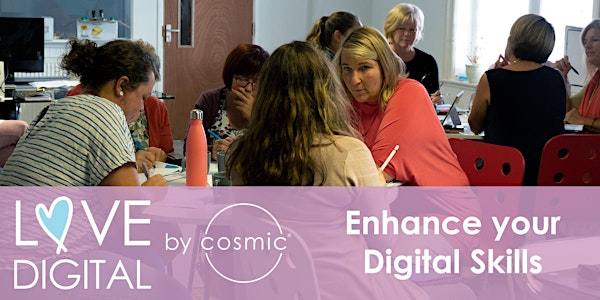 Love Digital - Digital Skills Programme Barnstaple - Extra! (see details)
Love Digital is a digital skills learning programme for women who are looking to improve their digital skills and enhance their careers.
About this event
Love Digital is a free digital skills learning programme for women in the Barnstaple area* who are looking to advance their digital skills .
These 5 workshops are combined with 1-to-1 mentoring, to support women wanting to enhance their career opportunities. This programme will now take place via Zoom, but we will hope to meet up one day IRL to have a cuppa and to make contact with your local group.
*If you would have been able to get to Barnstaple for these sessions, then that would qualify you to be 'Barnstaple area'. Dates as follows:
Session 1 , Catch up - Tuesday 28th April 2020 - 2pm - 6pm
Session 2, Catch up - Monday 4th May 2020 - 9:30am - 1:30pm
Session 3 - Tuesday 5th May 2020 - 9:30am - 1:30pm
Session 4 - Tuesday 19th May 2020- 9:30am - 1:30pm
Session 5 - Tuesday 2nd June 2020- 9:30am - 1:30pm
The 5 half-day workshops will cover the following themes:
Your own aims and ambitions
Digital productivity tools to improve your efficiency (professional and personal)
video, multimedia and your online personal profile
website design and your digital reputation
and online safety and security.
The sessions are designed to be lighthearted, engaging and accessible. We want women to feel confident and supported to embrace digital skills in their careers. There will always be an opportunity to ask lots of questions and improve your knowledge.
Love Digital is an exclusive opportunity for women in your local area to get together and share this learning experience. If you have ambitions to grow your business, improve your employment opportunities, or give your career a boost - then this could be for you.
Love Digital is being rolled out at 5 locations across the South West over the next few months, as is being delivered by Cosmic's Digital Trainers. This course is funded by the Heart of the South West Digital Skills Partnership. It is part of the Digital Momentum, which offers a range of support for individuals across the region. Find out more here: Digital Momentum.