Multiple Dates
LOVE LETTERS & OLD SCARS • ART EXHIBITION • NOTTING HILL • KCAW
South Asian artist, Saira Jamieson exhibits love letters in the form of paintings as an ode to women who have had to fight for their freedom
About this event
As gallerist & artist combined, I am proud to introduce my exhibition of paintings in partnership with Kensington + Chelsea Art Week and Festival.
The week-long exhibition features 17 artworks, a balance of oil on canvas paintings and minimalist abstract "lines". For the first time in a show, I will also be disclosing my private sketchbooks from the series. These journals feature the blood, sweat and tears that went in to 'Love Letter & Old Scars' - from copies of my original love letters which triggered the series, preliminary sketches and trials to historical references and diarised thoughts. I've also added shots of all the artworks that didn't make the gallery wall. It's honestly quite an intimate addition to the show - but I feel honoured and ready to display them.
- Sunday Brunch Q&A Event -
On the final day of the exhibition, as part of a Sunday Brunch Q&A, the artist Saira Jamieson invites an intimate conversation about the plights of freedom that women face, the shackles of judgment and the healing power of love letters.
To Book tickets for the Sunday Brunch Q&A on 4 July, please click here
Please note, during Covid, guest numbers are strictly managed to keep all our guests safe so please do book early to ensure we hold your space.
About the Artwork
"The series is inspired by the chance discovery of long-lost diaries and a further reveal of a hidden entry glued between pages. The text described a devastating moment of lost hope, a realisation that the freedom I desperately craved was futile.
A buried memory surfaced like a tornado in my heart.
I longed to speak to this girl, my younger self.
So, on the following final page, I wrote back to her. This love letter spoke of gratitude for gathering strength to continue to fight, for succeeding, for all the incredible things we went on to achieve and a promise to our daughter; she would know our history and champion freedom as a basic human right.
These works are very much love letters to all women that have had to fight for their freedom.
To those that lived to tell their tale, I honour your courage. To those who perished, I honour your scars."
- Saira Jamieson
About the Artist
Born in London, to Pakistani parents, Saira was raised in a household of both immense cultural pride as well as deep religiosity. These levers, in many ways were the inspiration and rebellious fuel of Saira's early artistic impulses.
Through painting and drawing, Saira found escapism, creating otherworldly terrains of symbolism. Her diarised sketches became a secret language, one her parents couldn't decipher, one they didn't approve of. Caught between family duty and the associated expectations of dutiful femininity, she fled to Portsmouth University where she studied film and semiotics. This was eventually agreed to be a short stop gap before she would assume the role of wife. Yet instead, her passion for artistic filmmaking, for the art of documenting and the power of storytelling, would compel her to fight to complete her studies and subsequently follow a wildly different path.
Realising independence and her own financial success would be required as the price of ultimate freedom, Saira took on the battle that came with going against the cultural tide. Working relentlessly establishing herself as a sought-after Media and Interactive Producer (working on Live 8, alongside Bob Geldof amongst several award-winning titles), becoming a respected businesswoman founding her own brand-tech-events company and investing in businesses across media and entertainment sectors. Yet, while creativity and innovation were the cornerstone of her professional trajectory it would be a second, chance awakening; a collaboration with a film called Yugen - paradoxically meaning the spiritual power to evoke a predetermined path - a film bv Salma Hayek and Martha Fiennes, that would bring her back to her underlying passion of semiotics and making art. It was at this moment Saira allowed her roots to be set free and it would be her life's experiences and observations that would provide the rich narrative to her own work.
Links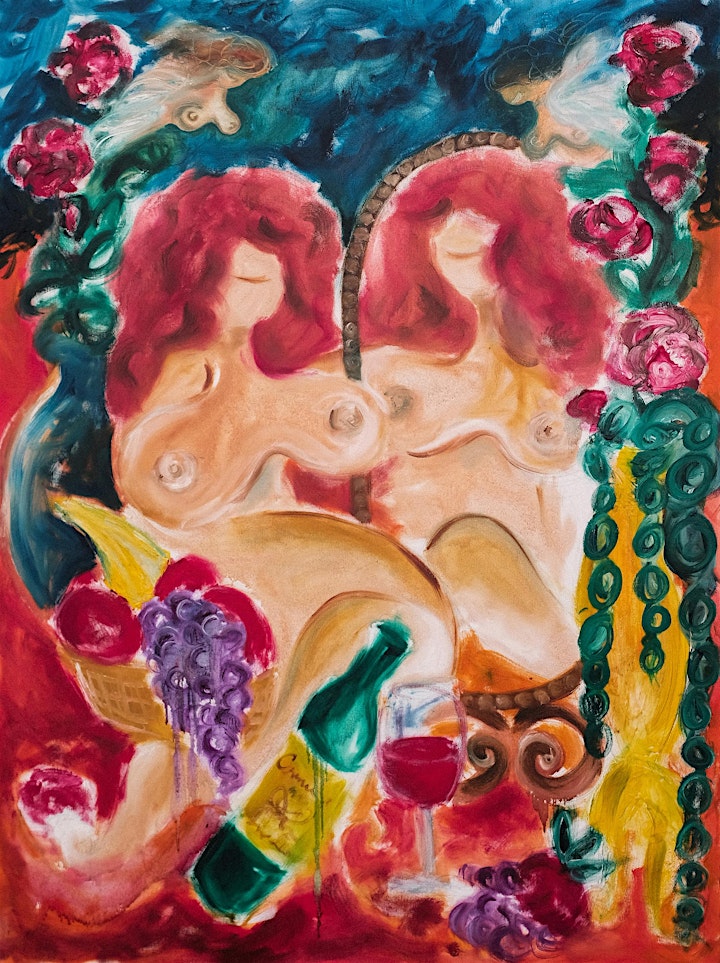 Organiser of LOVE LETTERS & OLD SCARS • ART EXHIBITION • NOTTING HILL • KCAW