Description
There are lots of good reasons for you to buy local. You'll strengthen our regional economy, help other local businesses retain their skilled workforce and reduce your company's impact on the environment.
That's why we set up QSL Love Local as a not-for-profit event which gives local businesses the chance to show you what they have to offer.
Why visit QSL Love Local?
* You'll be able to have 'proper' conversations with exhibitors and find out if they can help your business flourish
* You won't have the same conversation over and over again (we don't have lots of companies who do the same thing)
* You can network with other attendees over the free coffee
* Our free business briefings will bring you up to speed on the hot topic of 'employee engagement'
* You have the chance to have a professional photograph taken by D.A.P. in return for a donation to the Midlands Air Ambulance Charity (this is ideal if you've been meaning to update your LinkedIn profile for a while)
The Business Briefings
Recruitment is likely to get increasingly difficult which will make employee retention more critical than ever. Jelf, the local insurance specialists, will outline how benefits packages can help you boost your employee engagement from the recruitment stage onwards.
October is Mental Health Awareness Month and we're delighted to welcome a speaker from Umbrella Training & Development Ltd. Phil Gilbert-Smith will give an overview of mental health at work, enabling you to tackle this difficult area with confidence.
The exhibitors
Confirmed exhibitors include:
Media Partner: Business and Innovation Magazine
Plus: Haines Watts, Worcester Web Studio, You Do Better, City Signs, Headturner Search, Indegu, Hallmark Hulme, Offsite Server, SB Print, Sutcliffe & Co, Worcestershire Business Central, Umbrella Training & Development, Jelf, D.A.P. Photography, Poundhost/Simply Hosting, Modus, Envirovent, Head2Heal First Aid and Goldby Wealth Management LLP (Associate Partner Practice of St. James's Place Wealth Management) .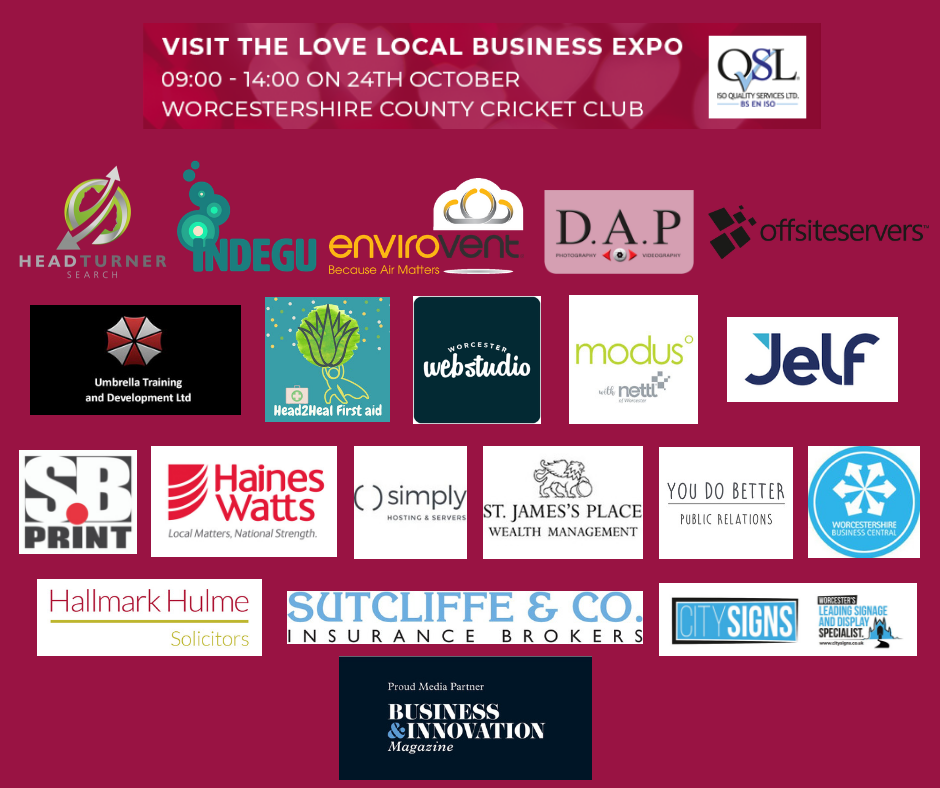 Save your place
Register now (see right).
Spread the word
#QSLlovelocal
Please note that by registering you agree that your details will be added to the delegate list which will be shared with exhibitors.
Organiser of Love Local Business Expo
ISO Quality Services Ltd is an independent organisation specialising in helping SMEs improve their businesses through the implementation of ISO and BS EN Management Standards.
We offer certification, consultancy and training services.
For more information see www.isoqsltd.com and www.isotrainingservicesltd.com