Description
Think of a city that offers space for nature, respite and calm. A city where you can wander, breathe clean air and listen to the sounds of people and wildlife together. This is the Tranquil City.
In this event you will be encouraged to discover and explore tranquil places around London Bridge area. Participants would be asked to identify and bring a picture of their favourite tranquil spots and will learn how to grow the Tranquil Pavement to map out all these spaces and use it to navigate your local area. A short walk will also take place so you will have the opportunity to breathe and live tranquillity at your lunch break.
The walks will start at London Bridge Hive, 1 Melior Place, SE1 3SZ, and will finish within an hour.
You are welcome to bring your packed lunch and have it during the first part of the session (presentation at London Bridge Hive), since the second half will consist on a walk around the area.
---
Who is leading this
Tranquil City is a non-commercial initiative exploring the meaning of tranquillity in London, promoting its incorporation so that cities can better respond to human needs. The initiative aims to explore what tranquillity means for us in the city, by creating a crowdsourced map of calm areas for all to enjoy, called the Tranquil Pavement London.
We are urban activists, with a core team consisting an acoustician, air quality consultant, socio-economist, sustainability consultant and a data scientist. We have teamed up with tech co-op Outlandish, who are committed to develop digital tools for positive social impact. The project will be running tranquillity explorations and walking tours in the area during February and March 2018, to help you find space for calm in your daily life.
Contact hello@tranquilcity.co.uk to be notified of the events and get involved.
Find out more at www.tranquilcity.co.uk.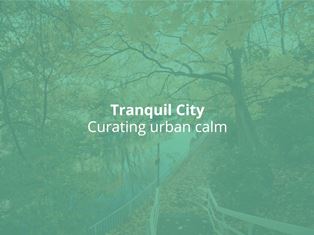 ---
What is Love Lunch
There is no better month than cold and dark January for free and interesting activities. Traditionally, Love Lunch takes place every September - due to high success rates, we are now venturing into an additional season, which is why on this occasion we call it Mini Love Lunch and it only stretches over 8 working days instead of an entire month: 22nd to 31st Jan.
Love Lunch is a series of free events taking place at lunchtime in London Bridge area. This is a Team London Bridge initiative that helps promote local businesses and attractions to local professionals whilst it encourages well-being and the importance of taking a lunch break.