Description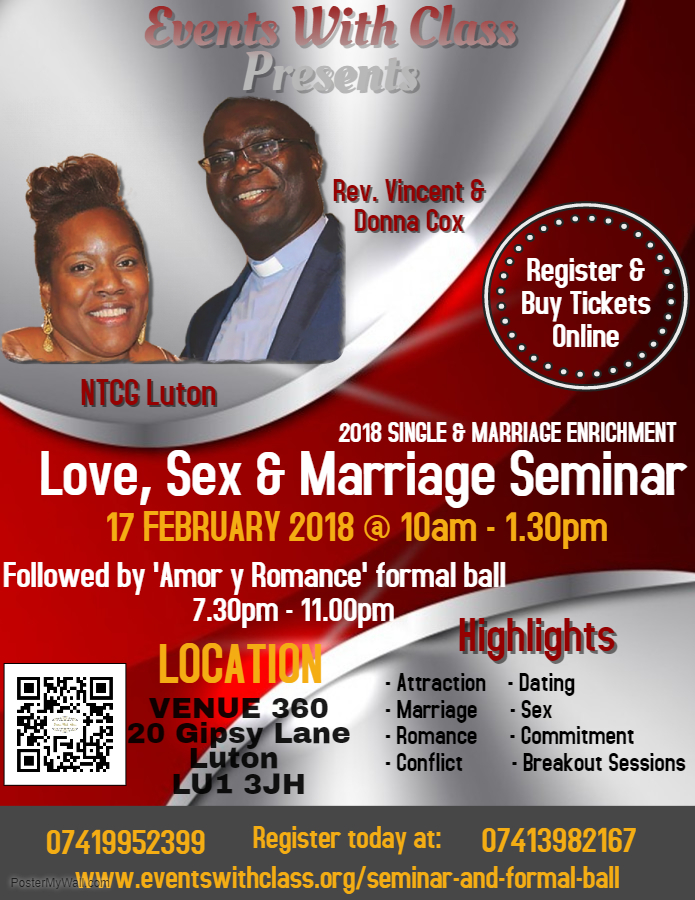 One of the most important components in today's society hinges on relationships. The Speakers for this Love, Sex and Marriage Seminar, The Reverend Vincent and Mrs. Donna Cox, offers profound yet simplified approaches in developing present/future relationships, how to cope generally in the modern and complicated society in which we live.
Twenty-Seven years of marriage, marital counselling, seminar and workshops in these topics, qualifies The Reverend and Mrs. Cox. They are both inspirational and respected individuals, who have a deep understanding of the relevant topics, and delivers their knowledge in a simplified and enjoyable way. Whether you are single, single again, dating or married, everyone will be inspired in the attending of this Seminar.
***************************************
This seminar, dealing with Love, Sex and Marriage is geared to provide an opportunity to further learn about love, sex and marriage from a biblical perspective, educate attendees on healthy relationships, engage singles, singles again, those dating and couples in practical tasks.
***Some areas of discussion will include***
* Attraction* Dating * Marriage * Sex * Conflict*
* Romance * Commitment * Break out sessions *

As a crescendo, attendees can expect an exquisite, romantic timeless evening affair,"Amor y Romance." A formal evening ball reaching both singles, singles again, couples and those presently dating.
This evening affair will include live entertainment, competitions, prizes, a photographer on hand capturing your special moments and much much more. An evening you will always remember.
This night is expected to be a sell out so register and get your tickets early!!

****** Competition Time ******
When you buy tickets for both the seminar and the Amor y Romance Ball you will be automatically entered into a draw to win one ticket for an all inclusive trip to the 5 star "Jasmine Palace Resort " in Egypt.
(For information go to eventswithclass.org/seminar-and-formal-ball )