About this Event
In need of a new outfit? Find yourself with too many clothes you just don't wear? Did you know that there are £30 billion worth of unworn clothes in the UK's wardrobes right now?
Why not come and join us at the Old Truman Brewery on Saturday 3rd August for a chance to refresh your wardrobe for FREE!
Visit our website to see previous events we've held here
We'll have a #LoveNotLandfill clothes bank on site for all your unwanted clothes (yepp, even those odd socks!) and an array of great quality pre-loved clothes ready for you to swap til' you drop.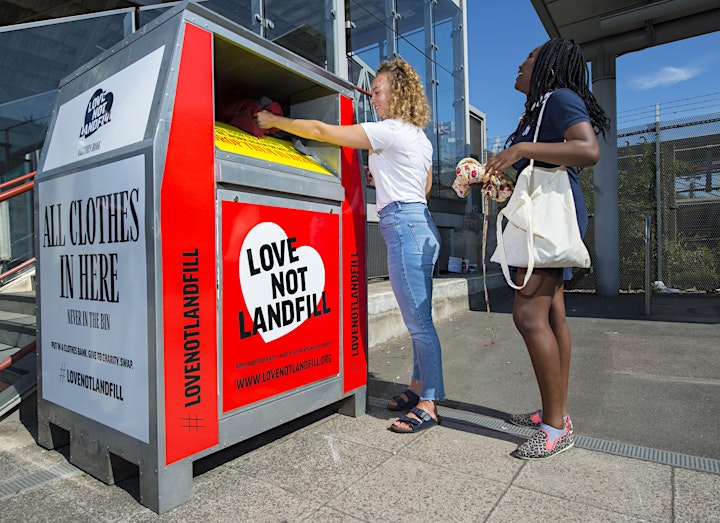 How it works:
10:00am-12:00pm
Bring your bag of clothes and collect your tokens (1 token per item, max 10 tokens per person)
1:00pm - 4:00pm
Come back, spend your tokens and head home with a bag of 'new' clothes!
Date/Time/Location:
10:00am-4:00pm, Saturday 3rd August, Old Truman Brewery
About #LoveNotLandfill
#LoveNotLandfill is a behaviour change campaign run by London Waste & Recycling Board. We are part of the European Clothing Action Plan (ECAP) which is managed by the Waste Resources & Action Programme (WRAP).
As part of ECAP, #LoveNotLandfill aims to change the behaviour of 16-24 year old Londoners in how they buy, care for and dispose of clothing.
The current fashion industry, combined with our consumption habits, is causing a problem for the environment. 300,000 tonnes of clothing goes to landfill every year in the UK, most of which could be worn again or recycled.
#LoveNotLandfill's calls to action for London's young people are:-
NEVER PUT CLOTHES IN THE BIN.
USE A CLOTHES BANK.
GIVE TO CHARITY.
BUY 2ND HAND.
SWAP.
@LoveNotLandfill#LoveNotLandfill
About Vegan Days
Vegan Days is a free entry* event featuring the best plant-based snackery in London, an ethical market place, special wellness activities, different bars and lots of opportunity to hang out, socialise and wind the weekend away.
*some activities, workshops and classes within the event will be paid entry.
http://vegannights.uk/#get-tickets
@vegannightsldn