LOVESOULYMPICS - Raj Kotecha's Birthday Sports Day!

Sunday, July 1, 2012 from 2:00 PM to 10:00 PM (BST)
Event Details
THE WEATHER'S GOOD! LET'S GO!
Four big things on the day:
The day schedule:
2pm - all day: Live DJ's and BBQ, you can arrive earlier, no problem
3pm - 4pm: Lovesoulympics
4pm - 5pm: Raj vs 10 DJ Soundclash
5pm - 7pm: Birthday Set and More Guest DJ's
7pm - 10pm - Euro Finals, Outdoor in HD!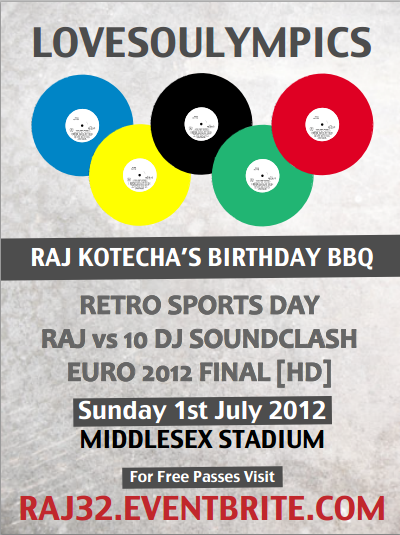 Lovesoulympics:
1. 3 legged race
2. Egg n spoon race
3. Wheel Barrow Race
4. Fill the bucket
5. Frisbee vs Hoola Hoop
6. Water balloons in legs
Register above for a sports day ticket.  Info will follow.  
(Look out for special games being ran throughout the day, with shots).
BBQ Menu:
Standard price £4.95, includes one skewer from the grill plus fresh nan, sauce and salad!
On the grill
1) chicken tikka
2) lamb shish
3) paneer (cooked seperately)
4) veggie kofta (cooked seperately)
Buy extra skewers with your dish for £2 each. Range of sides available too.
Confirmed for the Soundclash:
1) Vik Lovesoul
2) Ritesh Flashback
3) Rav Flashback
4) DJ Rugrat (Musical Movements)
5) DJ Luis (Sync Bar)
6) DJ Fricktion (OMA Winner)
7) Rishi Kotecha (Sync Bar)
8) Haps Dhand (Clubhouse)
9) Kishan Ramsamy (aka @BrokenSoulBoy)
10) Coming Soon...
Raj vs each DJ, one round each, you vote, winner gets the total votes...