LoveTonic: Connection and Intimacy beyond Hook-Ups. An evening exploration for Black and Asian Men who Love Men.

Wednesday, February 11, 2015 from 6:30 PM to 10:00 PM (GMT)
Event Details
 As part of 2015 LGBT History Month
NAZ Project London and The Quest for Gay Men present,

LoveTonic:  Connection and Intimacy beyond Hook-Ups 
An evening exploration for Black and Asian Men who Love Men
---
 Do you.......
 

find connection difficult to establish?

 

find that you make certain sacrifices when it comes to love and intimacy?

 

find that you still mistaken your longing for intimacy as a longing for sex?

 

want to move beyond simply 'hooking up' to something more emotionally satisfying?

 

want to be able to express your authentic needs when it comes to connection?

 

want to meet other like minded Black and Asian Men who Love Men who are asking similar questions?
     ........ then this evening exploration is for you!!
During this unique event for Black and Asian Men who Love Men, we will be delving beyond the surface of hooking up to investigate and clarify our needs and wants when it comes to Love, Sex and Intimacy.

The intention of the evening is to provide you with insights to help cultivate healthy and nurturing relationships and authentically express your physical and emotional needs. 
The evening will consist of a range of experiential exercises, storytelling, discussions, explorations - individually, in pairs; and in small and large groups.
Date: Wednesday 11th February 2015
Time: 6.30pm (doors open - for food and drink, and an opportunity to connect with other attendees).
The event will start promptly at 7.00pm and finish at 9.30, after which there will be more refreshments and social time till 10.00pm.
(Free, quick and private  HIV testing will be provided by NAZ Project London on site)
Address:  InSpire - the Crypt at St Peter's
                   Liverpool Grove
                   London SE17 2HH
                 (closest Tube – Elephant & Castle)
Event Sponsor
---

Some of
the issues forming the background to this unique event, include:
recognition of the differing needs of sub communities within the gay community, based around culture/ religion, and cultural/community/religious pressures to marry/have children, as highlighted by recent media cases 

combination of issues arising from the intersection of dual minority status as BME and gay/bisexual; having to navigate this when we it comes to dating/connecting/being in relationship 

objectification and stereotyping of BME gay/bisexual men on the dating scene

BME gay/bisexual men are disproportionately affected in new HIV stats
BME gay/bisexual men report late for HIV testing than many other groups

prejudice/racism toward BME men from both BME and non BME men.
Part of the intended outcomes, insights and learning from the event will be:
understand the unique and specific pressures different BME gay/bisexual men feel when it comes to dating

creating a culturally supportive space for BME gay/bisexual men
showcasing where to find support regarding matters of faith and sexuality
celebrating being BME, Gay/bisexual/MSM
demontrate that BME LGBT history is significant and something to be proud of
show that being BME gay or bisexual isn't a barrier to love, intimacy and connection 
start creating a network of role models

address intra- and extra- BME community prejudices

Challenging the common myths held around BME gay/bisexual men, and exposing how ridiculous they are!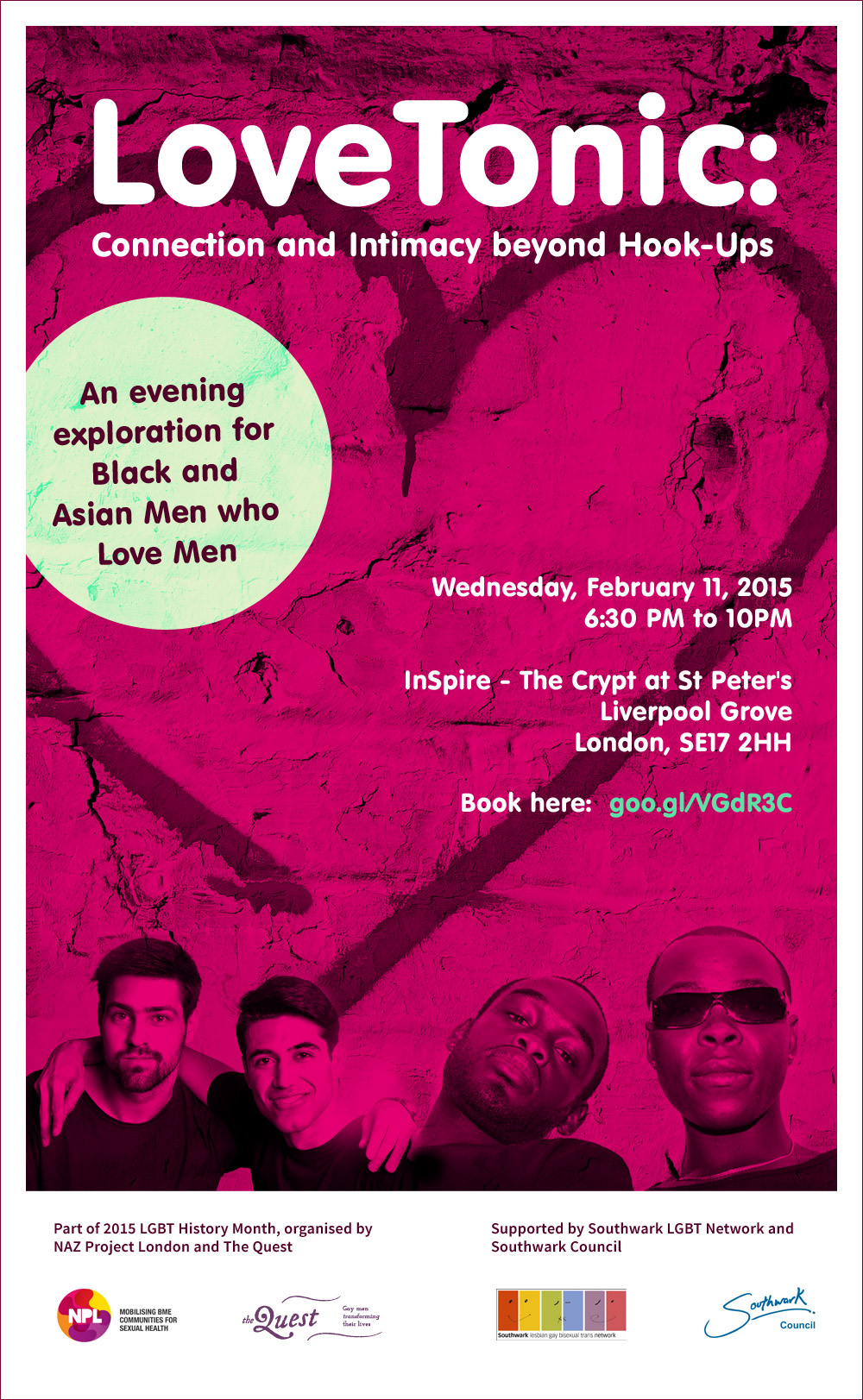 When & Where

InSpire - The Crypt at St Peter's
Liverpool Grove
SE17 2HH London
United Kingdom


Wednesday, February 11, 2015 from 6:30 PM to 10:00 PM (GMT)
Add to my calendar
Organizer
The Quest is an exceptional resource for gay men to explore and better understand the complexities, joys, challenges, frustrations, thoughts and emotions involved with being a gay man in today's world.
Spearheaded by founders, Ade Adeniji & Darren Brady - certified Life Coaches and Group Facilitators, The Quest is helping gay men rediscover their authentic selves and redefining the meaning of gay community. From within a supportive and safe environment, alongside a diverse range of individuals, The Quest's work enriches relationships, with a deeper understanding of personal interactions & motivations, through self-acceptance, new possibilities and social awareness.
For more information about The Quest, visit – www.thequestawaitsyou.com
---
Naz Project London (NPL) is the longest established and largest BME charity in London addressing the sexual health and HIV/AIDS needs of its communities. Currently, it provides sexual health and HIV/AIDS prevention and support services to South Asians (including Bangladeshis, Indians, and Pakistanis), Muslims (including Middle Easterners and Africans), Africans, Portuguese speakers (including Angolans, Brazilians, Mozambicans, and Portuguese), and Spanish speakers (mainly Latin American).
NPL exists to challenge myths and prejudices that exist about and within BME communities and to ensure that these communities have access to care, support, and culturally and linguistically appropriate information. It aims to educate and empower our communities to face up to the challenges of sexual health and HIV, and to mobilise the support networks that exist for people living with HIV/AIDS.
For more information about NPL, visit - www.naz.org.uk