Event Information
Refund Policy
Contact the organiser to request a refund.
Eventbrite's fee is nonrefundable.
Calling all you lovers out there! This Valentines show your love and give your heart a treat with our LOViN LiFE 10K
About this Event
Event type: Virtual
Distance: 10K
Activities: Walk, Run, Hike, Bike (road/mountain)
Date: February 14th - 20th
Calling all you lovers out there ( well that didn't sound at all like a cheesy 1980's school disco DJ! )
Show your love and give your heart a treat with the Miles of Motivation LOViN' LiFE 10K this Valentines.
The event is centered around the top LOViN' day of the year it's time to get creative – we want to see hearts on your 10K – wear a heart, dress as a heart, find or make a heart in nature. We'd love to see some hearts in your 10K pictures.
SPECIAL BONUS! – we've created a special page on our website where you can show you love, thank someone special with your own message. When you sign up you have the option to include a message and we will put this on the website for you.
Take a look at our special event page where your message will be displayed
http://www.milesofmotivation.com/lovinlife10k
Unique LOViN LIFE Finsishers Certificate signed by Miles of Motivation founder Andy Hood for every event finisher – we are showing you the love!
Event Dates
February 14th – 21st 2021
We've opened the event for a full week giving you time to find a day and complete your 10K. Including of course the most important date – February 14th!
How the Virtual works
The most awesome aspect about a virtual is you decide when and where to hit that goal and complete your distance. We give you a date range to get that completed in and submit your evidence to us. Awesomely easy!
With participants all around the world you won't be completing your km's alone (virtually of course!) – feels great to know there are others on the other side of the world, down the road, and across all continents all pushing for their own goal too.
Can I Participate?
Sure you can. Our events are open to everyone in every country around the world. We've an awesome global community that come back time and time again for more events. We also allow four main activities to make our events super inclusive, you can choose to walk, run hike or bike (road or mountain) your chosen distance. How's that for being inclusive!
Sign me up now!
OK! Follow these easy steps
1. Complete the Registration
2. Keep an eye on your emails (including that pesky junk folder) for updates
3. Walk, run, hike or bike your LOViN LiFE 10K
4. Submit your activity for verification
5. Receive your Finishers Certificate
6. Feel AMAZING!
Submitting your 10K for verification
All tracking apps and devices are acceptable, once you've completed your LOViN' LiFE 10K and are ready to show off a little about it then take a photo or screen shot of the activity and submit to us in the following ways
· Email to us: milesofmotivation2020@gmail.com
· Tag us on your Instagram post: @mymilesofmotivation
· Join us on Facebook and post to our page using #lovinlife10k
Ticket Options – there's a freebie too!
Ticket Type : Free
Yep it really is a free entry. We love covering km's just like you so if this event encourages you to get your shoes on then awesome.
With the free entry you'll receive a Finishers Certificate.
Ticket Type: Show your love and buy us a coffee
Thanks! We love a cup of the go-go juice. Really appreciate you selecting this option and we'll cheer your name when we sit working away on the events late into the night with a cup of the roasted beans to keep us awake.
With this ticket option you'll get the personalized Finishers Certificate and can run your km's knowing you are helping to bring inspiring and motivational events to the world.
Welcome to the LOViN' LiFE 10K.
Andy Hood
Founding Motivator
Miles of Motivation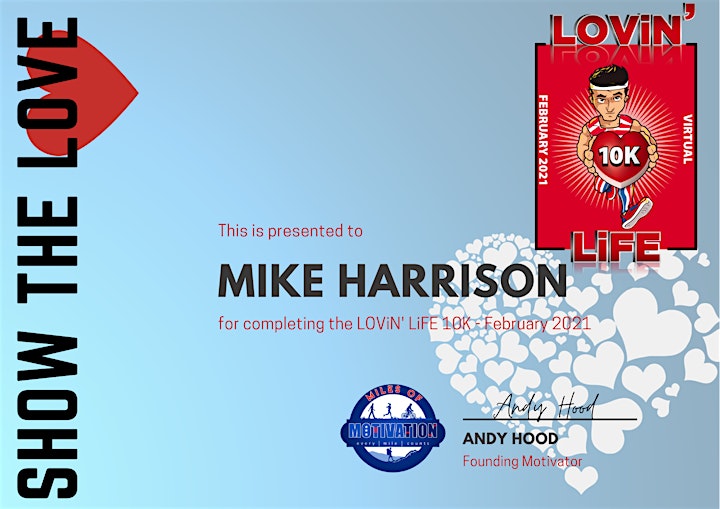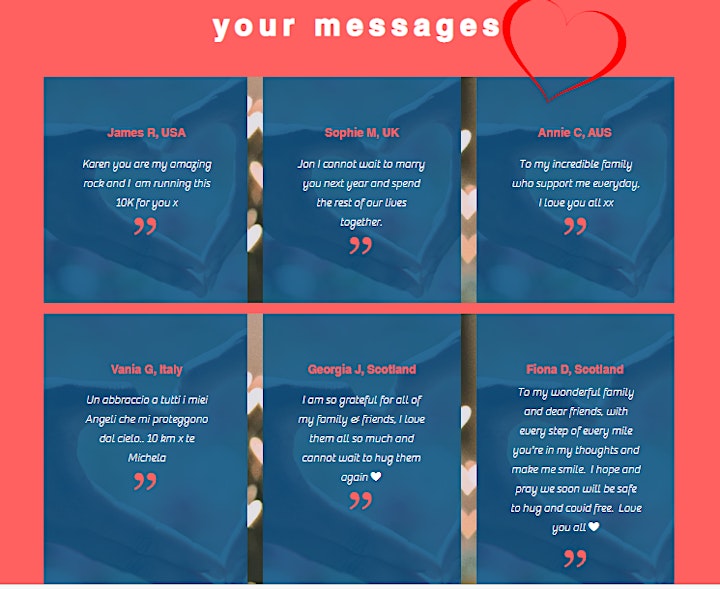 Date and Time
Location
Refund Policy
Contact the organiser to request a refund.
Eventbrite's fee is nonrefundable.