Loyalty Challenges: Changing rules to drive Customer Loyalty (CX Brussels) - Learn and discuss with the best.
About this event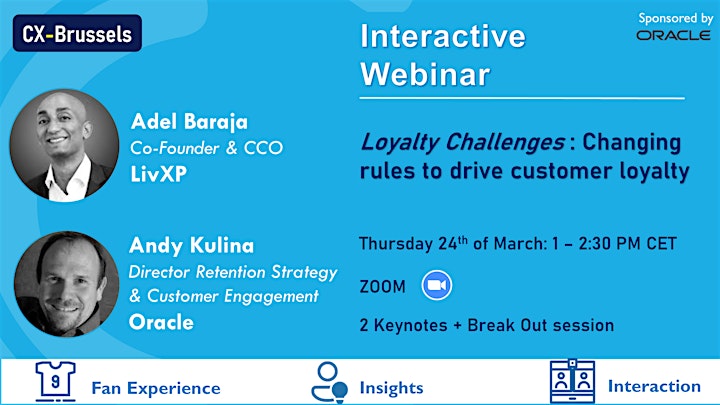 This is an interactive workshop, be prepared to meet new people, give your opinion, share your challenges and ask questions.
With all the changes over the last decade, we now identify a clear paradigm shift. When we look at Porters 5 Forces, we notice that Customers have way more buying power than before. This is largely down to the rise of subscription services, social media and the interconnected world. This is the new competitive landscape, and it is here to stay.
Successful organisations go beyond NPS. They strive to create meaningful relationships with their customers. They prioritise and care about Customer Loyalty. They actively measure loyalty, the drivers, the opportunities to further connect with customers at a deeper level, and much more. Getting sticky and loyal customers is key to sustainable business growth.
This event will be hosted by Jonathan Daniels. We are very proud to have booked the very knowledgeable Adel Baraja (Co-founder and CCO of Liv XP). He has dedicated his career to managing the Fan experience. We will also welcome Andy Kulina, Director of Retention Strategy and Customer Engagement at Oracle. He has recently been working with some very exciting brands - to give you a clue, some of these go round a track at over 360km/h.
Agenda :
Welcome by CX Brussels
Adel Baraja (Co-founder and CCO of Liv XP)
Andy Kulina (Director Retention Strategy and Customer Engagement, Oracle)
Workshop led by Jonathan Daniels
Conclusions and Wrap up
Together, let's discuss how a stronger connection with your clients can in turn lead to greater customer acquisition, and better customer retention. Join us and let's inspire each other to deliver customer experiences in captivating new ways.
We respect your privacy, by clicking register you agree to having your details passed onto the sponsor who may promote similar products and services related to your area of interest subject to their privacy policy. You have the right to object. In addition, you will receive our e-newsletter, including information on related online learning opportunities. For further information on how we process and monitor your personal data, and information about your privacy and opt-out rights, Click here