LS:N Global AW2012 Trend Briefing : The CO-commerce Revolution

Multiple Dates
Event Details
Attendees include HSBC, Getty Images, Philips, Pernod Ricard, Sony Computer Entertainment, Publicis, UM Worldwide, John Lewis, Channel 4, Harrods, Orange Labs, Exposure, D&AD, Portland Design, Brown-Forman, APR Communications, The Outnet, Boots, The Gild, COS, Publicis Conseil, Critical Mass, BBDO Europe, Marks & Spencer, Elmwood, Ketchum Pleon, YouGov, Opinion Matters, Opinium, HASSELL, Weber Shandwick, Marketing Week, Critical Mass, Pocket Marketing, Euro RSCG, Unilever, Checkland Kindleysides, Coley Porter Bell, Aubin & Wills, Stylesight, Dubai Department of Tourism Marketing, JWT, Estee Lauder, Kohler Mira Showers, Woolworths Food.
'In Europe and the US, new models for retailing, designing and branding products are similarly re-inventing the way we trade and take goods to market.''In emerging markets, we are witnessing unprecedented levels of innovation, driven by the needs of the next billion consumers,' says The Future Laboratory co-founder Martin Raymond.
 Collectively, these forces – driven by necessity and invention on the one hand, and by social media and imagination on the other – are rewriting the rules of commerce in the 21st century.
Think co-opetition, co-selling, co-curating, co-marketing, co-sharing, even co-splicing fact with fiction (faction) to create new and more powerful brand, product and service categories.
Welcome to the Co-commerce Revolution, a world in which fact, fiction, fantasy and social creativity collaborate and collude to spectacular effect.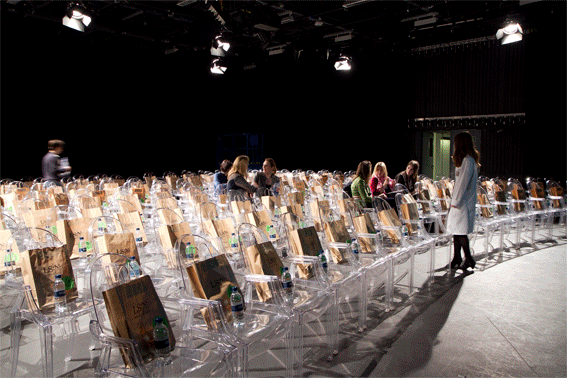 Event content :
Introduction
We identify and explore the key trends and overarching themes of the day, from co-opetition and faction (fact + fiction) marketing to how and why emerging markets are the places businesses are looking to for inspiration and product pipelines.

 
Consumer Attitudes Audit
Our biannual look at what is new and next and driving consumer thinking from the Future Poll team.

'Our audit enables us to identify and anticipate consumer thinking on a range of social, ethical, political, commercial and cultural topics,' says head of sales and marketing Tiffany Arntson.

'That way we can help our clients to frame debates, anticipate challenges and collaborate with consumers in setting and driving agendas.'

We look at the percentages underpinning these changes, and the real people setting tomorrow's agendas.


Symbiotic Branding
How and why brands, products and retailers are space-sharing, co-collaborating and identity-squatting in competitor spaces to maximise profits, drive experience, share efficiencies and enter new market sectors.

'This is about cooperation and collaboration of a different sort,' says The Future Laboratory co-founder Chris Sanderson. 'It is about one brand using another brand's space, website, advertising campaign or consumer database to save money, fire innovation or kick-start change.

Think co-opetition, co-selling, squatter retail and parasitic marketing and you begin to get an idea of how this approach works. A cooperation too far, or the next big marketing initiative? We test the evidence for and against.
New Emerging Affluents
How the next billion consumers from emerging markets are forcing brands, businesses and manufacturers to rethink everything from how they create and sell products to the way they distribute and market them.

'We have called these next billion our New Emerging Affluents,' says LS:N Global editor James Wallman. 'Traditionally unbanked, unserviced, uncredited and unregulated, their small but growing disposable household income now means they are a massive profit  margin waiting to happen.'

As we reveal, however, their understanding of technology, coupled with the small amounts they earn individually, means they have to be targeted differently.

Here we look at m-commerce, micro-retailing, kin-networks, Jugaad innovation, sachet economics and mobile minute marketing.


Faction Marketing
Harnessing the power of stories made from fact, fiction and fantasy to entice, excite and engage your brand's friends, fans and audience.

'In a world saturated with authentic brands, a true story isn't enough to cut through any more,' says Tom Savigar, chief strategy officer.

'To stand out and connect with tomorrow's increasingly connected, transmedia-savvy consumers, smart brands will blend fact with fantasy, truth with tall stories and reality with clever, compelling make-believe.'

Here we ring the death knell for the Era of Authentic and, in an age of Amortality, Identity Sharding and Faction Films, we make the case for why your brand should be blending fact with fiction.
Brand Toolkits
A short, sharp summary of how the trends and themes covered are set to affect consumer thinking, and their brand, retail and service needs for 2013.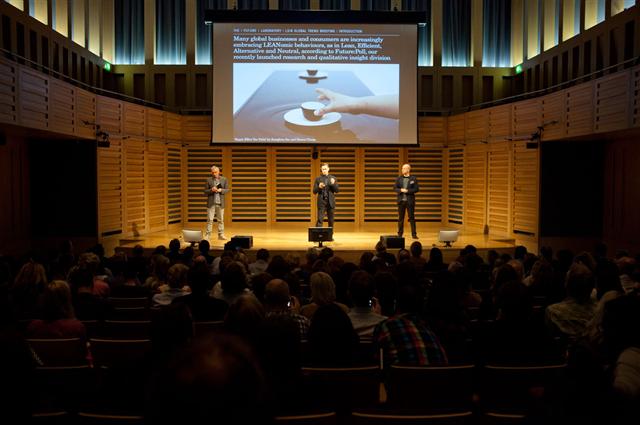 LS:N Global Trend Briefing AW12 : Wednesday 10 October 2012
Morning session: 9:00am–1:00pm
Afternoon session: 2:00pm–6:00pm
Location : Kings Place, 90 York Way, N1 9AG
Tickets: £550 excluding vat (£500 if booked before 10 September)
To download the full programme please click here or for more information email alena@thefuturelaboratory.com or call 020 7870 1971
Join the conversation by following us @LSNglobal #TrendsAW12
Do you have questions about LS:N Global AW2012 Trend Briefing : The CO-commerce Revolution?
Contact the organiser
Organiser
With our unique blend of trend forecasting, consumer insight and brand innovation, we collaborate with brands to map out a future that is forever plugged in to the changing needs of the global consumer.
Since 2001, we have pioneered a range of tools, techniques and strategic processes that have been used by a wide range of clients, including BMW, Cadillac, Condé Nast Media, Unilever, Marks & Spencer, HSBC, American Express, DFS Group, Louis Vuitton, Innocent, Boots, Chanel, The Body Shop, Estée Lauder, Sony, Pandora, Selfridges and Woolworths South Africa – to make their future happen.
We do this by helping them to:
: Anticipate new future market trends
: Understand key future consumer attitudes and behaviours
: Establish future competitors and needs
: Map new and emerging consumer behaviours and envisage where they fit within a futures context
: Deliver brand re-alignments, strategies and innovations that help them to move forward with confidence
Our methodologies are robust and our thinking clear. At all times we collaborate with clients in ways that are simple, jargon-free and designed to deliver innovative and consumer-focused solutions.
Our annual events include our Trend Briefings, Futures Forums, Futures Reports, Network Evenings, presenting groundbreaking findings taken from our trends and research network LS:N Global.
Follow us on Twitter : twitter.com/lsnglobal /twitter.com/TheFutureLab
Find us on Facebook : facebook.com/TheFutureLaboratory
See our postings on : thefuturelaboratory.com/blog/
For information on our events go to : thefuturelaboratory.eventbrite.com/
www.thefuturelaboratory.com or email alena@thefuturelaboratory.com