Description
LSX Investor Dinners are intimate, exclusive, evening opportunities for regional, qualified Life Science investors to get together to network, exchange ideas and share sector stories with peers, proteges, and mentors. They are organised by LSX / Biotech and Money.
The latest LSX Investor dinner will take place from 6.30pm-10pm on the 27th June at The Innholders Hall, close to Cannon St., London. Guests will be welcomed with drinks and informal networking before being seated for Dinner.
Such is the intimacy of these dinners only 30 tickets are available and are first come, first served.
Details of the menu will be provided to guests upon registration.

Please note, LSX / Biotech and Money hold the right to veto registrations that do not meet the criteria of a qualified Life Science Investor. T&Cs apply.
---
EVENING AGENDA
6.30pm - Welcome Drinks
Upon arrival, guests will be afforded networking time prior to being seated for Dinner.

7.15pm - Guests Seated
Executives will be treated to a gastronomic 4-course Dinner, with wine, coffee and petit fours created by Michelin starred Chef, Herbert Berger at The Innholders Hall.
Chef Berger trained at the Grand Hotel Zell and See and catering college Salzburg. Followed by five years in some of Switzerland's finest hotels before moving to England, working at the Connaught Hotel, Claridges, Head Chef at the Mirabelle and Executive Chef at the Cafe Royal. Stages in France included world-famous establishments like Robuchon, Maxims, The Ritz, The Bristol and Troigros. Herbert received his first Michelin star at the Connoisseur, followed by a star for the Grill Room at the Café Royal. He has received many accolades and awards; "Mention d'honneur Prix Pierre Taittinger" – "Maitrisse Escoffier" – "Cordon Rouge, Association Culinaire de France".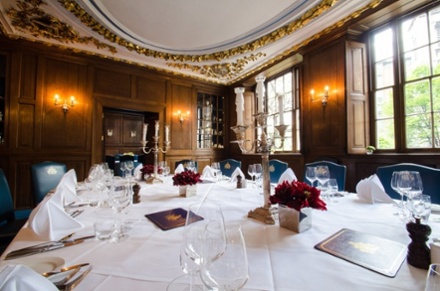 10.00pm. - Close of evening