LUMINA PRACTITIONER QUALIFICATION- A QUANTUM LEAP IN LEADERSHIP DEVELOPMENT
Description
"Probably one of the best leadership courses I've attended. Interesting, thought-provoking, informational – I came away with an extended toolkit as well as numerous ways in which I can build on my skills to become a stronger leader."

Malcolm Wright FInstLM, Head of AML and Transaction Monitoring, Customer and Third Party Risk, Thomson Reuters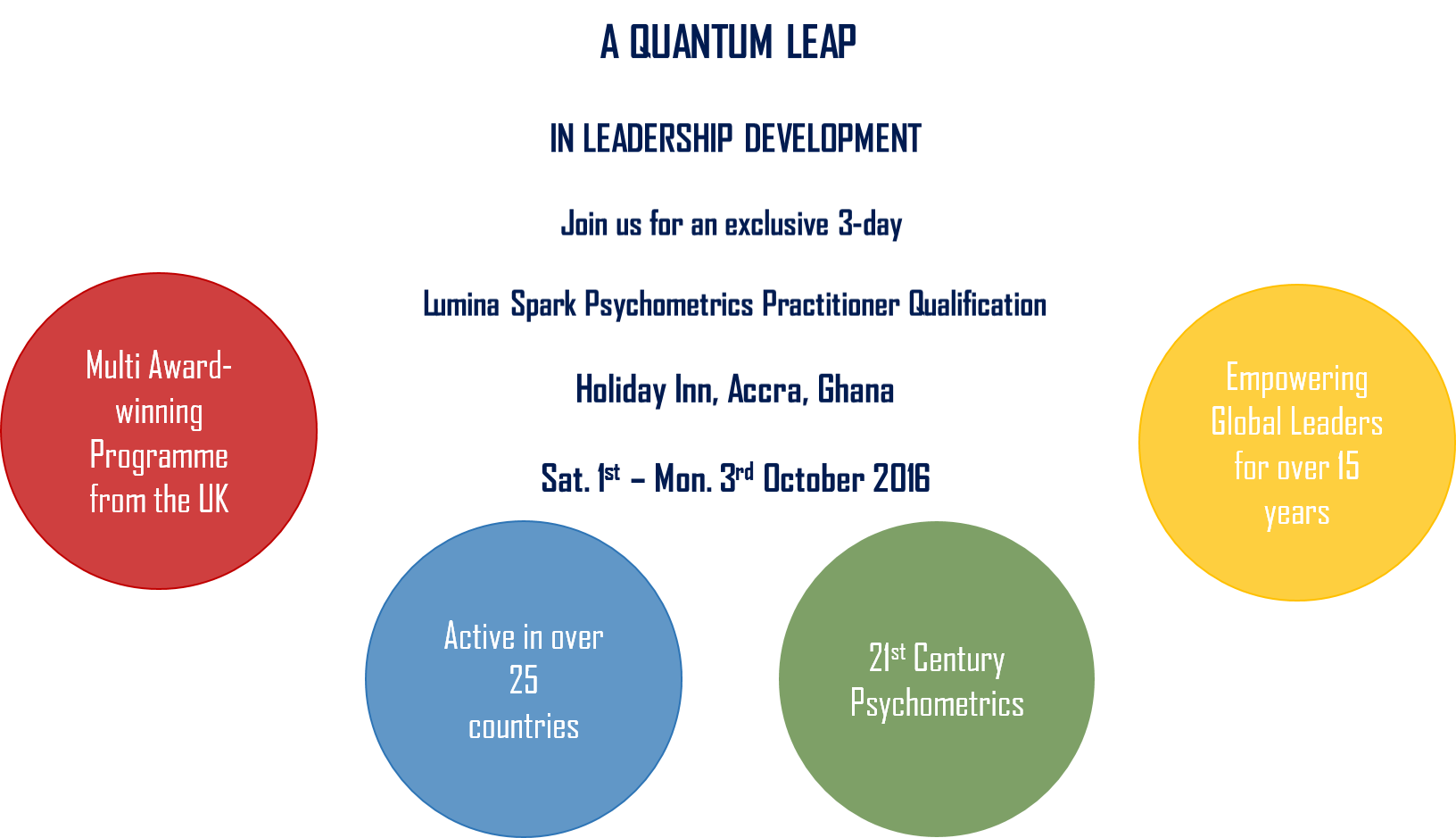 BY INVITATION ONLY - PLEASE CONTACT OUR PROGRAMME ORGANISER


LUMINA SPARK PRACTITIONER QUALIFICATION - OCTOBER 1, 2016-OCTOBER 3 2016


Becoming a licenced Lumina Spark Practitioner unlocks Lumina Spark's memorable, accurate and meaningful approach to psychometrics, helping you to address key business challenges. Support people to become more effective team players, enhance their leadership skills, advance the skills of your sales force or transform your workforce behaviour and culture. As a Lumina Spark Practitioner you are given total flexibility to facilitate using Lumina Spark to help businesses to grow.
Our powerful, inspiring and results based approach will help successful senior executives to better manage strategic priorities; develop and lead more effective teams; and establish sustained competitive advantage within their organisations.
FOR BUSINESSES
Not to be missed if you:
Are interested in working with the most progressive business tools on the market that will help you drive business performance, growth, colleague capability and engagement


Work alongside senior business leaders and line managers to support the delivery of the organisation's people agenda

Partner with Human Resources functions to develop a Learning and Development plan that supports the achievement of business strategy
FOR UNIVERSITIES
Not to be missed if you are:
A Professional Skills Development or Employability, Career Advice/Development Specialist at University involved in programmes that advance and support the way in which students and graduates engage with the labour market
BECOME A QUALIFIED LUMINA SPARK PRACTITIONER
In return, for your hard work during the course, you will be well rewarded with qualification as a Lumina Spark Certified Practitioner (LSCP).
TESTIMONIALS
"I now use Lumina resources whenever I need to create teams to address key business issues."
Robert Boyle, Director of Strategy & Business, British Airways
The Spark programme has been critical in raising staff engagement and taking our collective performance to another level"
Marjolaine Rompré Director of Learning, Organizational Development and Diversity at L'Oréal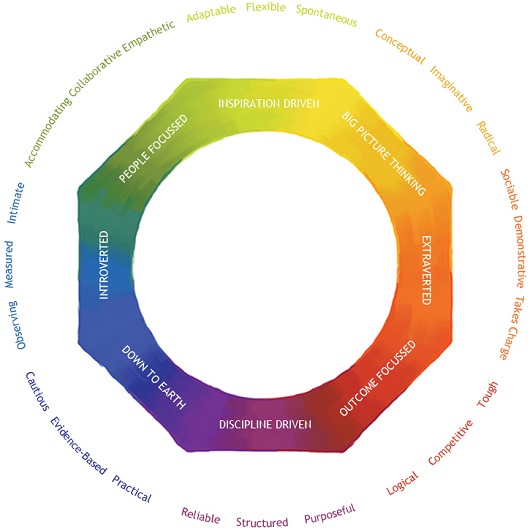 ---
About Inemmo Leadership Development Solutions 



Inemmo, one of the UK's leading providers of Leadership Development Solutions. inemmo's Leadership Development Solutions help our clients build and expand their leadership capabilities by creating and implementing leadership development strategies and programmes that are aligned with company goals.
We combine our award-winning technical expertise with the insight gained from considerable sector experience, to help clients unlock their potential for development and growth.
In 2014 and 2015, Inemmo received multiple plaudits from The Association for Business Psychology, at the prestigious Workforce Experience Awards to "Celebrate Excellence in Business Psychology".
'Excellence in Team-based Change Management' - WINNER 2014
'Excellence in Inclusiveness' - WINNER 2014
'Excellence in Coaching and/or Training of Specialists' - FINALIST 2014
'Excellence in Wellbeing Interventions'​ - WINNER 2015
'Excellence in Leadership Change Management'​ - FINALIST at Conference and Awards, October 2016
---
YOUR PROGRAMME LEADERS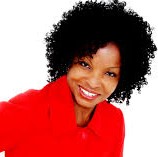 Joy Maitland MIC MGP FIoD FCMI FInstLM FITOL 
Joy Maitland is the Managing Director of Inemmo Leadership Development Solutions.
An authority on the psychology of leadership, Joy has served as an advisor to numerous senior leaders and team managers with a passion for getting the best out of people; injecting teams with vision, enthusiasm and urgency; delivering excellence in employee and business performance. Leaders gain fresh perspective on how to develop their underlying leadership capabilities needed to elevate their performance as inspirational business leaders. Joy's work was highly commended at the recent Chartered Management Institute (CMI) Awards - Celebrating Management Excellence.
Joy has worked in the UK and overseas with world-leading brands, including Cable & Wireless, 3M, Sony, RBS and Credit Lyonnais. Inemmo was launched in 2005 following Joy's role as Group Director Operations within the FTSE 250 market research firm Taylor Nelson Sofres. In addition to her role as Managing Director at Inemmo Leadership Development Solutions, Joy is currently a Non-Executive Director of the Plane Saver Credit Union. and Vice Chair of the EKAYA Housing Association.
Joy is a Member of the Institute of Consulting and the Association of Corporate Governance Practitioners. She holds fellowships with the Institute of Directors (IoD), Institute of Leadership & Management (ILM), Chartered Management Institute (CMI) and the Institute of Training and Occupational Learning (ITOL).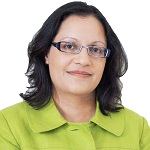 Atiya Sheikh MCMI MGP MIoD MMRS
Atiya is a Director at Inemmo Leadership Development Solutions. She is an exceptional Leadership Development Consultant who works with managers on a wide range of solutions to help them achieve critical change through their people. As Director of the multi-award winning Inemmo Leadership Development Solutions, she strategically supports clients to drive the improvement of both management and leadership capability, ensuring the development of solutions that are aligned to deliver the strategic goals of the organisation.
Atiya's current role followed successful careers in Accountancy and Market Research. In Market Research, she brought Professional and Financial Services industry perspective to studies ensuring that research was designed and delivered to produce actionable insights that address clients' underlying business challenges. She delivered brand focussed insight consultancy to industry leading clients including The London Stock Exchange, Barclays, Ernst & Young, KPMG, Morgan Stanley, UBS, Credit Suisse and RBS.
In addition to her role as Director at Inemmo Leadership Development Solutions, Atiya is currently a Non-Executive Director of the charity, Limehouse Project. Her work as mentor with the children's charity Mosaic was acknowleged by HRH Prince Charles,The Prince of Wales.
Atiya is a Member of the Chartered Management Institute (CMI), the Institute of Directors (IoD) and Chartered Quality Institute (CQI), Market Research Society (MRS), Association of Corporate Governance Practitioners (ACGP) and the ACCA. She is also a Certified Facilitator of the Sedona Method and Practitioner of Lumina Learning Psychometrics, and a Certified Lead Auditor for ISO 9001 Quality Management Systems (IRCA Registered), ISO 14001 Environmental Management Systems, BS OHSAS 18001 Occupational Health & Safety and Social Systems (SMETA).