Description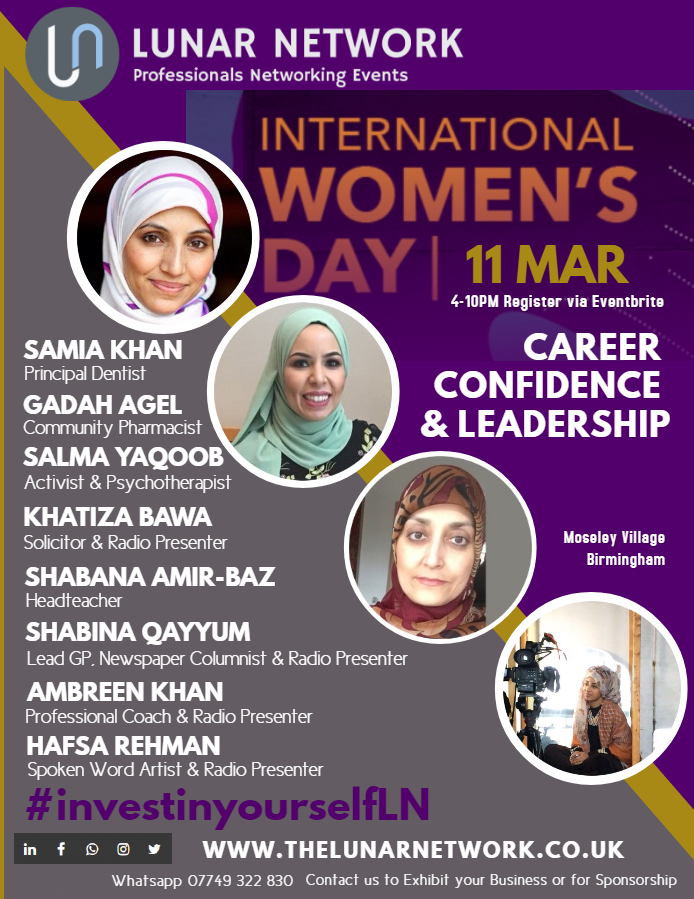 A Fantastic Evening not to be missed Showcasing the talents of our community Women from different Professional backgrounds!!
Be Empowered, Be Inspired, and Be Proud to be part of such an amazing event.
Join us to Celebrate this great cause recognising the Achievements of many women. This evening is inclusive to all professional Men and Women to share and create greater awareness of work in our community.
We have a great line up of motivational speakers to Inspire you on your Career and Life Journey. They will be sharing their expertise, tips and strategies to help you in the workplace.
The Lunar Network is a welcoming group for Professionals and a great network to be part of to enjoy a lovely evening out with your friends, colleagues and meet some new people. Whether you are keen to expand your existing network or are new in Birmingham, this is the place where the professional community comes together.
Lunar Networks International Women's Day Event will take place on Sunday 11th March in the vibrant Moseley Village. Join us for a fun filled evening with live instrumental music, a fantastic 3 course authentic Indian cuisine menu, stalls from local businesses and Inspirational speeches to empower young professionals. Partners, Parents and Siblings are welcome to join.
- Dress Code: Smart. Colour Theme: Something Purple
- Menu: Halal

Event Programme:
Networking & Exhibition
Dinner & Speeches
Activities & Fun
Live Instrumental Music
Tables can be booked for a group of friends or your company. Group Discounts available, contact us for details.
This is a great platform for businesses to promote their brand in the professional community, anyone interested Sponsorship please get in touch.
Our hashtag for 2018 is #investinyourselfLN
Book your place and post a comment to connect with our guests.


*Terms & Conditions apply, please visit website