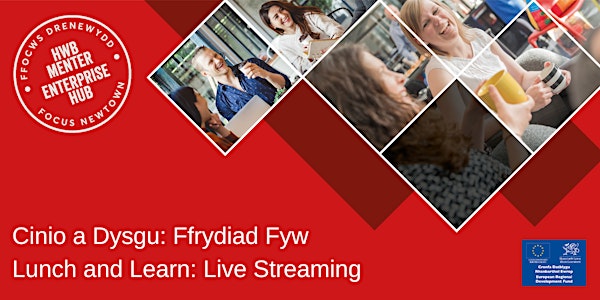 Lunch and Learn: Live Streaming | Cinio a Dysgu: Ffrydiad Fyw
COVID-19 a'ch busnes: Cinio a Dysgu: Ffrydiad Fyw | COVID-19 and your business: Lunch and Learn: Live Streaming
About this event
THIS SESSION WILL BE DELIVERED IN ENGLISH ONLINE. Welsh documents are available upon request.
MI FYDD Y SESIWN HON YN CAEL EI GYNNAL YN SAESNEG AR-LEIN. Mae yna ddogfennau Gymraeg ar gael os oes angen.
(Please scroll down for English)
Cinio a Dysgu: Ffrydiad Fyw
Yn y sefyllfa bresennol, mae busnesau wedi bod yn edrych ar ffyrdd newydd i gyfathrebu gyda'u cwsmeriaid Mae ffrydiad byw yn un o'r sianelau hynny, ac wedi profi i fod yn ffordd wych o ymgysylltu â'ch cynulleidfa, a'i ehangu.
Rydym yn falch o gyflwyno gweithdy Ffrydiad Fyw i chi, gyda'r gwneuthurwr ffilm ac adroddwr straeon, Gwyn Cole. Mae'n gyn beiriannydd meddalwedd, ac mae Gwyn wedi paratoi trafodaeth ac arddangosiad diddorol ar feistroli'r dull hwn o gyfathrebu.
Beth fydd cynnwys y cwrs?
Bydd y gweithdy yn mynd i'r afael â nifer o bynciau:
Sut rydych chi eisoes yn defnyddio technoleg ffrydio byw
Pam fod ffrydio byw yn gyfle i ymgysylltu â phobl
Sut i osod stiwdio mini ac offer
Defnyddio YouTube i ffrydio eich cynnwys yn fyw, a beth ddylai fod ynghlwm â'r cynnwys
Sut i wella'ch safon a'ch cyflwyniad
Sut i osod a ffurfweddu meddalwedd ffrydio byw (am ddim)
Bydd y sesiwn yn para oddeutu 1 awr, yn cynnwys amser ar gyfer sesiwn Holi ac Ateb.
Ar gyfer pwy mae'r digwyddiad?
Mae'r gweithdy hwn ar gyfer perchnogion busnes sydd eisiau denu mwy o bobl at eu cynnyrch a gwasanaethau.
Cefndir y Siaradwr
Mae Gwyn Cole wedi gweithio mewn amgylcheddau corfforaethol am 17 mlynedd fel peiriannydd meddalwedd cyn symud i'r maes adrodd straeon a gwneud ffilmiau.
Aeth ei daith gwneud ffilmiau ag ef i California lle dysgodd sut i greu cynnwys deniadol a phwerus sydd â chysylltiad dynol.
Bellach mae gan Gwyn ei fusnes cynhyrchu fideo ei hun, Still River Films, yn cynhyrchu cynnwys seiliedig ar stori ar gyfer sefydliadau ym maes gofal iechyd, amddiffyn, gweithgynhyrchu a busnesau ar-lein.
__________________________________________________________________________
Lunch and Learn: Live Streaming
In the current climate, businesses have been looking at new ways of communicating with their customers. Live streaming is one of those channels, and has proven to be a fantastic way to engage with and expand your audience.
We are delighted to bring you a Live Streaming workshop with filmmaker and storyteller, Gwyn Cole. A former software engineer, Gwyn has prepared an insightful talk and demonstration on mastering this method of communication.
What will the event cover?
The workshop will cover a number of topics:
How you are already using live streaming technology
Why live streaming is an opportunity to engage people
How to setup a mini studio and equipment
Using YouTube to live stream your content and what that content should include
How to step up your game and presentation
How to setup and configure live streaming software (free)
The session will be approximately 1 hour, including time for Q&A.
Who is this workshop for?
This workshop is for business owners who are looking to attract more people to their products and services.
About the speaker
Gwyn Cole has worked in corporate environments for 17 years as a software engineer before transitioning to storytelling and filmmaking.
His filmmaking journey took him to California where he learnt how to create engaging, human connecting and impactful content.
Gwyn now has his own video production business, Still River Films, producing story-based content for organisations in healthcare, defence, manufacturing and online businesses.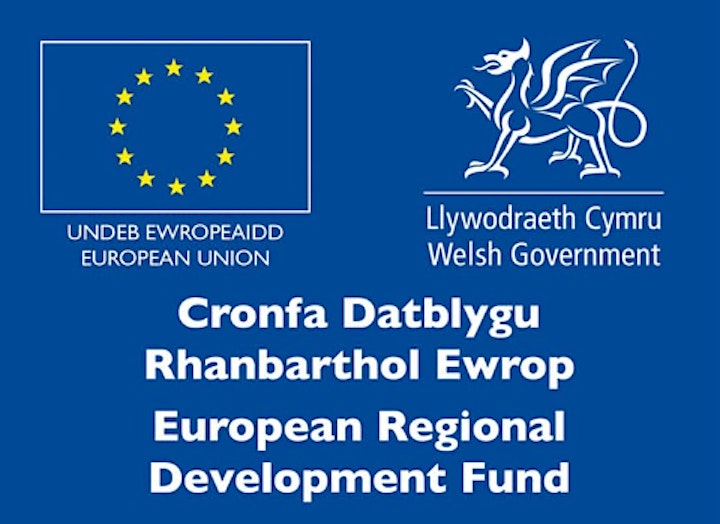 Mae Hybiau Menter Ffocws yn darparu gofod arloesol i ddeori a sbarduno busnesau newydd a'r rhai sy'n ehangu. Mae Hwb Menter Ffocws y Drenewydd a Hwb Menter Ffocws Caerfyrddin yn cael eu hariannu'n rhannol gan Gronfa Datblygu Rhanbarthol Ewrop trwy Lywodraeth Cymru
Mae'r digwyddiadau a ddarperir neu a gynhelir gan raglen Hybiau Menter Ffocws Llywodraeth Cymru am ddim ac yn agored i bobl o bob oedran, ond rhaid archebu lle ymlaen llaw. Mae'r niferoedd yn brin a disgwyliwn alw mawr am lefydd, felly archebwch yn gynnar i ddiogelu'ch lle.
Focus Enterprise Hubs are an innovative space to incubate and accelerate new, and growing businesses. Focus Newtown and Focus Carmarthen Enterprise Hubs are part funded by the European Regional Development Fund through the Welsh Government
Events delivered or hosted by the Focus Enterprise Hubs programme for the Welsh Government are free and open to all ages but must be booked in advance. Please be advised that numbers are limited and we expect high demand for places, so book early to secure your place.