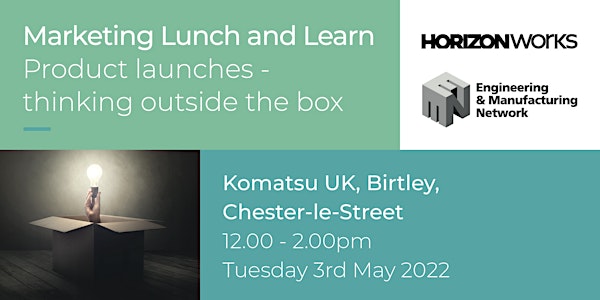 Lunch and Learn- Product launches – thinking outside the box
Location
DH3 2QX
Durham Rd
Chester-le-Street
DH3 2QX
United Kingdom
This is a great case study about how they had a revolutionary product designed at Birtley which they had to launch in the pandemic
About this event
A major product launch can be a key part of a company's business strategy – and there are many ways marketing can support this. As the Coronavirus pandemic has impacted on face to face events and international travel over the last two years, many organisations have looked at more innovative ways of launching their products… and are embracing new digital tools and platforms.
The session will cover:
 Guidance on creating a marketing strategy and product launch plan
 Advice on putting the building blocks in place for a successful product launch
 Examples of marketing tools and tactics to support a product launch, from social media and PR to animations and VR
 How to measure the success of a product launch
The session will be hosted by Komatsu UK at the company's site in Birtley. Gemma Brotherton, Komatsu Way and PR co-ordinator at Komatsu UK, will give delegates an insight into the launch of the K100 quick boom change system, which is used in demolition applications, and demonstrate how the company overcame a lack of face to face events – such as international construction expos – by embracing new digital marketing techniques.
The event will also include a tour of the Komatsu UK factory – and is a fantastic opportunity to experience one of the North East's most high- profile manufacturing operations.
12:00pm – Arrival, lunch and networking
12:30pm – Welcome from EMN and Horizon Works
12:40pm – Presentations from Horizon Works and Komatsu UK
13.20pm – Site tour of Komatsu UK
The event is limited to 30 participants.