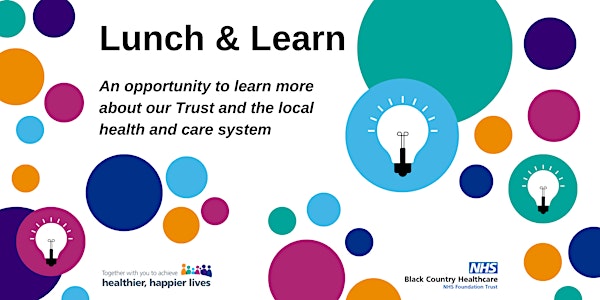 'Lunch and learn' session - community mental health transformation
An opportunity to learn more about our Trust and the local health and care system
About this event
Have you heard the term 'lead provider' and wondered what it means? Do you want to know more about our plans to transform community mental health services? Do you know your ICS from your ICB and PCN? Would you like to know more about how we are developing our services for children, young people, adults and older adults? Are you wondering why there's building work happening at Edward Street and Dorothy Pattison Hospitals?
On 12 July we are launching our informal, virtual 'lunch and learn' sessions for staff (MS Teams). Pop along to hear from colleagues about all of this and much more. At the end of each session there will always be at least 15 minutes for feedback and questions.
We hope these sessions will give staff an opportunity to learn more about our Trust and developments across the Black Country system. The sessions will be ongoing and we want this to be driven by you – so get in touch with bchft.communications@nhs.net if there's a topic you'd like to hear more about.
We are asking people to register via Eventbrite and will send you the calendar invite on registration (it only takes a couple of minutes to register).
Sessions:
Tuesdays, 1-2m
12 July – Community mental health transformation - what's it all about?
2 August – Lead Provider and Integrated Care System (ICS) developments – what does it mean for me?
23 August – How we're supporting our older adult patients with their mental health
13 September – How we're supporting our children and young people with their mental health
4 October – Community mental health transformation – a spotlight on complex emotional needs / personality disorders support
25 October – Investing in our estate
15 November – The Recovery College – supporting people across the Black Country